Kamik

Popular Kamik Products

Search Within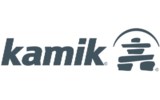 About

the

Kamik

Brand
The people behind Kamik boots and footwear have been dealing with extreme weather conditions for generations. Over the past century, this brand has put considerable effort into crafting footwear that can withstand the rigors of Canadian winters and also provide excellent support and comfort. From outsoles designed for reliable traction on slick, icy surfaces to insulated liners that offer warmth in the most frigid temperatures, Kamik snow boots and kids boots are simply among the best in the industry. When the snow melts and the ice thaws, Kamik sandals and sneakers provide the same great traction and support in a sporty, summer-ready package. Step outside with confidence.
Verified Buyer

Reviewed by STLUNA from Nh on Saturday, February 18, 2017

Overall the boot seemed and looked very nice. Felt like it would be warm and dry. But, it runs 1/2 to full size small so had to return. Never got to try in the winter snow and cold.

Reviewed by Mom of 3 from Syracuse on Saturday, February 18, 2017

I ordered these after Christmas, as a much needed gift for myself. With the holidays over, I said finally, something for me! Living in the snowiest city in the US, Syracuse, requires me to have a solid, weatherproof boot. I splurge a little extra, to make sure I have the warmth, waterproof, and traction to get through the city streets. I walk a lot and this is a must. I usually get 2 years worth from my splurge of a different brand. So here's my results: the boots run on the large side. I am an 8.5, not wide, but avoid narrow shoes. I bought a 9, lots of room!! Ok, I can deal, thicker socks right? CLunk, clunk, clunk...Ok...I can deal. Few weeks in...Well, right in the tongue of the boot, in the middle, I started to get a split in the quilted grey fabric. The stuffing was poking out. Ok, I thought, weird, No pressure goes on that area when you lace them up, it's kind of hidden by the laces, ok, I'll deal...Well, this week we were hit with major snow, low temps and ice. I noticed, that my feet felt wet in the boot, while walking, but couldn't locate the leak...Yesterday was the last straw...the back stitching, started to split on the same side. The grey quilting is falling apart, it split from the strip that runs up the back. I have inner stuffing showing on either side of the strip. Ridiculous. Less than 2 months of these boots, and NOT wearing them on a daily basis, I have to buy a new pair of boots, and temporarily try to fix them until I get a new pair! We're in the middle of 10" of snowfall, I can't be without. The only positive things I can say about these is that the traction is great. I felt secure while walking through ice and snow. They are warm for short periods outside, but you can start to feel the cold when it's really low temps, like 5 degrees. I'm disappointed I wasted my money for boots that fall apart.

Verified Buyer

Reviewed by NCJeepman from Maggie Valley on Friday, February 17, 2017

The weather here in NC has not been very cold, but these boots are warm and very comfortable. The tread on them is very good also.
Receive email updates for new Kamik items