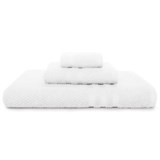 Overstock. KassaSpa's Zero twist towels are made from a special breed of cotton yarn that holds its strength without excess twisting. The result is a luxury bath linen like this Kassaspa bath towel -- extra-soft, extra-light and extra-absorbent.
Average Rating based on
12
reviews
3.833333
0
5
Verified Buyer

Reviewed by Kathleen Portland from Portland OR on Tuesday, October 21, 2014

Bought these towels when I had 12 overnight guests coming to stay. They washed up so nice and soft, a nice medium weight. I don't like the super-heavy towels, they take forever to dry in the dryer. No complaints at all (and part of the crowd was family) so I'd call these a hit! Fair warning, they give off lots of lint the first washing, so don't put anything in with them that you don't want covered with it...

Verified Buyer

Reviewed by Phyllis E from Upstate new york on Monday, August 25, 2014

Not too bulky for little kids, but soft and absorbent. Really sensible if you don't want ten pound towels taking up the entire washing machine!

Verified Buyer

Reviewed by TsAmma from Utah on Friday, August 22, 2014

Ordered these for my daughter and was a little worried because they seem less substantial than the thicker towels we are accustomed to, but I needn't have worried. These are very absorbent and because they are lighter and not so thick, they dry more quickly. Sending her more this week!

Verified Buyer

Reviewed by Shmamy from Colorado on Friday, August 22, 2014

I bought a matching set of hand towels and bath sheets in off white. The color had a cheap-looking yellow tone to it, and the towels were very thin. The weave felt a bit loose and didn't look like it would hold up after the first washing. I returned them.

Verified Buyer

Reviewed by Snosbig from NuJoizee on Friday, August 22, 2014

1st of all, I want to say that this is a quality product. It appears to be designed to absorb a massive qty of water, yet at the sametime dry much faster than conventional towels due to the lightweight design & unique weave. I returned mine because I was only interested in a conventional towel & the descriotion did not lead me to believe I was purchasing something other than that.

Verified Buyer

Reviewed by Sandra from Maryland on Tuesday, July 29, 2014

Bought a bunch of these for going back to college supplies....hope that they wash well!

Verified Buyer

Reviewed by Fractals rule! from Nevada on Friday, June 6, 2014

This is a nice bath towel that is way overpriced at it's retail price.
The size is generous. It's perfect for drying off after a shower; it's absorbent, lightweight and dries quickly. It looks good and is well made. It does everything a bath towel is supposed to do. It is functional. I like functional.
I do not agree with the marketing claim that it is luxury item. It was obviously originally priced for the luxury market but didn't successfully compete....
If you can get this towel at a deep discount you're getting a nice bath towel for a great price and who doesn't want that??
Because of STP we are able to get this kind of item at a rational price and feel good about the deal, rather than sorry that we paid too much for a perfectly good towel...

Verified Buyer

Reviewed by Thepaj7 from Pennsylvania on Friday, May 16, 2014

Great soft towels I ordered more. It's too bad you don't have anymore in the colors I like, this must be a discontinued towel line.

Verified Buyer

Reviewed by Bahama Wynters from Oregon on Tuesday, May 6, 2014

One torn rotator cuff, a little scoliosis in the lower thoracic; keyboarding seemed such a simple job. So was picking up those super plush, spa experience heavy as sin absorbent towels.

Hogwash! Save yourselves and buy these towels instead. They love you gently while not having to try a little tenderness. Stop kidding yourselves. Bigger is not always better (unless it is your bank account) and here is the other great thing about these towels. The price.

What a blessing for our wounded bodies to be caressed and healed, cleansed by towels that are comfortable because they are easy to hold then wash and fold.. All I ask is you wait a few days until I order for my friends and family. And, they already love me!

Reviewed by Kitty NC from North Carolina on Sunday, April 20, 2014

These towels are extra soft and very light. They are super absorbent yet dry very quickly. I live in a humid climate and am constantly on the lookout for quality quick-drying towels, otherwise they seem to stay damp all day. So many quick-dry towels are like sandpaper. These are so soft. They washed beautifully. I'm ordering more.