Kayland Reviews

Popular Kayland Searches
A reputation for innovative technologies and materials is forever challenged with Kayland boots, hiking boots and other footwear for mountaineering, hiking and backpacking. Kayland footwear takes the challenge for improvement at every turn to make sure the foundation of your adventure is comfortable, regardless of terrain. The parent company of Kayland footwear, Novation S.p.A. incorporates a stronger background of composites, technical molds and other sporting goods so that Kayland boots for hiking and more remain at the top of their game.
About the Kayland Brand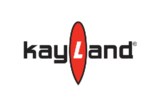 Reviewed by Nick from Bay Area, CA on Friday, July 22, 2016

This is a well made boot! It is also very comfortable and has nice give with plenty of support, no hot spots after a 12 mile break in hike and has great flexibility with plenty of footbed protection. The fit and finish is excellent, the cobalt color is a nice change from brown and black and it looks the same as the pictures that you see here. As for sizing, I find it very true, and fits just like the last couple of Asolo boots and a touch bigger than the last pair of La Sportiva boots that I had. I do happen to have feet that are on the narrow side though, so if you have a wide foot proceed with caution. I think the best thing about the fit is the fantastic toe box, very comfortable without being too big. Additionally, I ordered a pair of the Titan Ferrati as well and these are much more comfortable for me, the Titan Ferrati was nice as well but very stiff and I would consider them mountaineering boots, unless you are going to carry a pack over 50 pounds I wouldn't get in them.

I might have to order a backup pair of these and I have never done that in the past.

Reviewed by BiPolar from Idaho on Wednesday, July 20, 2016

Normally wear a size 11.5 in shoes or 11.5 wide in Asolo boots and would say I have a medium volume foot. I ordered these in a 12 and they are about as perfect a fit as I have experienced. The heel is well designed and locks you in tight. The forefoot is just roomy enough with a light to midweight merino sock. I would say the lacing is adequate but nothing special, as I have not experienced toe-jam or shifting. The insole is a little higher quality than Asolo or AKU boots that I have recently owned. The ankle snugs tight with not high spots or awkward placement of the tongue-very supportive without being thick and binding. While I have not used them extensively yet, These are very nice overall and promote a natural gate-very impressed. Actually, I have tried so many boots lately looking for the perfect one, that I also ordered the Garmont Civettas in size 12 along with these. They fit almost identical to one another-difficult toss up on which was more comfortable. I only put 4 stars because durability is key for me and I need them for 6 months or so on that verdict.

Verified Buyer

Reviewed by Cburn from Seattle on Monday, July 18, 2016

Very comfortable boots straight out of the box

Verified Buyer

Reviewed by Riverplayer from Wisconsin on Friday, July 15, 2016

First off i am typically a us mens 11. I had to get these in 11.5 so order up. These feel good out of the box yet they are very supportive and a little break in time will improve them i believe. The lacing system is what you typically would see on mountaineering boots. The first set of speed laces lock in place so custom adjustment between the lower and upper can be accomplished. Super nice feature to see on a light hiker. The outsole is Aggressive and Vibram. Sole flex is a tad bit stiff for a light hiking boot but i believe it will break in to a heavenly boot. These are very nice boots. A year from now would be a true review tho.

Reviewed by NordWoman from Michigan on Thursday, July 14, 2016

Ordered two pairs, and the ones that fit were the ones in my true US (women's and men's) and EU sizes. Wore them with Bridgedale light hiker socks.The sizes can be found online, but were also right on the inside of the tongue of the boot. Very impressed with the quality, and the clearance price is outstanding. Looking forward to years of hiking.Also, liked the color very much; true gray (not beige) and black with orange red touches

Reviewed by ZaTTo from S.E.A. on Tuesday, July 12, 2016

You to try it on to confirm size... I wear a Us13M on soft hiking boots n running shoes but I got this in 13.5M reading from other reviews. However a best fit for me would be a US13.5W.

Verified Buyer

Reviewed by Riverplayer from Wisconsin on Saturday, July 9, 2016

I would have liked to have kept these but they were small. Ordered my normal size 11 but needed a 11.5 which was out of stock. I exchanged them for the kayland plume which first impression is super light very supportive but nice flex. Time will tell.

Reviewed by Scout Parent from Virginia on Wednesday, June 29, 2016

Bought these boots a few months ago and used them of a few camping trips, but first time on a hiking trip this past weekend. It was dry and sunny, and the Maryland Heights Trail in MD is a perfect combination of elevation and terrain (i.e. wore in to rocky). It's approximately 5.6 miles with a 1,200 ft elevation, and my boots kept my feet cushioned and dried. They were not uncomfortable at all, and my feet had enough freedom to move forward with the lacing and padding. They may feel bulky, a bit heavy, and stiff, but I didn't feel jutted rocks or uneven ground.

Reviewed by Bennydahorsefarmer from Pa on Wednesday, June 29, 2016

I wanted to love these boots but I don't. They give me rubs in too many places. On the heal they gave me small blisters and on the toe by sock seam the gortex lining irritates my toes. I have worn them for about a week. The first day I could only do a few hours with them and have been increasingly wearing them longer. I was hoping the toe iriation would go a way but it has not.
I am a horse farmer and horse riding instructor that walks for many miles a day on un even ground and trails and need a sturdy and light boot. These fit bill except for the annoying rubs. These are the first boots in about dozen pairs of Asolo's, Aku, Merrils and Keens that have given me this problem.
The shoe looks great. My feet stay cool. They are water proof. They are very light with good padding and support. They are bit wider then Asolo's and Aku's but pretty true to size.
I am hoping that the rubbing issue improves and if it does I'll give five stars. If not, I will still keep em and I will try another model of Kaylands before I dismiss this brand and go back to Asolo's.


Reviewed by revdocjim from Colorado & Gunma, Japan on Tuesday, January 12, 2016

I wear a 12 to 12.5 and the first pair I got were 12 and they were too tight. I exchanged them for a 12.5 and while still snug, I have worn them several times including a hike up The Incline at Pikes Peak. They felt pretty good for a first outing, although the bottom of my fibula (point that sticks out on the outside of the ankle) got a little sore. I loosened the laces a bit and it felt better. I haven't done any major climbs in them but look forward to it. Size 13 may have been better but I don't know. The length of the 12.5 feels right. But I can't double up my socks with this size so I've been using them with just one pair of thick wool socks. By contrast I also got a crazy good deal on a pair of Scarpa Phantom 8000 boots that was just too good to pass up and they are size 14. Double socks work well with them, but the fit isn't quite as smooth as the Kaylands. Kayland boots feel like a warm glove on my foot; really smooth.