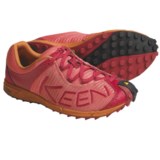 Closeouts. Trail runners Editor's Choice as best minimalist trail shoe, the A86 TR is ultralight, highly breathable and aggressively lugged for blazing speeds off pavement.
Average Rating based on
59
reviews
4.322033
0
5
Verified Buyer

Reviewed by Whippet Fan from West VIrginia on Saturday, September 20, 2014

Picked these for sentimental reason -- recently lost 10.5 yr old brindle boxer dog, call name "Keen." Goofy, but felt I was supposed to order these shoes. They fit well & I find them comfortable for errands, but I need a LOT more padding for pounding pavement. The zig-zaggy lacing looks funky but works well to keep shoes snug w/o having to be super-tight. Crippled myself pushing a disabled teen in a charity run while wearing my very worn out, but only, pair of running shoes. Tried on DOZENS of shoes locally & everything hurt. In desperation, ordered 6 pairs from STP -- kept 3 pairs. Extravagant, yes, but I sooooo needed new shoes & figured I might stay sound longer if I could rotate types. I'm 5' 10" & 122 lbs & never had any foot trouble before. Ordered half size larger & use the purple Dr Scholl's arch supports in these.

Verified Buyer

Reviewed by Versus from USA on Friday, September 12, 2014

Would buy these again. Light and airy on my feet. I really don't like tennis shoes for casual wearing around but these are excellent!

Verified Buyer

Reviewed by Sea the World. from North Carolina on Saturday, July 26, 2014

If you are looking for a barefoot runner that has a typical shoe- like make just with a lower heel to toe drop, then this might be the shoe for you. I personally was looking for something more minimalist with less fabric and a more barefoot feel than this shoe offered me so I sent it back. It looked too much like a court sneaker to me personally. Also, the colors didn't suite my preferences. But I could see it being a great shoe for so many people. It felt comfortable, breathable, and light.

Reviewed by Suzy from PA on Saturday, July 19, 2014

I love Keen.....I have a pair of oxford style casual I wear to work, and a pair of sandals.....this is my first Keen sneaker (as well as first minimalist) and I love them! Honestly from the first time I wore them, they almost felt like a pair of house shoes. They have great traction. The curved laces really do feel great...and my aqua/grey pair look pretty cute and not too funky-bright. They are minimalist, so do not expect tons of support, but there is still some arch support there. I do tend to get a bit of foot pain after walking a long way in them but it is known that this can happen because our feet have been trained to walk in cushions. But I do love how flexible and comfy they are...no blistering or rubbing spots.

The toe box is a big pointed, and not the typical rounded Keen look.....but it hasn't been a problem for me and I think it's cute. I always order a half size up in Keens...regular size is 9.5 so my Keen size is 10. I would absolutely buy these again.

Verified Buyer

Reviewed by KittyMom from Chesapeake Beach, MD on Monday, July 14, 2014

Takes getting used to the slender structure of the sole. Able to do daily route withour discomfort. Love the look too. Definitely minimalist.

Verified Buyer

Reviewed by Jane, the Agility Enthusiast from Florida on Tuesday, June 17, 2014

This shoe is very light weight but also has good support. It is very comfortable like all Keen shoes. I highly recommend it.

Verified Buyer

Reviewed by beth from Mid-Atlantic on Thursday, May 15, 2014

These shoes are lightweight, cool, and the curved lacing makes a very comfortable fit across the top of my foot. The sole provides great traction. However, the minimal cushioning doesn't work for me. I bought a 1/2 size larger to allow for a cushioned insole, but I still have ball of foot pain. Normally, the square-toe style of most Keen shoes fit my feet well, but these shoes have an almost pointed toe, which for me is less attractive/comfortable. Also, the current fashion trend for shoe color/designs doesn't appeal to me, and I would not have purchased shoes this season if I didn't need to.

Verified Buyer

Reviewed by someone from Wisconsin on Monday, May 12, 2014

I love these shoes. So comfortable and the I love the crooked look of the lacing.

Verified Buyer

Reviewed by sjwt from Saint Louis, MO on Monday, May 12, 2014

The shoes fit great and I love the color pattern but they are of minimal support and it felt like I was walking barefoot. Not good for me but if that's what you're looking for then go for it. I gave it a high rating even though I returned them because the shoes were described perfectly; they're just not for my feet.

Verified Buyer

Reviewed by Lisa from Madison, WI on Sunday, April 27, 2014

I love these shoes, love the colors and love the fit. I am only giving the shoes 4 stars because they have little to no support, which surprises me being a Keen shoes. Once I replaced the insole with a more supportive one, they are perfect. Since I broke a bone in my foot and then had surgery to remove it, I need a shoe with a lot of support so minimalist shoes are not the best. I like the shoe when I saw them so buying a more supportive insole was an easy fix. I would recommend these shoes to a friend.