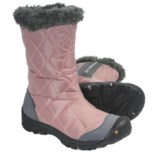 Closeouts. A cozy-cute quilted exterior, soft fuzzy trim and a weather-ready waterproof breathable KEEN.DRY membrane make Keen's Burlington Low winter boots ready to take on the snow drifts like a pro.
Average Rating based on
13
reviews
4.307692
0
5
Reviewed by Katie from Michigan on Wednesday, January 22, 2014

Overall I really like this boot. At first I thought the fit might be a little too snug but I wore them a few days and now they are just fine. I really like how warm they are and the fact that they are water proof. Over all I'm satisfied with my purchase.

Reviewed by Pam from Laconia NH on Saturday, January 18, 2014

I read the reviews prior to my purchase. I was looking for a boot specifically for winter walking. I've been wearing them almost daily since the beginning of December. I wear them for 1. Warmth 2 They're lightweight 3.They have awesome tread 4. Great fit and wonderful support 5. East to get in and out of as long as you don't unzip them all the way down (Zipper can be a struggle). I walk 3 miles a day during my breaks at work. I couldn't ask for a better boot. Make sure you spray them with a waterproofer. I've also worn them snowshoeing and they're fine. Great buy - great deal. Get 'em!!

Reviewed by redragonfly from coastal nc on Saturday, January 4, 2014

I bought these boots for our trip home for xmas. i gave them 4 stars - only because I didn't get to use them yet to make an assessment on performance since they arrived late after xmas. I bought them for our trip home to MA but the snow was gone by the time they finally arrived. they are very comfy and cozy in the house, felt very lightweight and flexible, not stiff like the north face boots I was replacing. I wore them for a few hours and hated to take them off my feet were so warm, almost felt like cozy slippers. I would purchase them in black if they went on sale too since the pink was not my ideal boot color the price was right. easy on/off zipper was exactly what I wanted (lace up isn't practical with wet/snowy boots) - plus the fur trim is another perk. all in all great purchase - all I need is some snow too bad NC isn't prone to any!

Reviewed by Vanessa from Missoula,MT on Monday, December 9, 2013

Keen is a great brand and these boots really are winter ready. Just got some major winter weather in Montana and was able to try them out in negative temperatures and several inches of snow, which my feet stayed warm and dry! Recommend this boot.

Also I am a pink kind of girl, so of course I am enjoying the lite pink boot.

Reviewed by heather from Maine on Sunday, October 27, 2013

The boots seemed very well made howeved if I wore anything thicker than cotton socks the boot became too narrow for my foot. I have owned Keen winter boots before and never had this issue.

Reviewed by Nice Girl from Alaska on Thursday, October 24, 2013

During days of bad weather I was wishing I could take my dog out for her night time walk and still be in my cozy slippers. So... I bought these boots! I am so happy!!!

Reviewed by Kristin from Vermont on Monday, October 7, 2013

From reading the other reviews I thought the width would be fine. Wow, these were narrow. I have an average width foot, but these really hurt in many areas. I tried wearing them around for a few hours, but now my feet are tingly and just hurt. Ordering a larger size wouldn't work as I already had a bit too much space in my toes. I tried a Keen boot on in the store and they were great. The width was perfect. Sending these back!

Reviewed by Brenda V from Payson, Utah on Wednesday, September 25, 2013

This will be my first pair of winter boots, since i used to live in CA. I was a bit worried that they might not fit (since i have wide feet) but thankfully after wearing them around for a day (at home). They fir pretty good, no discomfort. Thankfully they are cute and snugg. I feel they where definetly worth the money! Over all i would say they are a good pair of winter boots, so far.

Reviewed by frankie from Arkansas on Sunday, September 1, 2013

These boots fit well, slip on easily, are cute and comfy - - and warm! We can't wait to try them out this winter on our travels!
P.S. The insole can be removed if you need to insert orthotics!

Reviewed by Unknown from Arkansas on Wednesday, August 21, 2013

Comfy, warm, waterproof - and CUTE! In addition, the insole is removable, so I will be able to insert my orthotic inserts! We can't wait to wear these in Paris next winter! The sizing seems to be just right also.