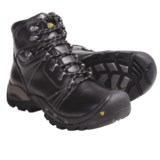 Closeouts. Their most technical boot yet, Keen's Erickson PCT hiking boots are packed with serious tech for serious treks. A KEEN.DRY waterproofing system paired with ample underfoot stability and shock absorption ensure long-distance performance no matter the weather conditions.
Average Rating based on
71
reviews
4.422535
0
5
Verified Buyer

Reviewed by J from Wisconsin on Tuesday, March 17, 2015

Keen boots are very comfortable. Like a sneaker. This is the second pair I have owned. Love the style and the fit is excellent.

Reviewed by J from Wisconsin on Thursday, March 5, 2015

Not sure when they figured put boots are not supposed to feel like bricks, but Keen has nailed it!! This is my second pair of Keens. And they are so comfortable right out of the box. No wearing around the house for a week before you can go and work in them!! I tell everyone how awesome they are!!

Reviewed by finicky shopper from great northwest on Wednesday, September 10, 2014

I was hoping keen boots would work for me, as I need a nice wide, round toe box. Alas, these were not so wide. In addition, there do seem to be some design flaws that affect comfort. One is the already mentioned seam running down the inside of the back of the shoe. The other is that there is not sufficient padding or tongue overlap to protect from the shoelace anchor (don't know the name for that)that is mighty close to the ankle. In short, there are all sorts of ways a foot could be rubbed the wrong way. So, not for me, alas.

Verified Buyer

Reviewed by Montana Fly Fisher from Montana on Sunday, August 10, 2014

I bought these boots in the Winter and wore them to my place in Montana. I wore them every day, for 10 days. They were great , even in the freezing weather. I also used these boots for my Summer vacation to Montana and I used them a lot for fly fishing. They worked well on the wet rocks and for climbing up and down steep banks. I walked in to river up to my ankles and my feet stayed dry. I did a few hikes in the boots which required climbing through snow and mud. My ankles where sore because I am not used to wearing high top shoes/boots. These boots performed very well every time I used them and I would recommend them.

Verified Buyer

Reviewed by Sierra Hiker from California Sierras on Wednesday, May 28, 2014

Exceptional quality and comfort from day one. I have a wider foot base which Keen accepts, but they also stay secure for an all day excursion. I have had Keen shoes before and I always wear out the sole before any other part of the shoe.

Verified Buyer

Reviewed by Mildred from California on Tuesday, May 20, 2014

These boots seem to be of high quality leather. I ordered these for the hubby and he has not worn them for extended periods so can't comment on durability. The sizing is right on. He normally wears an 8 in Keens, I ordered and 8 and they fit great. FYI, I also ordered a pair of Keen sandals in his usual 8 but they were a full size too small.

Verified Buyer

Reviewed by Not Johnny the Hiker from Somewhere in the South on Saturday, May 17, 2014

I chose these keens b/c of the great reviews and my own personal experience with Keen shoes and sandals. I even tried 2 pairs of these boots - the 1st I ordered 1/2 size larger per the reviews (10 1/2 - same as my running shoes) and tried them out. They were a teensy bit large, but nothing too out of the ordinary. Great construction, etc. I broke them in a little around the house wearing good socks and easy walks, etc, but on the 1st 6 mile hike on some actual elevation and striding, they gave me quarter-sized blisters on both heels. I chalked this up to the slightly large and exchanged for a 10. Better fit, still great boots. Same result - big blisters on both heels.
THESE BOOTS HAVE SEAMS RUNNING UP THE VERY CENTER LINE OF THE HEEL. WHAT KIND OF DESIGN IS THAT? NO SMOOTH CONSTRUCTION!!!!!!
No wonder my skin was being worn off.
I see I'm in the minority here with these boots, and that happens - it was the 1st time for me ever.
Good luck - if they fit and don't nuke your heel bones, congrats they are really good boots.
But my second pair was returned as well, and I'm currently in a pair of Asolos w/o seams on the contact points. Good luck.

Verified Buyer

Reviewed by Mammoth Cave Hiker from Kentucky on Wednesday, May 7, 2014

With only a short break in period, these boots have become my favorite hiking footwear. After ordering my first pair, I liked them so much I purchased an additional pair to have for back-up. I hike approximately 30 miles a week, and I also wear these boots at work. They hold up very well, and give my bad ankles and repaired achilles tendon more than enough support. I do not even have to wear my ankle braces!
They run a half size small, so order a half size larger that you normally wear.
With my Sierra Trading Post discount, I was able to save $100.00 per pair..Great Boot at a Great Price..Thanks STP!

Verified Buyer

Reviewed by Magna 39 from Oregon on Sunday, May 4, 2014

I have never owned a pair of Keen boots before. I have always bought boots with a vibram soles but decided to give them a try. I have been only wearing them for 2 weeks and seem they are doing great. I farm and needed a boot that had a full gusseted tongue and full upper leather so my socks weren't always dirty by the end of the day. The size was true with plenty of toe room. The boots are warm to wear and I have had to take them off at times when spending long hrs in a tractor.

Verified Buyer

Reviewed by Designer / Gear enthusiast from Ohio on Wednesday, April 30, 2014

I purchased Vasque Sundowners 20 years ago. They lasted that long and trekked from mountains in British Columbia to the basecamp of Mt. Everest. I think I got my money's worth out of them. This spring when they started leaking, I looked for a new boot. This pair of Keen boots is more comfortable than I ever thought a hiking boot could be. I tried them on and compared them to another pair of Sundowners and there wasn't a comparison when it came to comfort. If you are looking for a full leather upper. This is it. I couldn't be more pleased.