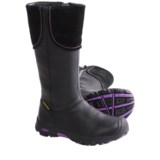 Closeouts. Keen Laken boots take the outdoor-friendly benefits of KEEN.DRY® waterproof breathable technology and place it in a fashion-forward leather boot with a full-length side zip.
Average Rating based on
7
reviews
4.285714
0
5
Verified Buyer

Reviewed by Kristina from ILLINOIS on Tuesday, December 22, 2015

Ordered as a gift for my nice,fits allittle stif like all keens, but in general are very good

Reviewed by Brand Name Apparel 2011 from New Jersey on Sunday, October 18, 2015

My little one wore them for the fist time during a not-so-cold day and her feet were so warm afterwards, they were literally steaming. You'll need a bit of force to get them on for the first couple of times, however she loves how they look and feel, a perfect fit

Reviewed by Sarah from New York on Friday, May 2, 2014

After wearing these boots for an entire winter season, there are two noticeable issues:

1. Scuffs.
My daughter also fell in love with the grey boots that matched her coat. But within a few weeks my active 5 year old had scuffed many spots. Being leather, not pleather- I simply went to polish them. Only to realize that there is no GREY polish color. We tried neutral, but as the actual color was scrapped of the poorly dyed leather, it only helped a tad. The scuffs made these otherwise lovely boots look old and worn. If we had ordered black, this would have not been an issue.

2. Ankle Zipper Pressure.
After several months, my daughter began to complain about the zipper pressing into her ankle. The inside of the zipper is covered by a leather flap to prevent this, but it is stiff leather and a narrow fit around the ankle so that when running or jumping + winter socks can be annoying/ painful.

Pro: large toe bed is great for young kids foots to spread unrestricted. No slip soles are fantastic for icy grounds. The high knee height while difficult for young kids to sit on floor during circle time, was heaven sent in keeping her warm while walking to school. A great compromise between functional/ warm and pretty one rarely sees in girls boot designs.

Verdict: would buy again in black and only for children age 6 years and up that sit at desks. Tall, thin children will be happiest with these boots.

Reviewed by SpokaneLeanne from Spokane on Tuesday, February 25, 2014

As one reviewer mentioned, they are quite tall. I got a size 8 for my daughter for next fall. Currently she is in a 7. Of course when they came, she wanted to wear them around the house. They almost seemed like they fit! But only because I couldn't really tell...the leather is sort of stiff on the top of the foot, and of course with the toe guard you couldn't push down to tell where her toes were. But they were VERY tall...up to bottom of her knees. I'm assuming in a few months that won't be a problem? They are darn cute though, so we are keeping them! I held up her size 8 Keen sandals to the soles of the boots, and they were about the same length, and her 8 sandals are still big, so I have my fingers crossed.

Reviewed by Jenny from The Midwest on Sunday, February 2, 2014

I got these boots for my almost 5 year old daughter. They are very nice quality and super cute, but they are too tall.
She wears size 9, and these boots came up right under her knees, they hurt her behind her knees when she bent down or sat on the floor.
If your child is tall or has long legs for their age, then these would probably be a great choice.
I love that they are waterproof. Sadly, we returned them.

Reviewed by Becca from Madison on Thursday, November 14, 2013

Surprisingly, when my 3 yo saw them she picked grey! I had to call customer service to intervene and switch them out for the black ones I already ordered. It was love at first sight; she wore them to bed. Even with the zip it is a little tight at the ankle so she's got to be an active participant in getting them on!

Reviewed by Marisa from Washington on Tuesday, July 16, 2013

These boots look fabulous—exactly as pictured—and are great quality. My daughter tried them on and wore them in the house for 30 minutes and said they were very comfortable. It's summer now, so she hasn't worn them on a daily basis yet, but she's so excited about them. I've worn similar Keen boots for years and can walk in them for miles with no discomfort. We love Keen!