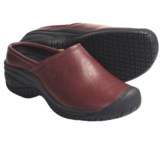 Closeouts. A working shoe disguised as a casual, stylish clog, Keen's PTC shoes feature an easy-on design, a supportive KEEN.CUSH insole and a ready-for-anything oil- and slip-resistant, non-marking outsole.
Average Rating based on
32
reviews
4.312500
0
5
Verified Buyer

Reviewed by Frances from Albuquerque from Albuquerque on Monday, September 29, 2014

I am short and need a shoe with a heel. I can wear these shoes to work looking casually stylish while being comfortable. I have two pair.

Verified Buyer

Reviewed by Tam from NJ on Tuesday, April 22, 2014

Bought for work. Can't beat for the price. I'm on my feet all day and these were great. Feet weren't too achy

Reviewed by Picky Feet from Oregon on Monday, March 3, 2014

Led astray by other reviewers:) I ordered a half size larger than usual. They're a half size too big. Would have been very comfortable otherwise. My regular size is gone, so I'll try some other Keen shoes.

Reviewed by TL from Spokane on Sunday, October 20, 2013

I love Keens and have several pairs. I am looking for a good work shoe (RN) and thought this would be it. Keens usually fit me really well but I found this shoe uncomfortable from the time I put them on. It was mostly uncomfortable on the top of my foot. Maybe lace-ups would be better?

Reviewed by SnowNewbie from Western NC on Wednesday, September 18, 2013

I bought these Keens because my old black leather walking shoes (made by Munro) were worn out from years of use, and now my foot size has gotten a bit bigger since I've been jogging more regularly these days. I wasn't specifically seeking out clogs, but I was attracted to the styling of these shoes, and I'm familiar (and been happy) with the quality of Keen sandals. When I first received them, I wasn't sure I was going to keep them as I wasn't totally sold on the idea of clogs (NOTE: don't be fooled by the lip that wraps around the back of the shoe -- it does NOT hold your heel in place as shoes do -- these are definitely clogs!), but the more I walked in them around the house, the more comfortable they felt. I don't have a meaty or tall foot (perhaps that's the "shallow toe box" description mentioned in other reviews), so these shoes work well for me, and if anything, I think that they run a little big as these shoes will work best for me if I wear thick socks. I fully expect to get plenty of use from these shoes as they are very well made and look great with jeans.

Reviewed by Long time Sierra Lover from NJ on Friday, September 6, 2013

These Keens are very nice. Quality leather, seem to be well made; very smooth inside; no weird lumps, bumps, stitching, glue etc. anywhere. And I expect they will be quite comfortable with generous cushioning for those on their feet all day. I measure a 6.5 (just a hair over that on my left foot) Many times I do need a 7 in different styles of shoes but mainly due to a somewhat wider foot. (with a high instep) However sometimes in a larger size, the arch will then not be in the right place. So I'm always in a conundrum when ordering shoes. I got these in 7s (no 7.5 was/is available which I would have possibly also considered in this case.) I have other size 7 Keen shoes that have plenty of room - even w/thick socks but also have Keen Alaska Winter boots in 7s that are pretty snug all over and are best w/only thin or liner socks if I want to have any circulation in my feet! (fortunately I found they are EXTREMELY warm so that works out fine) I will probably only be able to wear these size 7 PTC Clogs w/a very thin sock also. I just received them this week and don't really "need" them; so still trying to decide if I should keep. With thin socks, the overall shoe actually seems to be a good fit for me (length is fine w/room at end of toes, arch is correctly placed and is sufficient as is the width of the shoe, even with a high arch and wider feet) The instep is just a tiny bit snug on me but only right where the line of stitching at the opening is and is fine when standing in them. The biggest problem for me is the toe box; it is quite shallow. Overall, they seem like they would be really comfortable shoes are are nice looking but unfortunately, there is pressure on the top of both big toes as soon as I put them on due to this. My toes are not near the end of the shoe; there is just pressure on the top. I'm wondering if, with all the cushioning, they might compress some and could alleviate this problem? Anyone had these or other Keens with "Keen Cush" for a while? Does the cushioning compress, do they loosen up? I've also posted in the Q & A section.

For those who are considering purchasing these to use in the workplace where the slip resistant factor is desired or required: While I no longer require them for for work, I have purchased NUMEROUS pairs of slip resistant work shoes, from all kinds of places and in all price ranges, trying to find good ones and I would say that these are probably the best ones I've had on my feet, especially in this style. Do notice though, that these do not have a full heel, only a small lip maybe 1/2 inch (there are some places that will not allow this) Keen does make these w/a full heel as well as other styles. I don't see them here on Sierra right now but keep your eye out for them, if you need them. I didn't know about Keens when I needed work shoes but I would highly recommend trying these if you can get your correct size. Hope that helps someone! :)

Reviewed by TheMeis from Georgia on Wednesday, August 28, 2013

I love keen shoes, for everything in life. These shoes appear to be sturdy and comfortable. Perfect for working in the service industry, when you need the none slip soles. I ordered a 7, I am usually a 7 or 7.5-- definitely needed an 8, which was not available. I am returning these only due to the sizing.

Reviewed by Leeney from WI on Monday, August 19, 2013

The show is very nice and shows quality. However, I don't know if these are 2nds or what. I found the left shoe instep to be smaller than the right foot. The right foot fit good. So I ordered another pair was going to keep the left show from the new pair but that pair had the same issues. I have a rather fleshy ankle so maybe that made a difference. I still have the one pair. Haven't decided if I will keep them yet. Go up 1/2 size.

Reviewed by Picky Feet from Oregon on Wednesday, July 31, 2013

Very nice leather shoe, comfortable and supportive, but it's too big for me.

Reviewed by Michele the Shopper from Illinois on Tuesday, July 16, 2013

I listened to other reviewers and order a half a size bigger which was the right decision. These clogs are narrower than any other keen shoe that I have. They offer good support and a cushy feel on your feet. I would recommend these to any one looking for a casual shoe with all day comfort.