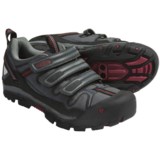 Closeouts. Quickly adjust the three touch-fasten straps, and Keen's dual purpose Springwater cycling shoes are ready to jet down the single track and trot around local shops on your way back through town afterwards.
Average Rating based on
38
reviews
4.184210
0
5
Reviewed by renaig from New Mexico on Tuesday, December 3, 2013

Great product, great price, super fast shipping and customer service was impeccable!!

Reviewed by Queenie from Virginia on Thursday, November 21, 2013

The only Keen shoes I've ever sent back. Too heavy. It felt like I had cinder blocks on my feet!

Reviewed by AbbyDog from Santa Babrara on Tuesday, October 8, 2013

followed the advice of others and ordered down a size- and they are too short and my toes hit the end. will have to return. Other than that, they look like nice shoes. hope they still have my size :(

Reviewed by Uptown Girl Naturalist from Maryland on Sunday, September 1, 2013

These far exceeded my expectations...Perfect fit in a 7M...excellent quality with just the right amount of support...easy on/off. Thanks for these!!

Reviewed by Easy rider from Pennsylvania on Saturday, August 31, 2013

I am using this shoe for both road and mountain biking without clipping in on either. It is sturdy, good looking and fits well. The short screws that holds the piece of shoe sole in were all loose without me realizing it and one of the screws fell out during my first ride with the shoes. I tightened the rest of the screws once I saw the screw was missing, and they've all stayed in now for many subsequent rides. Since then I contacted Derailed and they sent me an entire set of 4 replacement screws and quickly! SO far the comfort level hasn't been the best in these shoes, but I think I need to wear them a bit more loose. After about 20 miles they begin to hurt my feet. After loosening them they feel better.

Reviewed by ssycats from Rapid City on Wednesday, July 31, 2013

These are the most comfortable bike shoes I have had. Tough rubber sole with good traction. This is my second pair of Keen Springwater. My husband has a pair too. I would have given them 5 stars had they lasted a little longer. My first pair lasted 2.5 year and just purchased this new pair. The rubber on the bottom separated from the base of the shoe.

Reviewed by Ken the Jacket Guy from Montana on Tuesday, May 28, 2013

Out of the box I was really impressed with this shoe. I ordered a size 8.5, the same size as my other Keen sandals and boots. This shoe was true to length, but the shoe volume with a light weight sock was too much. I added a light flat insole and tightened the Velcro straps as much as possible and the volume was still to large. Thus, I had to return these for refund as a smaller size would be to short. I was disappointed because I was looking for a pair of biking shoes that would not crush my toes when taking short hikes from the bike. They are worth a try if you are looking for a casual biking shoe.

Reviewed by Soggy cyclist from Seattle on Sunday, May 19, 2013

I bought these as my first ever dedicated cycling shoes and I have been really happy with them. While Keen shoes are usually pretty wide, they fit my moderately narrow feed comfortably and my heels don't rub or pull out of the shoe.

In addition to being comfortable, they look good. The velcro closure is easy to get on and off, the rubber soles & recessed cleats make it easy to walk around a bit when you're off the bike.

Overall, I've been very happy with these shoes.

Reviewed by Black diamond from Upstate NY on Monday, May 13, 2013

Great shoe for on road or off. Fit true to size. It is not a light weight cycling shoe. I find it comfortable.

Reviewed by Sal from WI on Wednesday, April 24, 2013

These are a nice, well-made shoe. That said, they aren't at all what I expected. I thought they would be the same fit as a normal Keen - not the case! VERY narrow compared to a regular pair. Plus, I probably should've ordered up a half size. That said, they look like they'll last a long time, and it has been surprisingly easy stepping in and out of my cleats. They'll get good use.