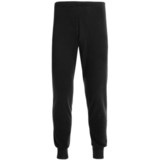 Closeouts. Kenyon's Polarskins Expedition base layer bottoms are made of cozy, double-sided fleece for next-to-skin comfort and protection from chills.
Average Rating based on
123
reviews
4.471544
0
5
Verified Buyer

Reviewed by Jbk from Hood River, Or on Wednesday, April 20, 2016

I bought these pants for my husband and I didn't even have him try them on. I measured them against his other base layer bottoms and the waist was TINY. He hates tight clothes. Everything else looked like it would fit fine, and they were made with really warm fabric. They would have worked great on winter steelhead fishing trips, but they had to go back.

Verified Buyer

Reviewed by skier from Park City on Thursday, April 7, 2016

I went by the waist size. It's a bit small. Go one size bigger.

Verified Buyer

Reviewed by R2AK from Inside Passage on Monday, March 21, 2016

www.r2ak.com


Verified Buyer

Reviewed by Outdoor girl from Wisconsin on Wednesday, February 24, 2016

Ordered these for my husband to wear as a base layer under ski pants. He loved them. Wasn't sure how the cuffed ankles would work with the ski boots--no problem. Warn.

Verified Buyer

Reviewed by CherylMD from Coastal Rhode Island on Friday, February 5, 2016

At Christmas 2015 I bought 2 pair of these in XL black for husband (6'1" and 36" waist) he LOVES them as sleep pants because of the cuffed ankle and softness AND tgey don't cling to sheets.

At the same time, I bought 2 pair in L black for son (6' and 33" waist) he works outdoors and says these are a great layer under his Carhartt double-knee work pants. He also likes them for sleeping. He likes them so much he asked me to oder 3 more pair! They arrived last week.

Verified Buyer

Reviewed by Flying High from Seattle, WA on Tuesday, February 2, 2016

These are perfect for wearing underneath waders. They will keep your legs warm in the 50 degree water of the Puget Sound for a few hours.

Verified Buyer

Reviewed by Calvin from Garland TX on Thursday, January 28, 2016

I haven't been able to wear them in the cold but they appear to just what I want. The fit was right on.

Verified Buyer

Reviewed by Outdoors in the Rockies from Utahrded on Tuesday, January 26, 2016

Best winter weight long underwear I've ever had. I bought two. You'll stay warm in these, or wear them in doors and you'll be comfortable.

Verified Buyer

Reviewed by nursestryker from Chicago, IL on Wednesday, January 20, 2016

These are thick, super comfortable.
Too warm to wear around the house, but do well for polar vortex temps.
Size is perfect - I bought a Large and am 36" waist, 31" length.

Verified Buyer

Reviewed by Eugene from Seattle on Wednesday, January 20, 2016

Very warm and comfortable. I wear them under drysuit on winter kayak trips. Absolutely no claims. Will buy again.

Verified Buyer

Reviewed by JohnD from Cyclone, PA on Sunday, January 10, 2016

Pants are very warm but heavy fleece. Better for me as sweat pants without pockets. Probably will only fit under relaxed fit jeans.

Verified Buyer

Reviewed by Aspen Bound from Colorado on Saturday, January 9, 2016

thicker than expected making layering difficult

Verified Buyer

Reviewed by demonstrate from Washington on Tuesday, January 5, 2016

I had two chances to wear this in very cold hiking experiences. It is really warm and I felt little sweat after excessive work. Even after cooling down, I never felt the cold comparing to a normal cotton base layer. But for lighter weather conditions, it is for sure an overkill because the warmth might over heat one's body and cause excessive sweating.

Verified Buyer

Reviewed by hikermom from los angeles on Monday, January 4, 2016

great fit and warm- bought for size 34 waist and 6 foot man.

Verified Buyer

Reviewed by Harry from California on Wednesday, December 23, 2015

Very warm. But little but bulky. But it's a must have if u hike in winter

Verified Buyer

Reviewed by Picky Guy from California on Tuesday, December 22, 2015

These are very warm and comfortable. He doesn't shop for himself and it is difficult to find something he likes.... He actually loves these and wears them all the time!

Verified Buyer

Reviewed by JamesA from N IL on Friday, December 4, 2015

Very warm true to size fit well made

Reviewed by jbr from Chicago on Friday, December 4, 2015

One of the joys of a cold winter night is curling up with a soft throw in the recliner before bed, to watch a good movie. One of the bummers of leather in a cold winter house is, obviously, IT'S COLD. I'm tall and women's pj bottoms hit me about 5" above the ankle, riding up even shorter when I sit down. I already have three of the matching men's heavyweight tops for the sleeve length I need, and had a Eureka moment the first cold nite my bare legs hit that leather recliner. Can't believe I didn't think of this before. These are super soft fleece like the tops, and cozy warm all the way to my ankles. Life is good.

Verified Buyer

Reviewed by North Country Woman from MN on Wednesday, December 2, 2015

He especially likes the ankle cuffs. Other polar fleece underwear didn't have cuffs so they didn't always stay in place when layering winter clothing.

Verified Buyer

Reviewed by Brad from ND on Tuesday, November 24, 2015

Warm and very cost effective, UA can't compete.

Verified Buyer

Reviewed by Palo from CT. on Wednesday, November 18, 2015

Nice and warm stuff

Verified Buyer

Reviewed by TJ from California on Tuesday, November 10, 2015

I backpack year round and while I don't live where it gets down to 0, I do spend a lot of nights out from the mid-teen's and up. I bought these to use as a second layer for around camp and while sleeping if needed. For the crazy price STP was letting these go for this layer has delivered some big bang for the money.
I try to keep my pack weight down but in the winter it's a given you'll be carrying more. While these obviously won't pack down as small as a poly or wool baselayer, they feel much lighter than their 8 oz. weight. I've only had them out in to the mid 20's but was super impressed with the warmth they delivered. I keep my outside gear and indoor clothes separate but these would also be awesome for just lounging around the house. I'm 6', 185 with big legs and the M fit perfectly.
Would I hike in these? No. But for around camp and in a bag they're a great choice without having to spend big money.

Verified Buyer

Reviewed by soberbain from Virginia on Tuesday, August 4, 2015

I bought these in the middle of July with the mindset that come November-December I was going to want a heavier warmer base layer than I had this last season.I bought these in a small men's and at 5'7" with a 31"waist they fit just right.The material is super soft and heavy but not in a way that would hinder you're movement.I only gave these four stars for the fact that I have not been able to test them in their entirety. So I may be adding to this review come November-December when hunting season gets cold.

Verified Buyer

Reviewed by Jackie Bankshot from columbus, oh on Thursday, July 30, 2015

Fits well. I purchased these as a layer for snowboarding in the winter. They fit well and the fleece feels thicker than other heavy weights and some expedition weights.

Verified Buyer

Reviewed by J the Biker from Singapore on Saturday, July 4, 2015

After reading the reviews by prior buyers, I knew this would be better as a mid layer over lightweight merino wool base on extra cold days. I agree that it is better as a mid-layer because it is neither form fitting (I'm thin) nor does it look like its stretchy enough. However, it looks like it can be a fantastic 2nd layer. Well made, soft, fluffy, and very light weight. Fit is good (as 2nd layer). I'm 6'2, 150lbs, and size M is quite perfect.

Verified Buyer

Reviewed by Live2Fish from PA on Tuesday, March 10, 2015

Very comfortable fit and warmth without the bulk.

Verified Buyer

Reviewed by Yosemite Sam from Trinidad, CA on Monday, March 9, 2015

Bought these to wear under light weight breathable chest waders. Even without jeans over them they are much warmer than just wearing the jeans and for the price a much better deal than an expensive pair of specialized "wader pants". As another reviewer mentioned, the "fly" is pretty loose (and noticeable) so I wouldn't recommend them as outerwear. Would have rated them 5 stars if they had pockets and a better "fly" closure.

Verified Buyer

Reviewed by Old School from Virginia on Wednesday, March 4, 2015

Bought these for my father, age 71 with all sorts of medical issues. He loves these as he claims they are the warmest things he's ever put on his legs. He even wants me to get him a second pair!

Verified Buyer

Reviewed by J-dubs from Cincinnati on Wednesday, March 4, 2015

Bought these in advance of a cold weather camping trip (0-20 degrees F) as I knew there would be a decent amount of time just sitting around and not moving to stay warm. I was skeptical when I received them as they just seemed like fleece pants but on this trip, with temperatures in the single digits I have zero complaints. I wore these with just some ski pants over the top and never had any issues with cold on my legs.

Verified Buyer

Reviewed by Mike from Rhode Island on Tuesday, March 3, 2015

Nice and warm...fit well.