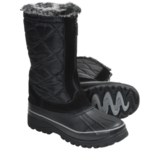 Closeouts. The weatherproof rubber foot, suede accents and warm faux-fur lining and trim of Khombu's 2012 Upland 2 winter boots lend a stylish edge to a boot destined for winter conditions.
Average Rating based on
21
reviews
3.761904
0
5
Reviewed by CeCe from New Jersey on Wednesday, February 19, 2014

All Khombu boots are fabulous. Warm and great traction in snowy conditions. My only gripe with this boot is the sizing. It runs very small. I had to order an eight but ususally wear a seven. I even have other Khombu boots in size seven which fit perfect.

Reviewed by MtnMomma from Colorado on Thursday, February 6, 2014

Would have rated them higher if they weren't so mis-sized. Loved the look of the boot, but could tell when they came out of the box that they weren't going to fit. Need at least one, maybe 1.5 -2 sizes larger, very narrow also, and I have narrow feet! Would have bought a larger size to try out, but they were all gone. Would have been perfect for my needs too - would have been a good paddock boot for our cold snowy winters. Had to return them. Would have been nice to only have to pay for shipping ONE WAY instead of both ways.

Reviewed by Leia from New York on Wednesday, February 5, 2014

I love these boots! We just had back to back snow storms and these boots got me through the snow, slush, and ice.
They are durable and live up to the product description.

Reviewed by Andrea from Minnesota on Thursday, January 23, 2014

Agree with the other comments on sizing. I'm typically a 9.5 and the 10 fits perfectly. Great boot for Minnesota!

Reviewed by AnnelieseNoelle from Michigan on Wednesday, January 22, 2014

Some good things about the Khombu Upland 2: they're warm, fit well, and are relatively stylish (at least the part covering the foot). They do run small, so I'm glad I went up a half size to a 7 from my usual 6.5. Now the downside. After not even a month of wear, one of the soles started detaching. I bought Shoe Goo to glue the sole back on, and after two applications, I think (hope) the problem's fixed. So, even though reattaching a sole isn't that big a deal, I'm still disappointed in this brand (first time buying), especially since the item started to fall apart so soon after purchase. And although I wish they were, these boots are nowhere near cute enough to make up for their lack of quality construction.

Reviewed by JJonthehill from cold Ohio on Saturday, January 18, 2014

I wear a solid size 6 1/2 so i ordered a size 7 as recommended. However they fit so snuggly it would be considered a tight 7. No way would these fit if you normally wear a 7. They are also VERY narrow, which for me is okay because i have narrow feet, but if you don't or your feet swell this could be a problem. Just wearing regular crew socks they are almost too tight length and width. I wish i could order a size 8 to try, but they were out, and since i have to pay return shipping it's not such a good deal. Otherwise i love these boots.

Reviewed by Bridget from Connecticut on Saturday, January 18, 2014

Definitely a good price and stylish. I have to return though bc they were at least a whole size too small.

Reviewed by Flower0813 from Florida on Friday, January 17, 2014

Ok, I haven't had the chance to wear these boots yet because I live in Sunny Florida, but I have a ski trip planned for March and I am very excited to wear my pretty new snow boots. I wear a solid SIZE 7 (sometimes a 6 1/2 in sandals and a 7 1/2 is always too big in anything, if that helps) and I ordered a SIZE 8 based on other reviews. I am so glad I did because they fit exactly like a SIZE 7...so order up a complete size.

These seem well built and the faux fur on the inside is nice and soft- not too hot. There is a slight "lift" to the shoe as you walk since it's a slip on boot and there are no ties around the ankle, so I hope I get used to this. I would definitely recommend these boots.

Reviewed by Jana from Pittsburgh on Thursday, January 9, 2014

In regular shoes I wear an 8.5 and in boots I usually order a 9. These boots in size 9 were way too small in the length (not to mention the calf; I could not zip them up, and my calves are normal sized. I exchanged them for a 10, which is the largest shoe size I have ever ordered in my life, but they work now. I use them primarily for dog walking and snow shovelling. I did our 20 minute dog walk in 3 degrees the other day wearing 1 pair of thick socks and my feet stayed warm. The sole is not real thick but for this low price, it's a solid winter boot.

Reviewed by Holly from Ohio on Thursday, January 2, 2014

I normally wear size 8. Got these in a 9 because of other reviews and very happy i did. They fit great! Perfect for wading through snow, puddles, mud to/from the barn and around the property. They keep my feet warm and dry, have good traction, comfortable to take long walks. Not too bulky. Easy to slip on except the zippers get snagged on the lining. Learned to slip my finger between to keep from snagging. Like them too much to send back.