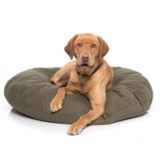 Overstock. Now here's a dog bed to treat your pooch right! The paw-proof upholstery cloth on this premium-quality Kimlor dog bed won't rip or tear -- even when dogs dig at it! -- and the cover zips off for easy clean-up in the washing machine.
Average Rating based on
724
reviews
4.437845
0
5
Verified Buyer

Reviewed by Teresag from Home on Sunday, June 5, 2016

I have purchased the bigger one and wanted another one large labs fit fine .

Verified Buyer

Reviewed by JaxNColo from Colorado on Thursday, June 2, 2016

I gave this a 4 star rating, even tho, I'll be returning it. It just won't work for either of my dogs. It's very full and puffy, making it sit pretty high off the floor. The material for the cover seems very durable. I think this would work for the right dog!

Verified Buyer

Reviewed by Mormy24 from AR on Thursday, May 19, 2016

My dogs both love this bed. Well made, easy to clean , arrived quickly.

Verified Buyer

Reviewed by Hound Girl from North Carolina on Wednesday, May 4, 2016

My hound girl loves snuggling into this bed- especially when you stack them.

Verified Buyer

Reviewed by Max from Oregon on Monday, April 4, 2016

My dog (a 65lb blue nose pitt mix) absolutely loves this bed. He runs in from outside and leaps into. Sometimes he spends a bit of time "fluffing it up" with his powerful paws and claws. The bed seems very sturdy and stands up well to his pawing/clawing. He looks very satisfying and cozy curled in it. Will definitely be buying a second one.

Verified Buyer

Reviewed by Maksie's Mommy from Bay Area, CA on Sunday, March 27, 2016

I got this for my daughter's lab mix, and even though it shows 2 German Shorthair type dogs on it....it's barely big enough for our boy, and he's about 60 lb. That being said, the cover is great fabric, washes very well, and is well sewn. The filling is ok.

Verified Buyer

Reviewed by Desert quilter from Arizona on Friday, March 25, 2016

This purchase was a replacement for the same bed purchased 7 years ago and used daily. Cover was still good but insert finally wore out. Durable, long lasting and good looking.

Verified Buyer

Reviewed by Jency from NC on Tuesday, March 8, 2016

fabulous bed. I got two in ~2010, and my dogs used them daily. I just replaced them (6 years later), and the current "model" is just as great. Better, in fact, as the zipper on the cover is protected beneath the fabric. I expect these to last 10 years.



Reviewed by Bees from New York on Friday, March 4, 2016

My dog hates this bed. I put it in the home office so that he can lie on something comfortable while I'm at the computer. As I am writing this review, he is lying on the floor, a couple of feet from the bed. He tries lying down on it, goes round and round, trying to find a comfortable spot, lies for a few minutes and moves out. I pressed the bed with my hands and it indeed feels very lumpy and amorphous. Also there isn't much fill. I'd say the cover seems to be of good quality, heavy weight denim cotton. I bought it because of the removable cover so that I could wash it easily. But this one is not a keeper. I am deciding whether I return it or try to find some better quality fill for it.

Verified Buyer

Reviewed by pimaCanyon from Tucson on Monday, February 29, 2016

good size for medium sized dog (60 pounds, plus or minus a few). Cotton cover is nice.