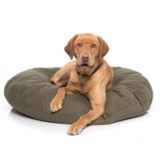 Overstock. Now here's a dog bed to treat your pooch right! The paw-proof upholstery cloth on this premium-quality Kimlor dog bed won't rip or tear -- even when dogs dig at it! -- and the cover zips off for easy clean-up in the washing machine.
Average Rating based on
740
reviews
4.437837
0
5
Verified Buyer

Reviewed by Harleys momma from Florida on Thursday, April 20, 2017

The product is much smaller than it actually looks in the picture. My dog is about the size of only one of the dogs in the picture but he dwarfs it. Im a little disapointed.

Verified Buyer

Reviewed by Rocky from Chaska on Saturday, April 15, 2017

This is a very high quality dog bed, with a thick cushion, and a very durable cover, which zips off for washing.

Verified Buyer

Reviewed by rob from Chicago on Tuesday, March 28, 2017

Our dogs love them so after 3-4 years of heavy use, we replaced the bed with another. It is convenient that the cover is washable and made of a sturdy material.

Reviewed by Dawn from Florida on Monday, March 27, 2017

At first I go the 50 inch once, but it was waaaay too big for my 80lb lab. He got lost in it. I think this 50 inch one is more for a great dane or mastiff! So I returned it and got this 40 inch one which he LOVES! The 40 inch one is the perfect size for him to "circle" a few times, as dogs often do before they lay down to sleep, and get his whole body situated with room left over. So just make sure you get the right size for what your dog needs.

Verified Buyer

Reviewed by missingthesun from USA on Monday, February 6, 2017

Our husky mix has officially made this hers; she even puts herself to bed early now when she used to stay downstairs and never join the rest of the family at night. It is big enough for a 50lb dog to be comfortable and creates plenty of room for our sheltie mix. The filling is a little clumpy, but the package came very compacted so I had to fluff and separate the filling myself, no biggie. I'm not sure how long the filling will maintain it's bulk, but I love the color and the dogs are happy, so all is well. I could easily refill it later should the filling need replacement. Outer cover is removable for washing, which was a must. Glad it was on sale.

Verified Buyer

Reviewed by STP fan from Northern California on Friday, January 20, 2017

This dog bed replaces the exact same bed that we've had for many years. So I guess I shouldn't have been surprised when my dog went straight to the new bed, circled four times and lay down, looking contented. It was a good moment. That said, the dog bed's material is tough, stain resistant and the stuffing is robust and plentiful. Great price too.

Verified Buyer

Reviewed by ShepherdPal from Virginia on Thursday, January 19, 2017

This dog bed has a nice durable cotton cover, but the polyester inside is covered with a manmade material that resembles spiderweb. it can be washed but doesn't hold up as well as the removable cover.

Verified Buyer

Reviewed by Phran from Black River, MI. on Tuesday, January 10, 2017

This bed is described as "paw-proof", well that is not the case. I have purchased 3(shame on me)and within 48 hours 1 dog has torn through the material. My dogs are adult,well- behaved and non-destructive, but 1 is a nester. He pulls, digs, nudges, pads, paces, pushes , until the bed is right for him and then does it all again. The material is good, but it is not as they describe. I like the beds because there is more durability to them, but the beds are not what the manufacturer leads you to believe. I keep buying the beds with hope, but this last time, the bed was torn open within 48 hours.

Verified Buyer

Reviewed by Soloyankee from Texas on Friday, January 6, 2017

I have been buying these from STP for years.
Have never seen anywhere else, but these are great dog beds.
They last a long time and I have had some go through multiple generations.
I remove the cover and bring to laundromat every few weeks and puff up the filing.
Have them all over the house and the dogs always go to them vs. sitting on the furniture etc..., they know these are theirs.

Verified Buyer

Reviewed by Daisy from Cedar Rapids, IA on Wednesday, January 4, 2017

Not using yet, to replace another one that's lasted 5+ years.