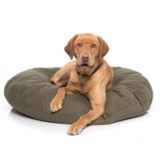 Overstock. Now here's a dog bed to treat your pooch right! The paw-proof upholstery cloth on this premium-quality Kimlor dog bed won't rip or tear -- even when dogs dig at it! -- and the cover zips off for easy clean-up in the washing machine.
Average Rating based on
735
reviews
4.438095
0
5
Verified Buyer

Reviewed by STP fan from Northern California on Friday, January 20, 2017

This dog bed replaces the exact same bed that we've had for many years. So I guess I shouldn't have been surprised when my dog went straight to the new bed, circled four times and lay down, looking contented. It was a good moment. That said, the dog bed's material is tough, stain resistant and the stuffing is robust and plentiful. Great price too.

Verified Buyer

Reviewed by 4 DogLady from Virginia on Thursday, January 19, 2017

This dog bed has a nice durable cotton cover, but the polyester inside is covered with a manmade material that resembles spiderweb. it can be washed but doesn't hold up as well as the removable cover.

Verified Buyer

Reviewed by Phran from Black River, MI. on Tuesday, January 10, 2017

This bed is described as "paw-proof", well that is not the case. I have purchased 3(shame on me)and within 48 hours 1 dog has torn through the material. My dogs are adult,well- behaved and non-destructive, but 1 is a nester. He pulls, digs, nudges, pads, paces, pushes , until the bed is right for him and then does it all again. The material is good, but it is not as they describe. I like the beds because there is more durability to them, but the beds are not what the manufacturer leads you to believe. I keep buying the beds with hope, but this last time, the bed was torn open within 48 hours.

Verified Buyer

Reviewed by Soloyankee from Texas on Friday, January 6, 2017

I have been buying these from STP for years.
Have never seen anywhere else, but these are great dog beds.
They last a long time and I have had some go through multiple generations.
I remove the cover and bring to laundromat every few weeks and puff up the filing.
Have them all over the house and the dogs always go to them vs. sitting on the furniture etc..., they know these are theirs.

Verified Buyer

Reviewed by Daisy from Cedar Rapids, IA on Wednesday, January 4, 2017

Not using yet, to replace another one that's lasted 5+ years.

Verified Buyer

Reviewed by iowabluebird from Iowa on Tuesday, January 3, 2017

This is about the sixth one of these beds we have purchased from STP. They have very nice, heavy fabric covers and are a good size. For the price, they beat the ultra-expensive beds we used to buy at the pet store hands down. I do wish we could buy new inserts for them because those get worn out before the covers. Also, if you ever need to wash one of the inserts do NOT put it in the dryer (at least not on higher heat). The outside will melt, much like a mattress pad. Hang on the clothesline and air fluff in the dryer. Note: the XL size serves our two dogs AND cat all at once!

Verified Buyer

Reviewed by Jenny from Colorado on Wednesday, October 5, 2016

The bed is nice & fluffy. My dog loves it & it's now his favorite spot in the house. I bought it because he isn't able to jump up on the couch anymore (he's 12), & I wanted a soft spot for him to snuggle into. This bed is great.

Verified Buyer

Reviewed by Mavis & Jax Mom from PA on Friday, September 16, 2016

I should start by saying I just ordered two more! Our boxer and pitty-mix love to snuggle together, and they both curled into this one immediately! They also like to circle and dig for the right spot in their beds. This bed is holding up great so far! Another reviewer suggested lining the inner cushion with a twin plastic mattress cover with a zipper. This is an excellent idea so you don't have to wash the entire bed all the time, just the main cover. Not only will this help with the wear and tear of the bed, but help keep allergens out of the filling. Highly recommend!!

Verified Buyer

Reviewed by Flocculus from Colombia on Saturday, September 10, 2016

The cover is a nice heavy canvas -- although some of the stitching could be a bit tougher. The cushion is puffy but flattens out a lot with weight, which may not be the best for our arthritic doggie. Adding some extra foam should help with that.

Verified Buyer

Reviewed by Dog Trainer from Washington on Tuesday, September 6, 2016

I bought two of these beds for my ACD (35 lbs), one for the kitchen and a second for the bedroom. I recently purchased two more for my daughter's pit bull (40 lbs) and for her chi-mix (8 lbs). The dogs like to sleep together. Comfy, durable, easy to clean and pleasant to look at. I'm not one for all the extra patterns to call attention to my dog's bed. Great price, too!