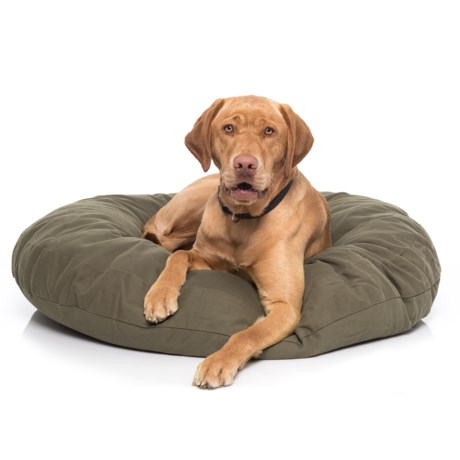 Answer

That is funny. My dog did the exact same thing but it did not soak through the cover. I am not sure about the wash ability of it but would guess that it was ok to wash as there are few material you couldn't.

Answer

That I don't know, Karin. But I have to believe you could wash it provided you didn't wring it (or spin it on high). If you have a large capacity dryer you could probably fluff it as well.

Answer

I'm pretty sure the outside is washable. Haven't looked into the actual inside, but I'm sure its possible!

Answer

I recommend covering the "inside" with a large trash bag, before you put the cloth cover on. My guess is that you could wash it, but it would need a very large washing machine and a very long time to dry. The outside cover is washable.

Answer

I contacted the company (Kimlor 1 (800)-762-0007). One person I spoke with owns one of the dog beds. She had been reluctant to wash the inside thinking that it might harm the material that covers the polyester filling. She hangs in the sun for freshness and uses freebreeze like stuff for odor control.

Hope this helps.

Answer

Karin, the inside is not washable. I tag the spot, remove cover and pour a product like Natures miracle over it. Let it sit, pour water through it to rinse, dry. Push it back into clean cover. I've put a waterproof layer between cover and pillow

Answer

Hi,

I haven't had to wash mine yet, so I'm not sure. Sorry I can't be of more help.