Kimlor Jumbo Round Dog Bed - 50"
Item #99890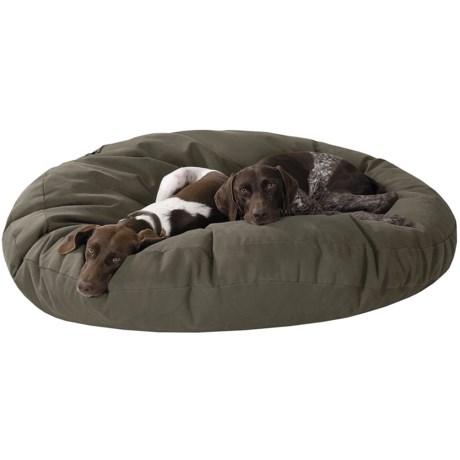 Overview
About Kimlor Jumbo Round Dog Bed - 50"
Overstock. Kimlor's jumbo round dog bed is a super-sized sleeping haven for your four-legged friends. Paw-proof upholstery cloth won't rip or tear, even when dogs dig at it, and the cover zips off easily for quick clean-up in the washing machine.
Filled with high-lofting polyester
Cover zips off for easy washing
Dimensions (DxH): 50x3-1/2"
Made in Pakistan or India
Specs
Specs about Kimlor Jumbo Round Dog Bed - 50"
Material: 100% cotton
Fill: Polyester
Diameter: 50"
Thickness: 3-1/2"
Weight: 9 lb. 6 oz.
Care: Machine wash
Made in Pakistan or India
Reviews
Do you own this product? Write a review and help others with their buying decisions!
Write a review
4.399452
5
Overall Rating: 4.4
Based on

731

reviews
Most Helpful 5-Star Review
Verified Buyer
Reviewed by Mom2Kids&K9s from Rochester, NY on Saturday, January 7, 2012
I bought this bed in both the green and brown color in July. Both arrived together but in different boxes. In 1 (big box) the bed was already puffed out, but the cover was still wrapped. The other one (medium box) arrived with the bed still compressed and cover also still wrapped. Sierra sent the ri...
Read More
Your search for "" returned reviews for Kimlor-Jumbo-Round-Dog-Bed-50-
Verified Buyer

Reviewed by Dawn from Florida on Monday, March 27, 2017

This was waaaay too big for my 80lb lab. He got lost in it. I think this 50 inch one is more for a great dane or mastiff! I returned it and got the 40 inch one which he LOVES. As I said in the 40 inch review: it is the perfect size for him to "circle" a few times, as dogs often do before they lay down to sleep, and get his whole body situated with room left over. That's why I still give this 5 starts because it's a great bed, you just got to make sure you get the right size for what your dog needs.

Reviewed by Vizsla from TN on Sunday, January 29, 2017

The best dog bed we have ever purchased (so far) and we have gone through plenty in 6 years. We have an 80 pound Vizsla that easily fits on this with room to spread out. The cover is very thick and heavy and seems like it should last a very long time. No issues with the batting like some have complained about.

Reviewed by Robin from Indiana on Thursday, January 26, 2017

50" is big enough for 2 labs to sleep together. Now have just one lab. He loved snuggling down in it in the winter, but the stuffing under him would push out to the sides leaving no stuffing under him. I put a homemade bed under this bed so he would have something under him & could still snuggle into the Kimlor bed. He loved that. Our neighbors pup loved to snuggle in it also until he tore it to shreds! We had it several years & the fabric had become some what britttle from years of being outside on the porch. Now the neighbors pup sleeps at his house because his comfy bed is gone! Silly boy! Will buy another Kimlor again, just keep it away from the chewing pup!

Verified Buyer

Reviewed by Maggie in NM from NM on Thursday, January 19, 2017

Wish I had this before, as my dog looks perfectly happy in this. The high loft on the sides assures a snuggly sleep!


Verified Buyer

Reviewed by Anita from Washington State on Sunday, January 15, 2017

We had high hopes for this bed as our 11 year old Golden has minor arthritis pains. The lofty pillow is shipped via cramming it into a much smaller box. When I opened it, I thought it would move into shape through some massaging around but it hasn't. It sits as a big mound in an oversized cover. Our dog has been weirded out by this and looks like he would need to climb a mountain to get into it. Hoping to make it work, I thought of starting with taking the pillow out and just seeing if he would lay down on the flat enclosure. Yesterday he did! Our plan is to slowly add old blankets and such to raise the height gradually - hoping that eventually we can put the original pillow in. Remains to be seen.
Question & Answer
I have only had to washy cover. I have laid The bad part out in the sun just to air out. I have the large bed and the medium. bed because I have a Great Pyramese and an Australian Shepherd. You will not make a mistake with the beds.

Just the cover. The inside bedding material is contained within a very thin non-washable cover.

Cover only

The cover, definitely. I, personally, wouldn't try washing the inside. Our Wiemaraner has torn the inside pillow cover (s) just by scratching before she lays down, so I would be shocked it would hold up to even a commercial front loader. Also, the stuffing in these things tends to clump up just from Macy trying to 'fluff' it (pawing at it to make it more comfortable). The newer ones covers are made of material more like synthetic and less like the old gauze-like material, but I would think washing the pillow would be a real bad idea, unless you can replace the fill material. That would required ripping a seam and sewing it back together, though.

Only the cover can be machine washed.

Just the cover but it washes great.

I would not put the whole thing in my personal washing machine but it looks like it would stand up to machine washing. The cover comes off for an easy wash. I have another bed I got at Orvis and it did not have a removable cover and I take the whole cushion to a triple load machine at the laundry mat and it washes up great.

When there are multiple countries listed as to where it is made, it is due to our receiving multiple shipments of this item and we do have both types in stock. The item should state on the individual tag where it originated. We apologize for the inconvenience.

I'm not sure if they will replace the cover because the dog pawed through it versus a manufacturer defect but definitely worth asking. I run a rescue and have great luck with these beds and the maker. They replaced 2 that had zipper issue with out jumping through hoops.

I would contact Kimlor directly and ask them about it. One of my dogs ate the zipper off.....

Very good question. My dog managed to slit the exterior fabric with her collar. I too would like to purchase a replacement cover because the bedding is still in great shape.

In it's "fluffed" state it is about 8-10" thick. In it's compressed state it is about 2-3".

empty it is 6-8 inches in the center, with a 120 dog it is 2-3 inches thick

It's polyfilled, so the filling moves around, but I'd say on average about 6"s. My rotties love it when I 'fluff' their pillows and they have 12" to tamp down doing circles to find the perfect spot. This is a great deal, and the doggies love it.

The dog bed is around ten inches without the dog being on it. Our dog weighs ninety five pounds and is tall and long he fit on the bed without problems and took to the bed well and uses it often ( it beats having him on the couch)

Around 4.5-5 inches.

it's lofted around 6 inches but is loose and packs out with her nesting.

This bed has a 50" diameter. You will need to measure your dog to find out if he will fit.
About Kimlor
Kimlor is a premier designer and manufacturer of bedding and textiles - a company noted for its unique rustic themes, wildlife prints, and even camouflage bedding. As a testament to its consistent quality, Kimlor holds exclusive bedding licenses with respected companies like True Grit, Mossy Oak and Karin Maki Home. Located in South Carolina, Kimlor manufactures all manner of textiles including comforters, sheets, draperies, and even dog beds to enhance your home and the creature comforts within.