Knog

Colors

Reviews

Prices

Search Within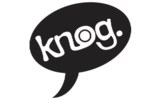 About

the

Knog

Brand
Knog (pronounced "nog") is a free-spirited Australian company specializing in lighting and cycling accessories. From day one, when Hugo Davidson and Malcolm McKechnie set out to start designing and producing Knog lights, the goal was to take something that other companies had done the same way for years and totally rethink it, make it smarter and make it better. Offering innovations like Bluetooth-enable smartphone lights, ultra-compact bike lights, bike locks and more, Knog is a design company with true passion for exploring new territory and inspiring people to get outside, live in the moment and have a blast. Knog bike lights, portable videography lights and other products are also rigorously tested to ensure the absolute best performance and longevity.
Verified Buyer

Reviewed by Biker from DC on Thursday, December 1, 2016

Quite bright for its size, and after a week of use, seems solidly made. A couple of small complaints: Because it is a single LED, slightly recessed, most of the light goes straight back so doesn't help much with side visibility. (I use it in combination with another light that is more visible from the side.) Second, a minor annoyance: when you hold the button to turn off, you have to hold for a bit, then let go, and only then does the light turn off, so it's not clear as you are doing it how long you need to hold it to turn off.

Verified Buyer

Reviewed by Brewerbiker from Central Kentucky on Monday, August 1, 2016

Shows up well, even in daylight. Easy attachment, seems well-made, time will tell on rechargeable battery life.

Verified Buyer

Reviewed by chimivee from California on Tuesday, May 24, 2016

Small, light and minimal. Provides a surprisingly bright "be-seen" type light. It'd not suitable to see by though. Currently, it lasts exactly 2 hours on steady as advertised. I've gotten about 3 times that on blink modes.

On a typical modern road bike the, the cables on the bar can make mounting the light a bit fiddly, but it's otherwise very simple to mount with the elastic strap. The integrated USB connector is great (no need for a cable), although depending on the location of your USB port, it might be difficult to plug in. For example, I have a MacPro tower at work, and the USB ports on the back of the computer are very close together, so plugging this in there, means removing and/or moving some other cables. Not really an issue, since I don't normally plug it in there.

I have two of these lights, and one has a positive "click" feel one pressing the on/off switch. The other does not, so it is difficult to tell if I've hit the button (the button must be held down for a couple seconds then released, so sometimes it takes a couple tries, since the vague button isn't clear if I've pressed it or not). Again, a minor gripe.

Overall, the light output, low profile and USB rechargeability make this a winner for me.
Receive email updates for new Knog items