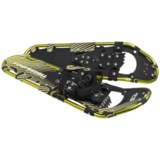 Closeouts. Exercise and adventure in the winter months begins with a pair of Komperdell Alpinist snowshoes. They're designed for rugged conditions with hard-wearing decking, and lightweight, anodized-aluminum frames.
Average Rating based on
18
reviews
4.388888
0
5
Verified Buyer

Reviewed by Donna from N. Idaho on Monday, February 22, 2016

My boyfriend and I share this pair. We both find them difficult to secure to our feet. They are about 6 inches longer and a bit wider than our previous pair so I actually crossed them over like skis the first time I wore them and almost took a header. They are also about a pound heavier than our previous pair which is a lot of weight when considering back packing, etc. Time will tell how they hold up to wearing them x 2 outings a day over the winters. The previous pair (a different maker) held up for 3 years. Sale price was outstanding and worth the price!

Verified Buyer

Reviewed by Warrior Goddess from WI on Wednesday, January 20, 2016

I didnt reailize snowshoe sizing is based on weight. Used them and cannot return because I tripped and scratched them up. Ordered a smaller size. great purchase for a larger person.

Verified Buyer

Reviewed by New to Snowshoes from North Dakota on Monday, January 18, 2016

This is my first experience with snowshoes so I don't have much to go on but so far I have been very happy.

Verified Buyer

Reviewed by mtboulder from Colorado on Tuesday, January 5, 2016

Very sturdy snowshoe. Good bindin design. Worked like a charm. Easy to walk in.

Verified Buyer

Reviewed by RamZ from Colorado on Wednesday, November 11, 2015

I am 5'11" and 165lbs with up to 30lbs of gear. After taking the Komperdell Alpinist Snowshoes - 30" to Rocky Mountain National Park and traveling on the Colorado River Trail for 3 miles I am sold on these. They have excellent grip in icy and uphill conditions, and I never sink further than what is to be expected. The bindings are easy to use since they're just like backpack straps. I appreciate the buttons on the loose end of the straps that keeps them from dragging in the snow. They feel very natural for me and I have no complaints.

Verified Buyer

Reviewed by Minkota Kids from North Dakota on Saturday, January 3, 2015

I purchased this pair along with a woman's set for my wife and I to use around Christmas. However, with the lack of snow thus far, I haven't been able to use them. They appear to be of high quality and I'm excited to try them.

Reviewed by J&J from Pennsylvania on Tuesday, March 18, 2014

Couldn't wait to try these out, with the crazy winter on our farm in the foothills of the Allegheny Mts. My old snowshoes were ok in light snow, but had no grip on a crusty surface. These Komperdell allow me to get out in all conditions. I can easily trek up and down our hills and through the woods, and feel totally secure that I'm not gonna slip. They are narrow enough so the walking is easy. I love them! The bindings are quick and simple to use, and adjust to different size boots and shoes. I even strap my crocs in them to safely walk out to the hot tub! ha ha. No more cabin fever for this 62 yr old chick.

Reviewed by AO from New York on Thursday, March 6, 2014

These are great for rolling terrain, fields, & woods in deep snow. The 30" length gives you a lot of cover to keep you from sinking too deep.
These are not the snow shoes you want for mountains or icy terrain.

My only caution is, if you wear larger than a size 12 boot, you will not be able to get your foot in the binding. I wear a size 12 & I have to really jam in the front of my boot, and stretch the binding over my heel. This should get a little easier over time.

The bindings are secured by one motion, which makes them very easy to put on & take off. There are no buckles or posts that you have to deal with in the cold.

I've been out a few times since I received them, & overall I'm very happy with them. The price, especially since I took advantage of the extra discount was more than fair.

Reviewed by Jake from colorado on Thursday, February 27, 2014

Seems like a sturdy snowshoe and good binding system but I went from a 25 inch long snowshoe and the jump in size was significant. This 30 inch long shoe might work well in untracked, deep powder or for someone carrying a heavy pack but otherwise too heavy for recreational use.

Reviewed by The Tinker from NW OH on Thursday, February 20, 2014

This has been an unusual snow year in my part of the woods. I have not owned snowshoes before, but they seemed like a good purchase with all of the snow we have. I ordered them and tried them....WHAT A BLAST!! The first day out I blazed a 2-mile trail through virgin snow. The snowshoes worked great. Without them I probably wouldn't have made it to the barn which is 100' from the house.