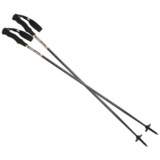 Closeouts. Rugged enough for use in the high alpine, Komperdell Approach Solid Carbon trekking poles combine ultralight construction with a sturdy four-section folding design that packs easily.
Average Rating based on
14
reviews
3.642857
0
5
Reviewed by Gordon Light of the foot from Tuscaloosa, AL on Friday, March 13, 2015

These are my second pair of the solid trekking poles. (My wife or I also have poles from Black Diamond, Leki, REI (Komperdell-made)- and Big Agnes. I also have a pair of Komperdell vario-4-section poles.) These are my favorites for non-technical trekking. Other poles are stouter- and better suited for technical treks with serious river crossings and/or mountain ascent and descents...they are heavier though, and probably not as compact.

These carbon poles are great for tramping on trails and wandering the hills. They have a nice balance and "give" to them that provide some level of shock absorption. The price one pays for this is that the joints can work loose over the course of a morning. I find that I need to tighten the joints up a couple of times during a day. (The one time I broke one of these poles was when crossing a field of snow- and the joint had come loose. The other point to be made is that one needs to tighten-but not over tighten- the joints. The fasteners are held in place with a glue, and it is possible to break that bond. So, keep them tight and don't fall on them with full body weight if possible.

I should also point out that these poles collapse to a very short bundle. That is great for anyone who wants to carry them in a small suitcase or duffel. Because they "fold like a tent pole", they need a bungie cord if carried outside a pack. (They don't collapse by sliding into a single pole.)

These poles have been trekking with me on three continents. (I'm 215 pounds.) With a little "love", they can be wonderful tools!

Reviewed by blanc from DE on Monday, February 23, 2015

It is very light and convenient to carry but it is well-broken. When the whether is so freezing cold, the string is cut due to the ice crystal.

Verified Buyer

Reviewed by Nordic Gal from New Hampshire on Tuesday, December 23, 2014

The poles had only been colasped and opened twice and during my second pole plant during this second outing the bottom half disconnected. Made for an extremely unhappy experience. No idea why?

Verified Buyer

Reviewed by Robert from Hawaii on Monday, November 3, 2014

so, this is not just a negative review. first, i went through 2 pairs of these before i gave up. they are just not sturdy enough. yes, they are very light and breakdown into almost nothing, but they cannot handle the stress of even a medium climb. the good part is STP and their customer service department. they replaced the first pair immediately with no questions asked... even more responsive on the second pair with no shipping costs and an upgrade to a much better and sturdier pole. they let me keep my original coupon which was great. i can't say enough about STP and their desire to make this right.
.

Verified Buyer

Reviewed by Mt. Woman from Park City, Ut on Tuesday, October 7, 2014

I like these poles-- they are a definite improvement over my previous old ski poles that I had been using. The "locking" system of the segments of the poles did not seem to be the same as pictured in the materials provided-- perhaps they were for non fixed length poles. Also, I sometimes have to re-tighten the pole segments while hiking as they loosen up, particularly if I have been pulling them out of the mud. The tip covers came off in my first two hikes-- maybe they were intended only for shipping-- if so, I wish rubber tips had been included. I also wish a carrying case had been included.

Verified Buyer

Reviewed by AB from Colorado mountains on Thursday, September 25, 2014

My first one broke! But I liked them so well, I returned them and got another identical pair. Maybe I tightened the hints too much as one finally separated and broke. The new pair I am not tightening so much and so far so good. I like the weight, the fixed length ( I listened to reports that they run long and got 120cm, perfect for me), and grips. Have to tighten the joints once in a while (very easy).

Verified Buyer

Reviewed by Noctone from Oregon on Thursday, August 14, 2014

A perfect travel set of hiking poles since they fold up to fit in ones case. They are very strong and feel the same as a solid pole. Certainly better than was expected since they are llight weight and fold ..... could save knee!

Reviewed by Nancy in the Wasatch from Utah on Wednesday, February 12, 2014

Purchased because I need a strong, RELIABLE trekking pole for Grand Canyon Rim to Rim Dayhike. Tried them out for performance and the top joint did not hold (kept coming apart). Realized that connection had come apart inside the pole. Need something more dependable.

Reviewed by Grand Canyon Hiker from AZ on Tuesday, January 21, 2014

Austrian's know mountain poles

Reviewed by Dadburnet from Chicago on Friday, December 27, 2013

They are really lightweight,yet still sturdy. Fixed length,break-down small.size. They were at a super price Too!