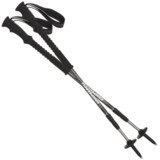 Closeouts. Combining light weight and comfortable cushioning, Komperdell's Contour Titanal trekking poles feature a built-in anti-shock mechanism to reduce impact on joints, as well as an extended grip zone for extra versatility.
Average Rating based on
14
reviews
3.928571
0
5
Verified Buyer

Reviewed by Taurren from Korea on Monday, September 15, 2014

so confused. different items were sent to me. i inspect the price between above two items. price is same. ok i'm generous and cool guy. finally i decided to use this titanal powerlock poles instead of Contour Titanal Trekking Poles .but i have a question about sturdiness of powerlock comparing to screwlock system of contour titanal poles. STP sent wrong items to me but i'm cool guy because returning cost is terrible

Verified Buyer

Reviewed by beartoorth from MT on Wednesday, August 13, 2014

nice hands sweat on rubber handles

Verified Buyer

Reviewed by Pilgrim from south korea on Sunday, April 6, 2014

very good , seems to be strong & relatively light

Reviewed by BWCA Hiker from Minneapolis on Monday, March 31, 2014

These are a great set of poles that are just as advertised. The poles are easy to operate and can adjust on the top or bottom section giving you the ability to make a quick top adjustment for hills without having to worry about the bottom section. The anti-shock adjustment is easy, and also can be done simply while on the trail.

Reviewed by H. S. Lee from Seoul, South Korea. on Tuesday, February 25, 2014

I bought it for present. I looks storng, and easy to grip. It really helpful for hiking

Reviewed by givemoretakeless from davidson, nc on Thursday, February 6, 2014

i like the extended grip zone and the clean look of these poles. the anti-shock feature is not a major advantage however. it makes a rattly noise and any shock absorbing property seems negligible. i don't mind the twist closures but can be tough to manipulate with gloves. i know from my previous k'dells that you need to keep them clean to preserve their tightening ability. the color i received was yellow which i wasn't crazy about. i wish STP would have been able to give me a choice of color.

Reviewed by jacky from korea on Tuesday, October 29, 2013

1. Light
2. Firmly locked
3 Three. Good material

Reviewed by fire lookout from frank church wilderness of no return on Sunday, October 6, 2013

I bought these because the reviews were good but I almost fell down a rocky cliff when one collapsed and then wouldn't lock again. Somehow the interior locking device failed, i've used trekking poles for years and know how they work so please don't anyone tell me I didn't know how to use them, thanks. Anyway, i work up a 6 mile steep, narrow, sometimes very rocky trail and I need poles for support and stability but these almost cost me a serious injury. I'm replacing these with the same type, don't really know why now that my confidence if on shaky ground.

Reviewed by SBGuy from California on Friday, May 10, 2013

I like these poles a lot. And, at the price there a steal for Komps that have some bells and whistles.
Pros:
Light.
Quality construction.
Anti-shock is just the right tension.
Love the extended grip option, for a quick choke-up, and its long, so you can realy choke-up for a hoist off a boulder.

Cons (which are minor):
I somewhet agree with the other review that commented on the grips. They are fine for me, but if you had realy huge hands, they might not feel great. they are a little narrow, and I can't see any difference between them and my wife's women-specific version of these poles. That said, I'm 6'2" and have pretty big hands... I also did not experience the black stuff sloughing off the grip as he did.

I did not receive the colors depicted in the pic - mine are sliver with yellow graphics/text, but they look fine.

Verified Buyer

Reviewed by TerryA from Greey Valley, AZ on Tuesday, October 30, 2012

Perhaps grips are not made for women with small hands. The were terribly uncomfortable and to add insult to injury, my hands were covered in black coloring at end of hike. Sent them back!