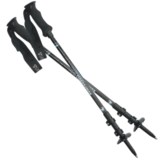 Closeouts. Komperdell Pure Carbon PowerLock trekking poles incorporate carbon fiber shafts to shave weight, helping you hike longer and farther.
Average Rating based on
20
reviews
4.000000
0
5
Verified Buyer

Reviewed by John Shannon from Dallas, Texas on Friday, May 20, 2016

The bottom portion of these poles suggest that part is aluminum since scuff marks are shiny underneath. Also, when you take the lower section out and see the cross section, it appears metallic and crimp imprints that could not be done with carbon fiber. I am very disappointed in this being advertised as pure carbon.

Reviewed by old fart walker from eastern Washington on Thursday, October 15, 2015

I bought a pair of these this summer, to replace my 12-year old aluminum twist-lock, anti-shock, cork-handled Komperdell poles, which are sort of wearing out (after a LOT of use). I thought the lighter weight might be useful. What I soon discovered was the lighter weight, combined with the lack of anti-shock mechanism, made them slightly flexible and vibration-prone. Now I find myself using my old poles anyway, because it turns out the anti-shock feature is more important than I realized, as is the more rigid quality. The old ones don't vibrate. I also like cork better than "foam"; it's not as hot and slimy. Not sure I can return these and replace them with another pair of the old style or not, since I bought them about three months ago.

Verified Buyer

Reviewed by RiverArtRat from Isle Royale on Thursday, September 10, 2015

I'd never used trekking poles before, so wasn't sure I'd need or like them. I can't say I absolutely needed them, but they sure helped on up- and down-hill hiking, and to push back wet or thorny vegetation. I really appreciate their lighter weight (why carry extra pole length that you won't use?) and smaller grip. I thought the clamp locks would catch on vegetation, so was pleasantly surprised that this didn't happen very often. Haven't used them in cold weather, so haven't yet appreciated the ability to change pole length with mittens on. And the grips are soft enough that I didn't need gloves; and worked well even when my hands were very sweaty. My pair were missing one basket when they arrived, but a call to STP, and the missing basket showed up in a couple days - before my trip! Thanks, y'all!


Reviewed by Christina from Missouri on Thursday, July 23, 2015

I liked the idea of a pole made for women (and thus the lighter weight). I am 5'7" and figured these poles would be fine as I'm an average height woman, however after reading/watching videos on sizing etc. when I got these poles I extended them to their farthest length and found that my arm was barely at a right angle when standing on level ground. So, there was no more length left if I wanted to extend them longer when going down steep terrain. Also, I found the grip which is specifically made for women/small hands to be a little small for my liking (I don't have huge hands but have larger than average hands for a woman). The only reason I dropped a star, was because I believe if they are marketed for women they should have fit an average height woman.

Overall, however I really liked the power lock system these have over the twist and lock of others. I also liked the fact that they weren't in an obnoxious color, although when extended there was a little more blue on them than in the photos. I will be returning them and ordering the men's equivalent.

Verified Buyer

Reviewed by Fernando from Chile on Wednesday, June 17, 2015

Hi. I bought this product for my sister. She said they're superlight, easy to handle and It qickly lets's an natural use. Very good resistance and flexibility. Their shafts are anatomical and have good grip. The design is sober and elegant. she's very happy and she assures that it's a wonderfull product.
Thanks for your good service Sierra Trading Post.
Sincerly
Fernando Vergara

Verified Buyer

Reviewed by johnwyo from Wyoming on Saturday, December 20, 2014

I own a pair of the larger grip version for my male self and really like them. After having knee surgery I was told to walk with a pair of "backcountry canes" by my ortho Dr. and I bought these. And now I wish I would have bought them earlier. This is the same version for women and I think they are great. The power lock is the way to go to hold the poles in place for your size. They are so light you don't know you are using them and the grips are terrific with the straps.

I would suggest reading up on how to use the poles the right way to get the most out of them. Your fitting of pole size and straps, and the use of the straps the right way is your key to effortless use.

Reviewed by tealnightowl from Colorado on Wednesday, October 16, 2013

Super lightweight trekking poles for hiking my Colorado mountains!

Reviewed by Alex from Sacramento, CA on Monday, August 26, 2013

Just used the poles on a 22-mile Mt. Whitney hike. During the hike, I discovered the lower lock on one of the poles needed tightening, as it would close up. I ended up not extending the bottom, and having to lengthen the top to the right height...had no problem. When I got home, I took care of the lock and now I'm set for another hike.

Reviewed by Shelley the Trekker from Tenessee on Monday, August 5, 2013

These trekking poles worked well and met the expectations we had when we ordered them. They are light and strong and I put them to the test on a variety of mountain trails. The umbrella-shaped protectors at the bottom kept coming off and I lost one on the first hike but these are not particularly important in the way the trekking poles functions as long as the poles are cleaned after use.

Reviewed by 2pdl from South Royalton, VT on Monday, July 8, 2013

My wife has a bad back and walks routinely with trekking poles. She has found the carbon poles are vastly superior to other materials because of their lightness. The have a tendency, however, to be hard to adjust and doing so has to be done delicately. That is a nuisance. These news poles have the "Power Lock" which makes adjustment as easy as flipping a switch. That is a wonderful improvement, especially for traveling when the poles need to be collapsed and readjusted.