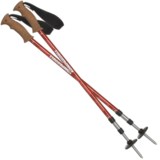 Closeouts. Add stability and relieve joint pressure on your next hike with Komperdell's Ridgemaster anti-shock trekking poles. The comfortable cork grip molds gradually to the shape of your hand and the anti-shock mechanism can be easily switched on and off.
Average Rating based on
71
reviews
4.535211
0
5
Verified Buyer

Reviewed by G-Law from Colorado on Monday, September 15, 2014

These poles were considerably less expensive than those I saw in stores. They worked really well and proved to be invaluable on my backpacking trip last week

Verified Buyer

Reviewed by Corvallis-ite from Oregon on Wednesday, August 13, 2014

Bought a few different poles, looking for some for our neighbor who is having trouble getting around. The cork handles, the 'click' for the locking mechanism is great. What a nice change from the older "twist, twist is it locked?" They feel very sturdy when extended. The lime green is bright!

Verified Buyer

Reviewed by Sheldon from Colorado on Monday, August 4, 2014

I'm completely sold on trail running with these now. Using poles on very steep ascents takes a noticeable amount of stress off your legs and back once you get your technique down. They're light weight as well so I don't mind running with them in hand on the descents. Shock absorbing feature provides sort of a reflex bounce as you come out of planting the pole on ascents which feels almost like an extra boost (surely mental but I like it). Highly recommend them.

Verified Buyer

Reviewed by Gunther from Virginia on Wednesday, July 30, 2014

I have been looking for some trekking poles and these are the best price for the quality.
I haven't had them very long and just did a seven mile hike but I'm pleased.


Verified Buyer

Reviewed by Mr. E from ROC, NY on Wednesday, July 16, 2014

I use hiking poles on every hike that includes and ascent and eventual descent. I've found over the years that 4 legs is better than 2. My 10+ Year old poles needed an upgrade. I especially wanted cork handles as my previous pair had a rubber compound that had begun to break down over the years which provided an uncomfortable grip once they were warmed up after a hot day hike. The Komperdell are light enough for my needs and easily support my 6'4" 200 pound frame. The grip is excellent and I like being able to easily remove the baskets.

Verified Buyer

Reviewed by Peter from Victoria, Australia on Thursday, June 12, 2014

First time I used these I was coming down a hill and put a little weight on one of the poles and it bent, gave way, and, I took a tumble. The pole was bent in the lower third. To say I was disappointed would be an understatement. I bought these as starter poles as I thought I'd give trekking poles a try and they were reasonably priced with good reviews. Whether I received a dodgy pole, I'm unsure.
STP to their credit refunded me the purchase price. Interestingly they were only going to refund the price of the bent pole until I pointed out that like a pair of shoes they are purchased as a pair and one would be useless, so, the full purchase price should be reimbursed. After consulting the CS boss, they agreed. Unfortunately I lose out on the shipping charges which not living in the US are quite high.
Unfortunately Komperdell has left me a little bewildered. I've bought a lot of gear from STP over the years and it has always been first rate.

Verified Buyer

Reviewed by Lee from Virginia on Friday, May 2, 2014

The poles were just what I need and they exceed my expectations. Good feel, comfortable handles. The adjustment was easy.......

Verified Buyer

Reviewed by omega from New York on Monday, April 28, 2014

Ordered these trekking poles based on a recommendation from a friend. Just used them this weekend backpacking through Harriman State Park in NY. They worked great and took a lot of load of my knees and hips going up and down the trails.

Reviewed by farto oink from asia on Wednesday, April 2, 2014

Price is great! a pair of these (other brands) would cost between $90 to $160 (for one piece) where i stay. anti-shock works fine, no issues with the locking mechanism as well. comes with rubber tips and baskets for summer usage.

Reviewed by Elsa from DC on Sunday, March 30, 2014

These are my first poles but so far so good. I love the size of the cork handles. I have longer fingers-bigger hands and these aren't to small, such as the REI handles. They are easy to extend/collapse and a bonus is that there is an easy on/off for the shock. I didn't realize it had that feature. That's nice. I would definitely recommend these.