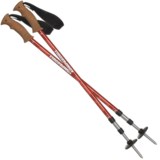 Closeouts. Add stability and relieve joint pressure on your next hike with Komperdell's Ridgemaster trekking poles. The comfortable cork grips mold to the shape of your hand.
Average Rating based on
15
reviews
4.733333
0
5
Reviewed by Mark from Colorado on Friday, October 17, 2014

In some ways these are great poles. They are light and strong. They open and close easily and they have comfortable grips. The tips, however, are a problem. They have a different design than most Komperdell poles. One tip broke off after only ~100 miles and the other is loose. Komperdell has a good warranty, so I sent them in for repair. I hope they set me right.

Verified Buyer

Reviewed by Mike from Utah on Monday, August 4, 2014

I love these things. The twist lock mechanism is very quick to adjust, and the cork handles are very comfortable. I'd recommend them to anyone.

Verified Buyer

Reviewed by what's next? from Nevada on Tuesday, July 29, 2014

Got two pairs for us. We really enjoyed them. After taking on Mt Charleston without poles we were eager to hike Zion with them. They worked well. Definitely helped up the cliff and valley sides. A aware that if You have never used poles they really will work your neck and back, or maybe we were using them wrong
:P
Enjoy!

Verified Buyer

Reviewed by Backcountry Hunter from Colorado on Friday, June 27, 2014

Love these new trekking poles. Very comfortable and highly adjustable to fit just about anyone. The cork handles are comfortable and take a good hike with use to start properly fitting my hand. Overall great product and highly recommended!

Verified Buyer

Reviewed by sparksant from New Mexico on Wednesday, June 25, 2014

Wish I could say these are the greatest but I haven't had the opportunity to try them yet! Give me two weeks and I'll be trying them on a 14er in CO. My husband has a similar pair and they've been a leg saver on the downhills. These are lightweight and easily adjustable and adjust to a very small size for storage. Can't wait to try them. Gave them 5 stars just because they look like and feel like they're perfect for what I intended and the description is accurate.

Reviewed by 7day Hiker from SoCal on Tuesday, June 24, 2014

I've finally succumb to getting a pair of trekking poles. I've managed without these things before and I've been on many hikes, day hikes and backpacking trips, on very steep and strenuous trails, I've used just a single "stick" from the branch of a fallen eucalyptus tree, wrapped some lashings on it and that was my walking stick or "trekking" pole. On my backpacking trip last year to the summit of Mt. San Jacinto (no, I did not hike via the tramway), I've no problem ascending with my Gregory Forester carrying 30 lbs. aided by my trusted eucalyptus walking stick, it was the descent that nearly busted my knees. I think I'm going to need some proper trekking poles. I got this poles just in time for my backpacking trip to the summit of San Gorgonio a week ago, I must say these poles are great, they really helped, I moved faster and my balance was much better. Descending was far more comfortable and I've not experienced any knee discomfort. The poles are easy to adjust and held well. I've also used it to prop up my shelter, so this trekking poles served a dual purpose. It may not be the lightest trekking poles out there but for me, I was looking for support, strength, durability and price that wouldn't hurt the wallet. I am very satisfied with this trekking pole, once again Sierra Trading post did not disappoint with their service and fast reliable shipping, as mentioned I received the poles a day before my backpacking trip to San Gorgonio, excellent timing.

Reviewed by ScoutDad from Kansas on Saturday, June 14, 2014

I purchased these due to the price, and the cork grips. The grips really do well with sweat and I find them to be very comfortable. I have borrowed BD poles, and they were nice, but these grips I prefer more. I was skeptical at first of the twist lock vs. cam type, but these hold firm, do not loosen, and don't slip when full weight is placed on them. Specs are correct, mine weight 244 grams each. Near carbon weight, nowhere near carbon price!

Verified Buyer

Reviewed by Semi-green in the suburbs from East Brunswick NJ on Tuesday, June 10, 2014

I like the poles. They are easy to adjust and seem sturdy. But this is my first experience with walking poles and I haven't used them much yet.

Verified Buyer

Reviewed by Alex from Washington on Sunday, June 8, 2014

Got them on sale. Works great.

Verified Buyer

Reviewed by SRA from Breckenridge, CO on Thursday, May 22, 2014

The poles are light, versatile, and the cork grips are cool and comfortable. All that they lack are the extended grips that are especially useful for sidehill traverses.