Komperdell

Sizes

Gender

Pole style

Pole feature

Ski Pole style

Colors

Reviews

Events

Prices

Popular Komperdell Products

Search Within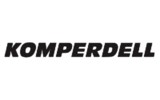 About

the

Komperdell

Brand
More and more people are discovering the benefits of hiking with poles, and Komperdell of Austria manufactures some of the lightest, most technically advanced poles on the market. Designed for trekking, touring and Nordic walking, Komperdell poles not only stabilize your footing on the trail, but relieve pressure on joints and use 21% less energy, so you have more stamina for the journey. Made of feather-light aluminum alloys with tough carbide tips, Komperdell poles come in a variety of packable configurations, some with advanced shock-absorption technology, and feature super-comfortable grips, removable baskets and padded buckle-less straps.
Verified Buyer

Reviewed by Steve from Socal on Thursday, January 19, 2017

I don't know why so many skiers use poles with straps. I've used sabre style grips for 20+ years and they are awesome. It's so much easier to hold the pole, and you can always hang them from the safety bar on the lift so you can use your hands to text, eat a snack, look at the trail map, etc. during the ride up.

For bonus points, the neon color of these poles are awesome. My son skis with the green pair and I use these blue ones.

Verified Buyer

Reviewed by Jimmy from Atlanta on Wednesday, January 18, 2017

if you own Komperdell sticks these are probably idea, but Mountainsmith and REI poles need a different size hole. In a pinch I may be able to force them on the sticks so I went out to REI and bought the right size.

Verified Buyer

Reviewed by Jess the Hiker from New York on Monday, January 16, 2017

I was extremely excited to receive my Komperdell Basic Trekking Poles in the mail. They are great quality and they are versatile enough to use with snowshoes (and winter baskets), or just for hiking. However, when I received them one of the summer baskets of the pair that they come with was missing from the packaging. Not quite sure what happened to it!
Receive email updates for new Komperdell items