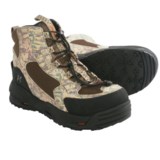 Closeouts. A wading boot that can double as a hunting boot. Korkers Mudder Ducker wading boots have quick-lacing convenience, integrated drainage ports and include interchangeable Kling-On sticky rubber outsole and felt outsole.
Average Rating based on
29
reviews
4.724137
0
5
Verified Buyer

Reviewed by Roadbase from Utah on Monday, July 6, 2015

See my previous rating and update. I will add that, from what I can tell, these boots are the same as the Redsides in most every way except the camo print. Hopefully, knowing this will make the reviews of the Mudder Duckers more helpful and applicable to the current Korker line.

Reviewed by Roadbase from Utah on Monday, June 29, 2015

I got these last week at a killer price (of course) and wore them for the first time yesterday. They performed wonderfully! Here are some quick first impressions:

1. Sizing: I am a woman with a very narrow foot in shoe size 9 (women's). I ordered these in a men's 9 and they fit perfectly. There is some extra room/fabric across the toes but that's probably because I have such a narrow foot. If you have a more normal foot, you'll appreciate the extra room.

2. Laces: I had the same problems others had with the laces -- they aren't long enough to allow the boot to open all the way up. I'm able to get my feet (in booties) into the Korker's but it's tough. I emailed Korker's about it and they responded quickly -- I can pop open the little gismo at the end of the laces and replace the laces with longer parachute string. For now it works fine, but I'll spend a few bucks to make these boot even better.

3. Sole issues: I had absolutely ZERO problems. I wore the Kling-on soles yesterday because I didn't think I'd need felt. I was in a very, very mucky lake and had been told by a salesperson at a large sporting goods store that sometimes silt and pebbles can get between the midsoles and the removable soles; he said "it feels like there's a rock in your shoe". Well, after yesterday, I don't know how that's even possible! When I removed the Kling-on sole, there was a TINY amount of mud and nothing worth even talking about.

3a: True mudders: I was a little concerned that the soles would get sucked off in the mud but there was NO chance. I was in mud up to and past the top of the boots and it took some major twisting and turning for me to take a step but the soles stayed right where they were!

4. Slips and falls: I didn't have to contend with a lot of rocks yesterday but there were a few under the mud and my experience tells me that these Kling-ons probably won't be great for a mossy river. That's okay, though, because I have the felt! I don't think switching soles is quite as easy and their commercials would let you believe but you can definitely do it on the shore/bank. My plan is to hike in the Kling-ons and fish in the felt.

5. Clean-up: To clean these up, I just hosed them off and dipped them in a bit of mild bleach solution. They are basically dry right now, far less than 24 hours later. The synthetic surfaces of the boots help them dry really quickly and the debris and mud rinsed right off.

6. Weight: I had the luxury of comparing these in the box with another brand of boot and I will say that the Korker's are not as "burly" looking or feeling. For me, this was a pro in the Korker's column because I prefer flexibility over a very structured boot. I also love that as soon as I step out of the water, I can see it draining out of the midsoles. Brilliant! I also got to walk around/hike in these a bit yesterday and they were really comfortable and light.

7. Look: For me, this is the least important aspect of a piece of gear, but it's worth saying that the camo looks nicer in person than in the photo. It's a little bit lighter in real-life. Anyways, I'm not much of a camo person (except at this price) but I like this pattern.

8. Customer service: STP has the best prices out there and I'm so glad I could get these at an affordable price. They also were very speedy to help me with a question I had and the shipping was super fast. My experience with Korker's was similar -- a quick couple of emails solved the problem!

Love the boots, love the customer service, love the price -- I just love my Korker's!

Reviewed by RoverMartian from Oklahoma on Tuesday, June 9, 2015

Amazing boots. I wear mens 8 to 8 1/2 and bought size 9. Plenty of room with my neoprene socks and the additional thick sock if needed during the colder days. Love the elastic quick draw laces. Obviously the camo is odd looking, but really no complaints. I Iike the interchangeable soles as you can switch them according to your terrain changes so if walk a lot out of river, it's great to put on the rubber soles as the felt are too slippery on the mud and grassy hills.

It's not trout season here now so haven't tried these in the river yet. The soles seem easy enough to remove and insert with a little practice. Quality appears to very durable, but based on other reviews, expect to replace the soles as they are consumable due to normal wear. Can't wait to hit the river!

Verified Buyer

Reviewed by FlyfishPA from Western_Central Pennsylvania on Monday, April 27, 2015

This appears to be a very nice product for the price yet as other reviews have indicated the tie strings are way undersized to the point where I have to cut them and put on my own, Otherwise zero complaints!

Reviewed by RedMtMom from Eastern Washington farmer and sportswoman on Monday, March 30, 2015

Purchased these in fall '14 for the '15 razor clamming season on the Washington coast. The footbed is sooo comfortable with forming arch support. I had foot & ankle surgery this winter so wondered how they'd work. The boot is high enough to give good ankle support and the easy lace system works slick to tighten up. They are so light weight even when slogging thru waves, then easily dry. Even if you have to put on wet (nothing dries in the rain) they are light and easy to get your foot into. I have not used the felt bottoms yet, but was surprised that the tight fit of the interchangeable sole system did NOT accumulate beach sand between the sole and boot. These would have been a good buy at twice STPs awesome prices

Verified Buyer

Reviewed by Alejandro LLinares from Patagonia - Argentina on Monday, March 2, 2015

Best product amazing price, Thanks!!

Verified Buyer

Reviewed by Flyfishing Mike from Pennsylvania on Wednesday, February 11, 2015

I really liked the option of interchangeable traction to allow for various uses. Good quality and great value for the money.

Verified Buyer

Reviewed by Madison Gardener from madison WI on Monday, February 9, 2015

Got these for my husband for an upcoming Colorado summer fishing trip, as the reviews were good. He is a size 9.5 and the 10's fit good with the footed waders.

Verified Buyer

Reviewed by jb1023 from Colorado on Wednesday, January 14, 2015

I have not had these in the water yet I fail to see how they could be anything but good. They are not too heavy and the tread is nice and aggressive. They appear well made and I suspect they will last for a long time. I wear a half size and on my first pair I only went up a half size, promptly sent those back and went up another size so I am now wearing 1.5 sizes over normal.

Verified Buyer

Reviewed by Paoutdoors from PA on Tuesday, December 23, 2014

I fish A-LOT all year round. That being said, I got these in early April 2014 and they are starting to show a decent amount of wear. I'll probably need another set of boots by the end of January or February. I use them hard and often, so they lasted a reasonable amount of time. For someone that only fishes every now and then, or a lot in April-June you will get years of use out of them if you take care of them. They came with a felt and rubber sole. I've almost used the felt to the bone and idk if they will see the rubber sole before their time. I would recommend that if you're a half size get the next size up! I wear an 8.5 in most thing and the 9 fits well, I've found that korkers tent to run a little small. All and all a decent boot for a great price!