Believe it or not, the first Korkers boots were cobbled together in a small basement workshop more than 50 years ago using scrap rubber, nylon cord and carbide spikes. Shortly thereafter, the now-famous "River Cleats" were born, and this highly functional wading sole system soon became a favorite among local fishermen. Over the years, Korkers wading boots have grown to include amazing innovations like OmniTrax V2 interchangeable sole technology. In addition to trusted performance on the river, Korkers winter boots also provide the same outstanding traction on snowy and icy terrain. When you ne
... Learn more about Korkers
ed maximum grip on the slickest surfaces, this is the footwear brand for you. ... Less
About the Korkers Brand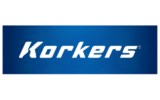 Reviewed by Zeke the Bird Hunter from Montana on Saturday, May 28, 2016

Finally got to test drive these wading boots yesterday and could not be more pleased. They are a bit higher (9") than most wading boots so the ankle support is very good and they still could accommodate the gravel guards on my waders. They run true to size even with a 5mm neoprene wader boot foot so if you normally wear a size 11 shoe order the same size. I probably trekked/waded over 3 miles and had no discomfort whatsoever.

Verified Buyer

Reviewed by Jmac from Illinois on Monday, May 9, 2016

Bought these for my son. He feels these are the best boots he has had. Comfortable, yet plenty of support.

Reviewed by fishin413 from MA on Thursday, March 31, 2016

Sole retainer peg on the right boot broke off on the second trip out leaving me in tough shape in the middle of a frozen lake. Boots started to leak after the third trip. I wish they worked out because the carbide studded soles performed awesome on ice and the boots were warm, light and comfortable.

Reviewed by John from Minnesota on Thursday, February 4, 2016

Soles change easily, making it a great boot for MN. On the north shore of Lake Superior felt soles are a must, everywhere else rubber is great.

Great fit and comfortable all day.

Verified Buyer

Reviewed by Flying High from Seattle, WA on Wednesday, February 3, 2016

The interchangable soles are easy to swap and the boots are great looking.

Verified Buyer

Reviewed by Matt from VT on Wednesday, January 6, 2016

Great boots! Only negative is they're a tad narrower than other boots but they may just have a long break in period. The interchangeable soles make life easier. No more having to epoxy in new studs in worn out holes in my boots. Simply take the sole off and change them out. For the price I got these, I can't even imagine why they didn't sell out immediately.

Reviewed by PSUBiker1 from Burlington, VT on Monday, January 4, 2016

As the title notes, it was very cold up here in Burlington, VT. I hiked on a snow covered, icy trail for 1.5 hours and my feet never got cold. I had great traction, great comfort, and would highly recommend these boots... except they are sold out...

Reviewed by Rob from Colorado on Tuesday, November 24, 2015

Vibram Idrogrip outsole is the same material you will find on top of the line Simms, Orvis and Cabelas wading boots. Best wading boots I have owned for several reasons. First, for their bombproof-ness and height, these are a pretty light boot especially when you consider that they hold VERY little water weight compared almost any other boot. Second the omnitrax seemed like a sales gimmick when I was looking into korkers; however, they system works quite well and allows for a customization of traction in all conditions. you can easily hike in the rubber sole(which does quite well in it's own right) and pack a alumitrax/felt/studed sole etc. and swap on the riverbank. Felt has some invasive species implications, but holy #?*! does it grip on the "greased bowling ball" rivers such as the Eagle her in CO. Being able to remove them from the boot, you can freeze the felt soles(the only reliable way) to kill any potential "hitchhikers". The drains being on the bottom of the boot are a big deal. I use these with wading socks in the summer and even with the extra space with no heavy socks and stocking foot, they squeeze the water out in just a few steps and the height also helps to keep water out. Word to the wise, buy an extra set of heavy duty laces(90"-96") as the d- rings on the top of the foot chafe the laces badly.

Verified Buyer

Reviewed by Cowboy Bob from Boulder on Thursday, November 5, 2015

Having been a Simms fanboy for years, I was really surprised with the Korker KGB boots. I purchased these to replace a pair of G3 Guide boots that went the way of all things after about 6 years of pretty tough use in Colorado and Wyoming.

I've only had these on once, but the fit and quality of construction seem like I should get 5 years or so out of them. STP always offers great values and the shipping is usually only a day or so. Couldn't ask for more.

Verified Buyer

Reviewed by Asarkozy from Colorado on Sunday, August 30, 2015

I bought these Korkers KGB boots because I was looking for a pair of wading boots with more support while I hike to my favorite fishing canyon near Denver, CO. I already have a pair of Korkers Mudder Duckers boots (I also bought these from STP) that I really like which have a medium top boot height that I've fished in for a year and they are a lightweight boot that are real easy to travel with. But a couple of times while I was hiking to fish I came close to twisting my ankle on the angled terrain in Cheesman Canyon and I realized I needed another taller boot for hiking trails. I bought these because I really liked my other Korkers and these were priced right. My studded soles from my other Korkers fit perfectly with these boots and wow, what a difference in stability/support. These are well made with a padded collar, padded tongue, tough boot exterior speed lacing hooks, Korkers interchangeable soles and they started contouring to my feet after wearing them a few times. I've already ordered another set of outsoles with the aluminum bars because I'll be using these KGB Korkers hiking a lot.