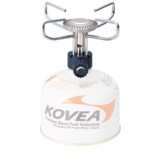 Closeouts. With its lightweight, compact and durable design, Kovea's backpacking canister stove is an ideal choice for trekking in the backcountry and general camping.
Average Rating based on
16
reviews
4.812500
0
5
Reviewed by Kurt from California on Monday, September 19, 2016

Used this stove this past weekend on a backpacking trip, and worked very well. Small, light, and this thing puts out some heat!

Verified Buyer

Reviewed by Z Steezy from Portland on Monday, September 12, 2016

Small, light, dependable. This is perfect for any outdoor adventure.

Verified Buyer

Reviewed by Austin the firefighter from ID on Friday, September 2, 2016

Amazing little stove. Great space saver in the pack.

Verified Buyer

Reviewed by Taeho Yoon from South Korea on Tuesday, August 30, 2016

???? ???
it never let me down. stove, camping tools, and so on

I like this compact size and power when it's ignited.

Verified Buyer

Reviewed by Jeremiah Portland from Portland, OR on Monday, July 25, 2016

Made many a delicious meal with this this last weekend!

Reviewed by Luciano from MG. Brazil on Friday, May 27, 2016

Great product. I really enjoyed and recommend.

Verified Buyer

Reviewed by Tetoner from Idaho on Wednesday, May 18, 2016

I have a small, backpacking wood stove that I love to use. However, I usually bring this tiny thing and a small canister just in case. I also take it on quick overnighters when I just want a quick water heat up. The only negative is the canisters (not a big fan). The lack of a piezo lighter doesn't matter to me since I always have a lighter or sparker.

Verified Buyer

Reviewed by Kevin Undie Love from SLC on Wednesday, April 20, 2016

Great distribution of heat - easy folding mechanism, A+ for $15

Verified Buyer

Reviewed by JohnnyB from SoCal on Monday, October 13, 2014

Purchased this stove for back packing trips with son's scout troop.
Very good value with the frequently offered discounts.
Small and lightweight, excellent for minimalist style packing. Didn't time it, but brings a large quantity of liquid to a boil quickly.
Only significant downside I've encountered is the high center of gravity, need to be very cautious with larger containers especially. Works fine for me, but might not be the best choice for younger users or anyone who isn't paying close attention. Consider something like the Kovea Booster Dual Max Gas Stove if extra cost and weight isn't an issue. Word is that white gas is more efficient at higher altitudes, so dual fuel option could be advantageous as well.

Verified Buyer

Reviewed by batteryman from Wisconsin on Friday, August 15, 2014

Recently purchased the Kovea stove from STP. Used along side the "Snow Peak Gigapower" stove on a week long canoe trip. The Kovea actually performed better, with better heat distribution and considerably better stability. The flame control from high to simmer performed well. It does not have auto lighting capability and it is heavier than the Snow Peak. Other than that we think this little stove is a "best buy"