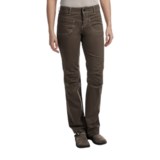 Closeouts. You set off for a quick trip in town, but one thing lead to another and now you're off on a sightseeing trek. Fortunately, Kuhl's Dulce pants are not only street chic, they also have two-way stretch and articulated knees to keep you moving effortlessly.
Average Rating based on
29
reviews
3.965517
0
5
Reviewed by cpg123 from Brooklyn, NY on Monday, March 10, 2014

I love these pants. The fabric is a somewhat heavyweight but they are perfect for winter. The legs are slightly more flared than in the photos. I find the sizing to be perfect. I wish they had more in my size...

Reviewed by M.A. from Fairbanks, AK on Monday, February 3, 2014

I love these pants but they are a bit more snug than I usually like. I'd suggest going up one size. They are nice, thick but soft-feeling material and the seams are well put together. T design has some well thought out details like an bit of extra fabric and darts at the knees so bending and squatting is easier.

Reviewed by locorunner3 from Eastern Iowa on Friday, January 3, 2014

I am 5ft 2" and 125 lbs and normally am a straight off the shelf size 6 in pants. These run just a bit small around the waistband, so gave them to my daughter. I found a size 8 on eBay, bid on them and they fit pretty well. The fabric is great, they will last the rest of MY life! They are very stylish and comfortable. I would probably buy another pair if I found them on sale again!

Reviewed by Jen from NV on Sunday, November 10, 2013

I normally wear a size 6 but I saw these in an 8 at the retail store and decided to try them on. The waist and hips fit nicely, really the only issue is the length (I am 5'2" and these are crazy long on me, I need to hem them). I really like the heavy fabric... they are a nice alternative to jeans. Sadly, like most women's pants, these have ridiculously small pockets in the front which will barely fit a key in, let alone a smartphone. The design should allow for the pockets to be altered from the inside though, so all is not lost. A solid 4 stars for the nice design and fabric, 1 star docked for the alterations I will have to make to the hem & pockets to make them truly great.

Reviewed by Fashionista from Michigan on Tuesday, October 8, 2013

I own a lot of Kuhl pants but the sizing is way off on this pair. I am a size 2 on all Kuhl pants ..size 26 on jeans. After reading all the other reviews I ordered the size 4. it fit me perfectly on the waist but its a challenge to get it over the hips. LOL The legs are loose.. These pants will last a long time .. I haven't worn them yet for hiking since I just received them today.

Reviewed by TBricker from USA on Monday, October 7, 2013

I own other Kuhl pants, so I know what size I wear in that brand. My size 4's are good, but start to feel a little big by the end of the day due to the "stretch", so I was confident ordering that size. When they arrived I couldn't get them on. Sent them back and very quickly received the size 6. Still way too small. This time I had to call Sierra to get the return processed because they hadn't put the ones I sent back into their system yet. Again, very quickly I received a new pair size 8. These fit! I've only worn them once, but they were nice - a thick durable material (but very little stretch). I'm happy with them. Overall, I was happy with how quickly the returns process went and the friendliness of the customer service agent. But it was very annoying at how off the sizing was and which caused multiple trips to the post office.

Reviewed by gretchen from wisconsin on Friday, October 4, 2013

Crazy fit. I bought some kuhl shorts that I practically lived in this summer, I loved them so much. These are stiff brushed canvas, which I knew going into it, and make the fit really important because they don?t move with you. The waist is literally 2 sizes to small. I can?t even button them, barely get them over my size 4 tush, and I ordered a 6.

Reviewed by Kent an from Kent, Ohio on Thursday, October 3, 2013

I really enjoy the Kuhl wear. These pants are of strong material with stretch. I purchased 2 colors and glad I did.

Reviewed by Very disappointed from Arizona on Monday, September 23, 2013

The pants are well made, nice fabric. However they did fit oddly. They were tight in the waist ship but loose in the legs. The from pockets didn't seem useful either

Reviewed by crenfroe from Louisiana on Tuesday, September 17, 2013

These are super cute, nice heavy material, looked like they would wear well but, they run very small. I usually wear a solid size 4, I ordered a 6 but, needed an 8. Unfortunately, they are no longer available. Worked out well for my friend that bought them off me before I could return them.