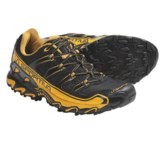 Closeouts. If you're looking to beast technical terrain, La Sportiva's Raptor trail running shoes are where you'll find the grip. A flexible lacing harness straps you comfortably to an ultra-sticky FriXion® XF with an Impact Brake System for improved braking on descents.
Average Rating based on
40
reviews
4.600000
0
5
Reviewed by wv mtn runner from West Virginia the mountain state on Saturday, September 14, 2013

I bought these shoes based on the La Sportiva reputation. These are my 7th model of La Sportiva. I need a durable shoe for an upcoming three day trail ultra in the high mountains of West Virginia. After hours of running, I'll need these to protect my puppies. They , like all of my La Sportivas fit perfectly right out of the box.

Reviewed by Est from Washington on Tuesday, September 10, 2013

I have had these shoes for a few weeks now, with daily wear at work where I am on my feet on a concrete floor, and I have also taken them on a run on a mix of pavement/gravel/dirt, and they're treating my feet well.

Like several other reviews state, these shoes run a little small. I'm a size 12, 46 Euro, and I got a 46.5. That length is just right. These shoes are a little narrower than others I have used but that proved to not be an issue once I loosened the laces up a bit in the forefoot. The back of the shoes have a really deep cradle for my heels and it does a great job of locking my feet in. I can't stand shoes with heel slop and with these, there is none, even with the laces relatively lose. The tongue is well padded with a debris shield instead of a gusset. Toe cap is really solid and sturdy. It's saved me from a stubbed toe several times already! Soles provide excellent traction and they are one piece so they won't be falling off the mid sole in chunks like my last pair of shoes.

Overall these shoes are pretty lightweight but also really sturdily made, unlike a lot of running shoes that feel like a flimsy marshmallow foot wrap with a mesh overlay, laces and the dreaded, multi-piece sole design that I have always experienced delamination issues with. I'm very pleased with them.

Reviewed by Brian in Basalt from Basalt, CO on Monday, August 19, 2013

I love La Sportiva shoes. Their hiking boots have always been the best fit for my foot. The Raptor trail runners have that same great fit. I wear them to play grass court volleyball and to scramble the local mountain trails. I always buy 1/2 size up for toe room in my running shoes so size 12 was a perfect choice. They are also a great looking shoe.

Reviewed by SC from Canada on Wednesday, August 14, 2013

My son has severe over pronation.....these shoes are very stable and help with his pronation. Have bought several pairs. Great support. Good for off road running, or just playing soccer on the grass.

Excellent

Reviewed by Eclectic Mike from Jackson Hole Wyoming on Tuesday, July 30, 2013

I could not be happier with these shoes! Virtually no break in period except for the right shoe in the big toe area; there was a slight crease in the stitching so that the material rubbed a bit on my toe but that went away after a few days. I have a chronically swollen right big toe anyway. I started wearing them right away, all day, as a painter outdoors and hardly even thought about the fact that I was wearing new shoes except for that one small area around the big toe. I felt sure and light on my feet and stayed cool in the summer heat. A 2hr hike to Ski Lake in Jackson, Wy was very enjoyable. Climbing up the steep banks of the Snake River was much easier than ever before. I was sure I was going to slip on the loose soil and scree but nope! I might end up buying a 2nd pair but will have to buy them elsewhere since they don't have 46.5 (US size 12.5 which is 1/2 size up from what I normally wear). So, yes, buying 1/2 size up is advisable.

Reviewed by dave from AK on Tuesday, July 16, 2013

As everyone says, they are a size smaller than listed. I have narrow feet and they fit great, except a little slop in the heal. Not bad though, for size 13.5 Haven't had them very long, but I think they'll wear well.

Reviewed by SIngleSpeedCo from Colorado on Thursday, June 27, 2013

I love these shoes. They fit great out of the box, and performed well on the trail. After reading various reviews I will agree that the U.S. sizing is off by an almost full size (smaller). I looked at the European sizing on my current shoe and order the Raptors in that size and they fit great. I need to order another pair of these before they are gone.

Reviewed by Skinny G from Up Yonder on Thursday, June 13, 2013

I initially bought these shoes as backups but they've moved to the varsity squad. The trails I run on are pretty rocky and technical and the Raptors are in their element in these conditions. They're stiff but not too stiff, super grippy and fit my narrow feet perfectly. They're snug in the heel but allow for forefoot swelling if you're out for more than a few hours.

Reviewed by Pato from Nevada on Thursday, May 30, 2013

I bought these shoes about 8 months ago and wear them every hike, run with the dog, workouts, and even to work. The trails I take are very rocky and every other shoe hasn't lasted a month out of the box except these. They are true to size and felt great the first time on. I was hesitant to leave a review until I really put them to the test. The rocks have had no effect on them and they grip to everything. After washing them 3 times and trying to destroy these shoes in every way, they still look brand new; except for the normal wear on the bottom sole. The rubber toe has saved me many times after kicking rocks and doesn't peel away like other brands. I highly recommend these shoes.

Reviewed by Modessarow from Mount Vernon Wa on Monday, May 27, 2013

This is a great shoe if your looking for stability and comfort combined. However they run super small. I ordered a 10.5 for my husband and they barely fit my size 11 woman's foot. I ended up returning them.

Reviewed by popmonca from CA on Friday, May 24, 2013

I bought this shoe after a couple of tries with some others that did not work out. After about three weeks everyday on the trails I have to say these are keepers. The fit great right out of the box. Fit is true to size. Tie them with the process that cinches the heel up and there is no slippage. The sides support very well with no role over. The toe box is very comfortable with just the right amount of space even with thicker socks. The foot bed has a very good insert and nice support. Plenty of grip in the gravel and dirt. Time will tell how they hold up but they do seem to be constructed very well.

Reviewed by jim from denver on Tuesday, May 21, 2013

I got the Sportiva Wildcats and Raptors in the same order, and they are really great for hikes and everyday walking. I am a true size 11 with long low-to-mid volume high arched feet, and I usually buy 11 1/2. After reading other reviews, I got the Wildcats in size 46 (U.S.12) and I got the Raptors in size 45.5 (U.S. 11 1/2). The Wildcats are a little large, but excellent with some thick hiking socks. The Raptors are just about perfect with lighter hiking socks. I'm glad to have both pair.

Reviewed by Onmyfeetalot from Gyspum Colorado on Tuesday, May 7, 2013

These are excellent, comfortable shoes. I don't run any more, just use them as work shoes in my cabinet shop. I read other reviews and bought 1/2 size larger and that worked perfectly. Light with good support.

Reviewed by Lookout Ranch from Sierra Foothills on Friday, May 3, 2013

These shoes have just about the most comfortable, most supportive footbeds I've experienced. My heel is very securely locked in as well. The width at the ball and toes is nice without being sloppy, and the they lace down securely on my low volume feet without bunching up above my toes. I have strange feet -- normal width and arches but with very low insteps -- i.e. low volume, so it's very hard to find shoes that fit well. These bumble bees work for me. I haven't had them out on the trails yet, but the initial impression is very good. Length-wise, I'd say they run maybe a half size small. I wear a 12 in most shoes and got the size 46.5 in these, and they are just long enough.

Reviewed by Hec from Chihuahua on Thursday, April 18, 2013

True to size. Rugged, yet not clunky. I bought them for an ultra marathon in the Sierra Madre mountains, and so far (training) they've been perfect!

Reviewed by dv from el paso, tx on Tuesday, April 16, 2013

Size is at least 1/2 size, if not a full size, smaller than normal. I bought two pairs, 45.5 and 46 just to be on the safe side. Though the 46 fits well enough, I can't help but wonder if the 46.5 would fit better-- maybe even too large. Regardless, I've decided to keep them (heck, my running days are over anyway and I just like trail runners for beating around town). There is one slight annoyance on the left big toe, the edge of the rubber toe bumper rubs my big toe. I think I can eventually push this deformity outward and have a comfortable pair of shoes. Otherwise, solid construction (unlike my The North Face trail runners which I feel are poorly constructed).

Reviewed by Mike E from Washington on Friday, April 12, 2013

I should have paid attention to the reviews that said theses run small, but didn't, and instead went with the size I normally wear. The clear rubber trim around the outside has taken on a kind of yellow tint, which can be overlooked. they would have rated a four if the size was right.

Reviewed by Lolo3913 from Montana on Wednesday, April 10, 2013

These seem like really good shoes for the price. Unfortunately I had to return because my exact size as ordered was far too small.

Reviewed by paul from idaho on Monday, April 8, 2013

very cofortable and stable

Reviewed by Skippy from California on Sunday, March 31, 2013

These shoes are great so far. I received them a couple of weeks ago, and got to try them on the trail this weekend. They seem very sturdy, and are very comfortable. I would recommend these to anyone looking for a trail running, or even a light hiking shoe.


Reviewed by m4 from michigan on Saturday, March 30, 2013

bought these for my 14 yr old son to backpack in, so far just wearing them to school, did a 4mile beach hike, he loves them. they do have more of a formed fit than his prev shoes we sized up half a size. and they feel fine to him now and he loves the flashy black/yellow color.

Reviewed by Chad, just your average Adventurer from Colorado on Wednesday, March 27, 2013

Have only done 2 trail runs so far with them, but they felt stable and had great traction. I've always been happy with my other La Sportiva products and this one delivers like the others. I like how it has a pretty good lock on my heel, I have a narrow heel and I haven't felt mine slip in this shoe. Have to wait and see what durability is like once I start my longer runs this summer.

Reviewed by Beck from New Mexico on Wednesday, March 27, 2013

I bought these shoes because I've never tried La Sportiva running shoes and was looking for a shoe with aggressive tread. These shoes definitely run a little small and narrow. I upsized 1 size, but they still felt snug. I had Sierra send out another pair a half size bigger so I could compare. I kept the larger pair (1-1/2 size larger than normal) and after wearing them around the house for a couple days decided to put them through their paces. I went on an 8 mile trail run in them. These shoes have really good traction in the uphill, superb braking traction on the downhill, and even off-camber trail sections. I was running in high desert mountain trails, so I can't comment on how they handle mud, but they excel in dry dirt/loose rock (steep trails). Loved them!

Verified Buyer

Reviewed by G Money from Colorado on Friday, January 25, 2013

Fit is snug, but fine with thinner socks. Shoes are great with great support, light. An excellent bargain.

Verified Buyer

Reviewed by ThomasM from Seattle, WA on Monday, January 14, 2013

Good shoe for a great price. Seem true to size and feel like they will be a great shoe. They seem fairly light compared to previous trail runners I have used.

Reviewed by crispeto from Portland on Wednesday, January 2, 2013

I love these. They are very comfortable. I can't wait to get out on the trail this coming spring and summer. I've only worn them on some very light trails so far but I can already tell they are going to be great. I plan on putting a lot of miles on these over many trails. Really great shoe.

Reviewed by MTtrailrunner from MT on Friday, December 14, 2012

These are my first LaSportiva shoes, and so far so good. Weight is right around what my Cascadias weigh, so not light but a decent tradeoff in grip and security. The aggressive tread on these is nice when things get a little more gnarly or wet or loose. The fit is good. These lock the heel area very well, yet still allow wiggle room for the toes. I did have to size up as others mentioned. According to the STP conversion, I should be 43, but I had to send back and ended up with a 44. I think that gave me the best balance between foot feeling secure but still room for some foot swell. Haven't had any long runs in these but I hope will handle those fine. The flexibility seems good, the sole cushioned but not crazy so, and fit seems to lean ever so slightly toward the running side of the hiking shoe spectrum, so I have high hopes.

Verified Buyer

Reviewed by Clydesdale from The Cabin, Minnesota on Wednesday, December 12, 2012

Already knowing that La Sportiva makes a quality product I purchased these shoes with the intent of leaving the asphalt behind. No disappointment. Great fit, lightweight, and superior traction off road.

Verified Buyer

Reviewed by Mcgid from Susanville, CA on Monday, December 10, 2012

I have 4 pairs of La Sportiva trail running shoes and they never fail to amaze me. They can handle everything from sharp scree to powder snow.

Verified Buyer

Reviewed by Anton_S from Lutsk,UA on Friday, December 7, 2012

I've bought this shoes for winter running and they are perfect, even on ice they are very stable. Also must be good for mountain trekking. My size is 9.5 and raptor are fitting perfect.