La Sportiva Reviews

Popular La Sportiva Products

Popular La Sportiva Searches
La Sportiva has been designing and producing innovative footwear in a small mountain town at the foot of the Italian Dolomites for more than 80 years. Always focused on the future and embracing new technologies, La Sportiva footwear is known around the world for incorporating premium features like Gore-Tex® waterproof breathable membranes, moisture-managing Dri-Lex® linings, Vibram® outsoles and more. Models of La Sportiva boots are available for everything from light day hikes on gradual trails to challenging, high-alpine pursuits. La Sportiva trail running shoes feature performance features
... Learn more about La Sportiva
like FriXion® traction outsoles and MEMlex midsoles to take you from trailhead to peak. ... Less
About the La Sportiva Brand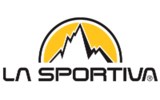 Verified Buyer

Reviewed by Rachael from Arkansas on Friday, July 22, 2016

These capris are super cute......and very soft and comfy :)

They seem like they're made really well. Love the pocket for a brush...hahah.

Reviewed by Ebars from NH on Saturday, July 9, 2016

These are big, tough, rugged backpacking boots. I have put about 60-75 miles on them now, and just finished my first big outing with them in the NH White Mountains. 2 days, 22 miles of deep wilderness.

Details
Fit: Run small, definitely 1/2 size up. Width is decent, but my borderline wide feet could use a bit more room at the ball and pinky joints.

Break-in: These will take time to break in. The roughout, silicon impregnated Perwanger leather is very high quality, durable, rugged. I prefer this type of leather over the type Alico uses for rough conditions. The inner leather is soft, comfotable and should break in quicker.

Lacing: Very nice locking system, but I wish they would have scrapped the fabric loops and just sensibly put a deep heal lock steel eyelet like the others. It feels like the first part of the boot that will breakdown by a long shot.

Soles: These are stiff and should be, but have a slight rocking motion that enable them to walk well. Vibram tread seems very durable with great traction.

Support: Terrific all around. I doubt anyone could carry more weight than these boots could handle.

Weight: Heavy as you would expect.

Breathability: Not great being leather inside and out, but better than a leather backed goretex. They do get a bit warm in Northeast summer conditions.
Waterproofing: Great. I have treated them with Nikwax to keep from impacting breathability. I have submerged them for minutes at a time, no issues.

Very pleased with this purchase, especially at STP prices!

Verified Buyer

Reviewed by B from Idaho on Thursday, July 7, 2016

No doubt they are ugly, but they are lightweight, flexible, and comfortable around the foot. Sticky rubber on rock and loose sand. And light. I sized up 0.5 size. As reference, for the La Sportiva Crosslite I go up 1 full size.

Reviewed by Brandon from Colorado on Friday, July 1, 2016

I'm a Merrell guy. 12 pairs and counting. 9.5 in the trail/tough/radius glove line, 10 in all the "standard" shoe lines. 10 in other brands as well. I sent the US 11's back for 11.5's and they are just a hair lose, 11's were bashing my toes just standing in the living room. Crazy oddball sizing.

Haven't put time on them outside yet, but they are light and feel so. I bought them to use as backpacking shoes when i need more cushion than my trail gloves complete lack of it. They seem to vent nice, and i think they will keep debris out of the lace area with the stretchy cover. I actually came back to buy another pair as a backup (two days after my exchange) and they are gone. If you think one of these sizes will work, grab it now.

Reviewed by Smitty from Boise on Saturday, June 18, 2016

I've had this shoe for a total of 3 months and have taken them on only ONE camping trip. The shoe started separating where the side meets the sole. Sierra Trading post was fabulous and offered to take them back, but they did not have any more of this model in my size. The boot is very comfortable for me, so I opted to keep them and contact La Sportiva for a fix. They offered to fix it, but at my shipping expense. After spending a couple hundred dollars on a shoe and having an issue after such a short period of time, this solution wasn't acceptable.

5 stars for comfort
4 stars for quality
2 stars for LA SPORTIVA customer service

Verified Buyer

Reviewed by Trails-or-bust from New Englande on Monday, June 13, 2016

I am a big fan of La Sportiva trail running shoes. I own a different model and I love them. These have the same durable thread, are light weight, and have the low drop that allows you to "feel the trail". I size consistently in a US 10-10.5. My other pair of LS are 10.5 and fit perfectly. I had to exchange the 10.5 for a size 11 in this model and it fit the same as my other 10.5. The only other down side is that the lower laces are a bit difficult to get to with the mud/brush cover.

Verified Buyer

Reviewed by Judy from Tennessee on Thursday, June 9, 2016

I was really impressed with these boots from the moment I saw them on the website, ordered them, and put them on. I was overwhelmed with the quality, comfort, and durability of these mountaineering boots that I am still in awe. I love them & so glad I found Sierra Trading to be able to have such great quality boots for the first time in my life (senior citizen).

Verified Buyer

Reviewed by Jean D from Philadelphia on Wednesday, June 8, 2016

Good quality fabric but much too small for me in my normal size.

Reviewed by illum from Europe on Sunday, May 22, 2016

Got pair of the these during winter holidays discounted for 23$. I've bought them as a gift for my sister, which has 36 shoe size, so i ordered half size up according to the reviews. Fits perfectly. Great quality, packaging. Even though shoes are for hiking purposes, my sister used to wear them casually. YouTube unboxing & review in russian: watch?v=uQVoupWMg6Q#t=6m40s

Verified Buyer

Reviewed by M the clmber from Montana on Wednesday, May 18, 2016

These are my daughters shoes. He first pair ended up being defective. She sent them back and go a new pair. Sierra Trading handled the transaction quickly and she loves the shoes. You do have to purchase a size down, but that seemed to be how they fit best.