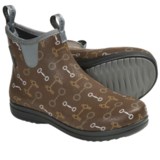 Closeouts. Made to keep your mood sprightly and your feet dry during cool spring showers, LaCrosse's Hampton II boots feature fully waterproof construction, insulating neoprene lining, and a Rugged Walker outsole, which increases surface contact for dependable traction.
Average Rating based on
47
reviews
4.638297
0
5
Verified Buyer

Reviewed by cannon kids from New York on Wednesday, July 1, 2015

pattern and material are very nice & durable, however run half size smaller end ups return.

Reviewed by Happy Retiree from mn on Monday, March 17, 2014

water boots are so difficult to buy: they can be heavy, stiff and uncomfortable. But I love these LaCrosse boots ! So comfortable and easy to put on. I take a size 7, and found them to fit fine. Not "extra room", they are "form fitting" which I like. Very happy.

Reviewed by Karen from Ann Arbor on Friday, March 14, 2014

These have been great for the last few weeks of the polar vortex. Surprisingly warm, waterproof and easy to put on. The top part hugs your ankle and helps keep water out. Good traction. Runs a little big - plenty of room for bulky socks. Excellent price.

Reviewed by Ladybug from NC on Tuesday, March 11, 2014

I bought these boots to wear during the rainy season. I got them last week and wore them straight away. I really like the looks of this boot and the color is fabulous. But I am sorry to say that the opening of the boot(Collar/Rim/Throat?) is too narrow. Even using the ears(pulls) I had a difficult time putting them on. In addition, they are way too clunky for me. Still recommend for anyone who does not mind the hassle of getting them on and feeling weighed down when walking:)


Reviewed by Mabel from Milwaukee on Monday, March 10, 2014

Perfect fit, warm, even in these sub-zero temps(with a sock) and comfortable on the snowy/icey/lumpy concrete surfaces

Reviewed by AnnetteB from NC mountains on Monday, March 10, 2014

I ordered the10 as I am a 9.5 in most street shoes and 10.5 in most running shoes. Great traction, easy on/off. Not my size, I should have chosen a 9.

Reviewed by Lilypad from Indiana on Monday, March 10, 2014

Haven't yet had a chance to actually try out these purple puppies, but now that all the snow is melting and there's water and mud everywhere, they'll be working overtime! They're very comfortable, not real heavy and they're easy on-easy off.

Reviewed by Wine Country from California on Sunday, March 9, 2014

Very warm and cozy. Waterproof and easy to get on and off. Runs a little big but with Acorn fleece socks or your choice of thicker socks they are great!

Reviewed by Northwest Gardener from Seattle on Friday, March 7, 2014

I wish these boots fit. The upper part of the boot is like a stovetop and it rubbed uncomfortably against my shin. Really needed new rain boots but these were such an odd fit I had to send them back.

Reviewed by Reviewer from California on Friday, March 7, 2014

I wear size 11, and the size was perfect. The lining and grips make them easy to slip on and off. They have just the right combination of support and suppleness. Can wear for long periods without fatigue or condensation. Or just for quick trips to the barn or pasture. PS: The smell wears off after a day or two.

Reviewed by Horse Lady from Connecticut on Tuesday, March 4, 2014

These are perfect for what I need them for: walking distances in wet fields, cross-country courses and horse show grounds. I was really surprised at how comfortable and supportive these are. If the taller version (the "Alphafilly") had been available in my size, I would have bought them, too. The footbed is very comfortable, with a good cushioned barrier between your foot and the ground. The ankle is soft and flexible -- so no blisters. I think I'm going to buy another pair! (Note: if you're a horse person too, make note that the toes are NOT reinforced, so probably not the best protection around stomping hooves.)

Reviewed by BackToYogaPants from Virginia on Monday, March 3, 2014

Love these boots! Very effective at keeping water out. Feel like slippers. I like the simple look of them. Only complaint: The third time I put them on, the front loop pulled off on the inside of one boot. Seems pretty cheap for that to happen so quickly, but they're still easy to pull on and I just tuck the loop in.

Run pretty true to size, maybe slightly large. Definitely order down if you're a half size. Normally I'm a 9-9.5. I ordered a 9, and they're slightly loose but work well with thick socks. I wouldn't want to go down to an 8.

Reviewed by clou from North Carolina on Monday, March 3, 2014

This is just what I need for dog walking in rain and accumulated snow

Reviewed by WRX from NY/NC on Monday, February 24, 2014

These boots are comfortable right out of the box. I've worn them in snow and rain, and seem to keep the moisture out while keeping my feet warm. With the STP coupon, this was a fantastic value. Thx!

Reviewed by Lucyny2000 from New York on Sunday, February 23, 2014

I got the brown pair before there was a picture. I did not like the look, and I packed them to be sent back. Then the weather in New York keeps playing winter with snow, ice, and rain. I pulled the boots out of the box and went to work... Love the boots! They are soft, warm, and comfortable!
I wear 8.5 and ordered 9, fit perfect. The color is no fun, but who cares when it is wet and muddy? Oh, and the most important thing! Walking my dogs in a bad weather just became a walk on a cloud!

Reviewed by Ellie from Pennsylvania on Saturday, February 22, 2014

I ordered these boots and the Dansko rain boots at the same time to compare them. Both fit well in my usual size. I decided to keep these and return the Danskos because the shank on the Lacrosse boots is softer and doesn't cut into my ankles/shins.

Reviewed by tphnurse from Morrisville, PA on Friday, January 24, 2014

These are very well made and comfortable. I take a 6-1/2 shoe and I ordered a 6, which was too small. My toe was right up against the front. My size was not available so I had to give up on these, but I would highly recommend them to anyone. I was pleasantly surprised by the good quality.

Reviewed by rosie_in_bk from Brooklyn on Thursday, November 7, 2013

These boots are really nice! I have never felt such comfortable rain boots before. Unfortunately, they did not fit me (I have big feet). However, i would not hesitate to recommend this brand to anyone.

Reviewed by jdhud from Virginia on Wednesday, November 6, 2013

Very nice boots and the Sierra shipped them fast and in good packaging. I simply couldn't know improve on any part of this order.

Reviewed by Goosegirl from Nebraska on Tuesday, November 5, 2013

Really like these boots! Completely waterproof and comfy enough to wear outside for hours doing chores. The light insulation is good as well for long hours in above freezing temps. Would recommend and would buy again. Good quality, great price.

Reviewed by 65 in jeans from Asheville on Wednesday, October 30, 2013

sized right and very comfortable

Reviewed by Mary Me from New Jersey on Saturday, October 5, 2013

And heavy-very heavy, but, most rain boots seem to be and the weight is in the sole so you stay grounded! Better looking in person than in the picture. My regular size fit well although a tight squeeze to get them on.

Reviewed by Nana & Papa from Seattle on Monday, September 9, 2013

I purchased this pair of shoes for my 10 year old grand daughter, unfortunately she didn't care for the pattern I ordered (only one available in her size at time of order).

Check out Smart wool, Lopen, and Goodhew they all are made with merlino wool and my entire family loves all three brands!

Reviewed by Sue from Seattle, WA on Tuesday, August 13, 2013

I wore these in the garden after watering, kept my feet nice and dry. Pretty to look down and see the little rose bud pattern. Easy on/off with the loop pulls. Soft insoles. I wear 8-8 1/2, bought the 8 and feels fine with light weight socks. Looking forward to wearing them out walking the dogs on the trails. Kinda pricey 'but I'm worth it"

Reviewed by Patty from New York State on Monday, August 5, 2013

I was pleasantly surprised with these boots. The color pattern I ordered is funky, but love them just the same. I wear a 7 1/2 and the 8 fit just perfectly with a medium weight sock. They will probably be on my feet all through the year on those wet days when I have to head outside into the yard with the dog, etc. Just pull them on and go! No more wet socks to dry when I come in. Very comfortable, cushy shoe.

Reviewed by Kate R from North Dakota on Monday, July 22, 2013

They feel comfortable to my feet and look nice. Sizing is a bit tricky though: i normally wear size 7 and for these i wish i had ordered size 8.

Reviewed by Granny M from Midwest on Sunday, June 30, 2013

These LaCrosse boots are the answer for wet, muddy and slippery outdoors walking - the rose pattern I chose keeps me feeling upbeat during these dreary, rainy days. The fit is perfect and they are comfy - something I look for in every shoe/boot I buy. Thank you LaCrosse!!

Reviewed by Julie in MN from Minnesota on Saturday, June 29, 2013

I have only worn these boots a few times but they seem wonderful so far. After a very wet spring (and multiple pairs of wet shoes and socks) I felt a need to find these boots. After scouting what felt like the entire internet, I chose these for their design, style and price. I really wanted something that went up higher on my ankle so the wet grass wouldn't contact me. These boots sold by Sierra Trading Post were the best for the price by far. They are very easy to get on. The sizing seems good but maybe just a hair on the small size. I got a size 8 and my toes are just barely touching the tips but isn't enough to bother me. I would definatley recommend.

Reviewed by Happy Feet from SW Ohio on Thursday, June 27, 2013

Nice weighty sole. Bought these mainly for yard work during wet weather.
Will be wearing them out for errands, etc. also. Great worn w/a pair of Smartwool
socks.

Reviewed by Mudmom from Boston on Sunday, June 23, 2013

Excellent summer rain boots. Not too heavy, easy to pull on, very comfortable.