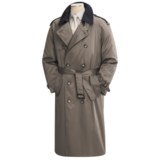 Closeouts. Every man's wardrobe needs a classic, double-breasted trench coat. Why not start with this excellent model from Ralph Lauren.
Average Rating based on
245
reviews
4.448979
0
5
Verified Buyer

Reviewed by Klark Khent from Virginia on Thursday, December 25, 2014

WARNING: This coat runs large. Order at least two sizes smaller (e.g., if you wear a 40 regular, get a 38 regular). Having said that, this is a well constructed coat with a number of good features. It is stylish and looks good. It doesn't have as many little details (e.g., slit pockets that let you access your pants pockets through the coat's pockets) as the coat that is replacing in my wardrobe, but it gets the job done.

Verified Buyer

Reviewed by Malcolmmerriweather from Osage County on Wednesday, November 19, 2014

I have purchased two Ralph Lauren Dress Wool Coats in black and dark gold, called Verona I think, from Sierra Trading Post in the past few years which were beautiful and outstanding in looks and quality, for my husband which he loved both. I decided to buy this coat in black for him also recently at an incredible price with a discount coupon for that day, and the coat is absolutely gorgeous. He loved it also, it fit beautifully, looks so sharp and great on him. Thank you Sierra Trading Post for such great opportunities because I would have to search and drive for miles and miles to even attempt to find these items retail and probably wouldn't succeed. I'm SO GLAD I found your website several years ago.

Verified Buyer

Reviewed by City slicker from New York on Wednesday, November 12, 2014

The coat is good value for the money, but it was bigger than you would expect for a 38 regular

Verified Buyer

Reviewed by John from Nebraska on Tuesday, October 28, 2014

Perfect fit, too. Just outstanding.

Verified Buyer

Reviewed by Sputnick from Massachusettes on Sunday, April 6, 2014

Love the Dick Tracy trench coat styling with zip out insulation for 4 season wear. I chose the Khaki which is a light olive green. Wouldn't mind this same coat in darker olive green as well. Not too big, or small with room to wear a suit / sportcoat underneath. Very happy with the styling.

Reviewed by Harper from CO on Tuesday, March 11, 2014

This coat was beautifully crafted, easy zip out liner and warm collar. Really, the perfect adaptable coat. Nice length for business attire, too (It covers you up well). It would've gotten 5 stars, had it not been vastly oversized- maybe 2 sizes too big.

Reviewed by S.Q. from NJ on Monday, February 17, 2014

This coat is terrific! My husband is a tall man (6'5") with a robust and extra long chest and arms. Often sleeves are not quite long enough even when we have purchased good quality "tall" garments. This coat fits him beautifully. It is well made. My husband tried it on with and without the lining and with and without a suit jacket. All fittings were good. I was not disappointed. This was a great buy!

Reviewed by Bigg Homiee Locc Dogg from Denver on Monday, February 3, 2014

This coat has what you want, if all you want is everything!
Removable liner. Detachable collar. A belt that doesnt detach. Deep enough pockets to keep your gloves in. And of course, it is warm...I wore mine yesterday after a 3 day snowstorm left the city cold and crippled, while I calmly faced the freeze with a stoic smile smugly stuck on my face.


Reviewed by ratpackfan from east coast on Tuesday, January 28, 2014

stylish, functional, well made except for the belt buckle that shattered when I snagged it getting into the car. it has been exceptionally snowy the last couple weeks and road salt easily brushes off. got this for better than half off so I'm willing to overlook the buckle incident.

Reviewed by Forest Hills Rich from Forest Hills on Wednesday, January 15, 2014

This coat is serious. Handsome, substantial and worth every penny of Sierra's selling price.
It is not tailor made but it is an excellent value for the buck.
Four stars because i have no idea how long it will last.