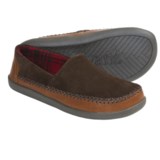 Closeouts. Lounging in L.B. Evans' Holden suede slippers gives you a whole new outlook on relaxation. Warm fleece lining hugs your feet to a super cushy latex footbed and an outsole that lets you step outside to stretch your legs.
Average Rating based on
64
reviews
4.671875
0
5
Reviewed by Amduat from Pennsylvania on Saturday, December 12, 2015

I'm writing this review 2.5 years after purchasing these slippers from STP. I have worn them literally for a portion of every single day since, including outside in the snow, and they are just now starting to wear out. L. B. Evans makes the finest slippers I have ever owned, and henceforth will remain my preferred brand for men's slippers.

Reviewed by Elle Mo from Iowa on Wednesday, February 5, 2014

My son is very pleased with these slippers, fit well, warm, comfy!

Reviewed by Tammy from Minnesota on Friday, December 20, 2013

I got these for my husband who is VERY picky, when he put these slippers on he was overjoyed at how they fit and felt. I would like to tell anyone thinking about buying these DO IT NOW!!!

Reviewed by Seth from Indiana on Sunday, December 15, 2013

Love the fit, good for indoor and outdoor use.

Reviewed by Bobio from California on Monday, November 11, 2013

I'd been shopping for new slippers for a while, looking for a good pair for a good price, when I went to Google shopping and found these at Sierra Trading Post. I hadn't shopped there for a while, so they were sort of off my radar. I got these on sale and paid less than $30 with tax and shipping. These slippers are very good looking and very comfortable. They also seem to be sturdy. I like the fact you can wear them outside if you need to because they have a sturdy sole. Overall, this was a great buy.

Reviewed by bermane from Fayetteville, AR on Thursday, November 7, 2013

I am wearing the L. B. Evans Holden Slippers even as I write this review--just let me say, they're great! Warm, supple, cushiony--couldn't be happier with them! Too bad it's a close-out but for quality and value, I would buy them again or any of their products.

Reviewed by TestEd from Louisiana on Monday, November 4, 2013

Just wish I could wear them to work. Well made. I can tell they will be my favorite for years to come.

Ordered a pair for my brother-in-law.

Reviewed by shoe lover from Illinois on Wednesday, October 23, 2013

I bought this for my husband and he is happy with it. It is soft, warm and comfortable. These slippers does not come half sizes that my husband wears 9,5 and I got size 9 for him. It fit pretty good,

Reviewed by sourdoughnative from Upper Midwest on Monday, October 21, 2013

They look like fairly nice slippers. A little on the light side, not really made to last more than a season or two, but definitely will serve the slipper purpose!

Reviewed by FlyFisher1 from Bend, OR on Thursday, October 10, 2013

These slippers are well made, and quite comfortable and warm. Fit seemed to be spot on. I usually wear a 9 in most shoe brands,and these fit well in that size, perhaps slightly large. Outsole is certainly adequate for short trips outside and insole is well cushioned. They are just what I was looking for in a slipper. Being nonslippery on wooden floors and stairs is another plus.

Reviewed by Jess from Napa, CA on Thursday, October 10, 2013

Husband is happy with his slippers, and I am as well. They are good quality, comfortable and handsome!

Reviewed by Fred from Maryland on Thursday, October 3, 2013

I like these. They're comfortable, easy to get on and off, and even fit my foot that's swollen from an ankle sprain. And they look good.

Reviewed by GG from Mississippi on Wednesday, October 2, 2013

Very high quality slipper. Nice leather upper and flannel inside.

Reviewed by Dave in Tosa from Wisco on Tuesday, October 1, 2013

Been wearing daily since I bought them, will buy these again.

Reviewed by hollister from EVV, IN on Monday, September 30, 2013

I bought these for my father. He turned 90. He loves the slippers. Nice look, nice fit, nice feel and above all warm.

Reviewed by Doug Maine Hiker from Maine on Wednesday, September 25, 2013

Love these slippers. They are very comfortable and the best quality of any slipper I have owned.

Reviewed by Alaska Curative Clay from Montana on Thursday, September 19, 2013

Soft and comfortable. My husband really likes these slippers.

Reviewed by Wayne from Colorado on Wednesday, September 18, 2013

These are very comfortable, high quality men's slippers, at a really reasonable price. I liked the first pair so much that I ordered a second pair in the other color! They are warm and soft, without being too warm, and they have reasonably hard soles, to step outside, when desired. Just great!

Reviewed by ataca lapipa from california on Wednesday, September 4, 2013

like the good and fast service on delivered ,plus the courtesy on return service , chat and patiente of this deparment personel .

Reviewed by Twinkel toes from Connecticut on Sunday, September 1, 2013


These slippers are terrific. I would buy them again.

Reviewed by 10joneses from UT on Thursday, August 29, 2013

Correct size, good fit, very comfortable, sturdy sole. I am very pleased.

Reviewed by Sarah from Iowa on Monday, August 26, 2013

My husband loves his slippers. He says they're very comfortable. They run true to size. He likes the hard soles so he can run outside quickly without worrying about ruining them.

Reviewed by Forest from California on Sunday, August 25, 2013

The price as always unbeatable, they are so comfortable and because of the type of sole you can even wear them outside. I wear a shoe size of 11 and got these in a size 10 and a perfect fit.

Reviewed by Unknown from At the beach on Sunday, August 25, 2013

.

Reviewed by Mabley from Missouri on Wednesday, August 14, 2013

Ordered up on the size since my husband wears a 101/2. They fit perfectly and he likes them. He is picky so this is a big deal. Can't tell you about wearability because he just got them. But they are very cool looking on, sort of vacation in the Andirondaks cool.

Reviewed by CinD from PA on Friday, August 9, 2013

These were even nicer than expected.

Reviewed by jaaskew from California on Thursday, August 1, 2013

I have had a hard time finding slippers that fit right and were comfortable. When I put these on for the first time, I was like WOW, these are so comfortable. I will defiantly be ordering more. I was also impressed on how quickly they arrived. I ordered them on a Thursday and they arrived the following Monday.

Reviewed by Northern Prairie Dog from Minnesota on Wednesday, July 31, 2013

Just received the slippers but haven't worn them much. Ordered size 12 and my feet are touch the tips (I'm a 12 in everything) which shouldn't be that bad as I'm not going to wear socks with them. Should be great in Midwest winters.

Reviewed by alcsbro from Oregon on Saturday, July 27, 2013

I have been wearing the slippers for about a week and the lacing is beginning to fray on the left toe. If it goes completely, I will either have to re-stich it or buy a different pair. I admit that I'm rougher on slippers than the average guy but I usually wear out the sole before anything happens to the tops.
The slippers are wonderfully comfortable and quite pleasant to my feet.
I don't believe I'd buy another pair even though I love them. I need my slippers to last for at least 6 months.

Reviewed by smokykoko from Pennsylvania on Saturday, July 27, 2013

I wear this type of slippers around the house all the time so I go through a lot of pair. Most are made in China (as are these). True to size, well made, and looks nice. I would have bought two pair if I had known. I don't know how long they will last as I just started wearing them.