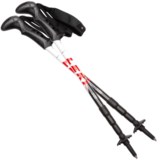 Discontinued or prior year model. LEKI's Tundra XS trekking poles feature a sturdy four-section design that collapses down to just 21" long, saving room and weight in your pack for other gear. Other features include an ergonomic Aergon CorTec grip, an anti-shock system and a Super Lock internal locking system.
Average Rating based on
9
reviews
4.555555
0
5
Verified Buyer

Reviewed by Zorra from Lynchburg, VA on Wednesday, March 25, 2015

I was looking for a set of trekking poles that would collapse down small for travel. These just fit into my carry on sized roller suitcase if they are on a diagonal. My husband was frustrated trying to extend them as he would pull them totally apart and have trouble re-threading the segment, but once he unscrewed them a little more they were loose enough that he could more gradually extend them without totally pulling them apart. They should work for us both - me at 5'4" and my husband at 6'.

Verified Buyer

Reviewed by Linda from Idaho on Tuesday, March 24, 2015

I love that the poles go down to 21 inches. Make sure you are not taller than 5'4 inches or they will be too short. When we first got the poles one pole did not telescope down easily. It turned out the internal shaft was a little bent but we fixed that ourselves and it works now.

Verified Buyer

Reviewed by Woodstock from Woodstock, NY on Saturday, February 7, 2015

I bought these to get them into my luggage for a specific hike in New Guinea but have only tested them locally. My comparison is to a conventional three section Leki pair that I own. The size is great for getting into luggage whether back country backpack or otherwise, 21 inches vs 27 inches collapsed. The super lock system is more than ample. I bought these over z-poles as despite the smaller collapse with z-poles, I have been warned that the locking system on the Z-poles is not robust enough for where I am going -- lots of mud for possibly the entire hike. The Leki super lock internal system is good and I have had no problems on either the four or three section poles I use. Weight wise I even shaved a couple of ounces with these poles over my standard poles. The anti-shock system on the four section poles is not as good as the three section poles but still more than ample. I would have given these five stars but I absolutely love the three section poles which on balance are just a tad better for walking because of their anti-shock system and I have still to do my New Guinea trek. But I have no issues recommending these four section poles. Another win from Leki.

Verified Buyer

Reviewed by Coleseaborn from Dent, MN on Thursday, January 29, 2015

I can't say enough good about these poles. They collapse down to a link that makes them very easy to transport, but once put together and tightened they're very sturdy and have saved me more than once on slippery, Icy winter walks.

Verified Buyer

Reviewed by Bor from South on Monday, January 19, 2015

not so heavy, low price

Verified Buyer

Reviewed by Peggy from Vermont on Wednesday, January 7, 2015

I've only had the poles for a few days. I love that, to extend the poles to the length you want, you simply pull out the bottom section to the max. So you only have to fiddle with length adjustment in the other 2 sections. I like the strap shorten/lengthen mechanism very much, but the straps are a little short for really bulky mittens, and it's really cold where I live right now. I like the snap-the-poles-together gizmos, & the snow baskets. Be warned, the poles do not come with rubber tips. I love that they're plane-carry-on length.

Verified Buyer

Reviewed by Silent Witness from Korea on Friday, January 2, 2015

This is my first trekking poles and, I can't compare with other things.
I think it has good design, quality

Verified Buyer

Reviewed by Malillysr from Honolulu on Friday, July 25, 2014

I needed walking sticks that were light weight and short enough to take on the plane with me. These did the trick

Reviewed by world voyageur from West Chester, PA on Sunday, March 23, 2014

Ordered these for snow shoeing to replace my Lifelink avalanche probe cross country poles which are too long for steep ascents. Haven't had a chance to use them this season, but I'll be ready for next year. Great poles- compact- nice graphics. I'll have to get snow baskets for them Only complaint is that I can't get them off the anti-shock setting.