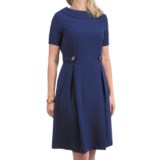 Closeouts. There's something enchantingly retro about the lines of this Leslie Fay dress, from its wide round collar to the fitted gold-buttoned waist to the visible gold-tone zipper in back.
Average Rating based on
10
reviews
4.400000
0
5
Reviewed by Sirod from Tucson on Monday, January 13, 2014

This fits nicely and looks great on.

Reviewed by Cassandra from Vancouver, BC on Wednesday, November 27, 2013

I appreciated the warnings others have given about the fit of this dress, not that its price makes it a high risk purchase, but still. I am 5'10" and 160 lbs, pretty even top to bottom, and the 12 fits me perfectly, in the shoulders, arms, length, everything. It has, however, this odd design that is super-trendy right now, the slightly elevated but not quite empire or baby-doll waist. As a tall woman with a long waist, I have been fighting this look all my life and don't like it, but in dresses nowadays it's hard to avoid. I think I understand why people like it because it is quite slimming, especially from the side. This dress is no exception in that regard - from the side it looks reeeelly flattering. From the front and back, however, the gathers coming from the high waist tend to de-emphasize what little waist I have left :-(.

There is also a small issue with age-appropriateness. Although it is quite a sedate, mature dress, there is something about a peter pan collar that just doesn't exude the authority that one does, on the odd occasion, like to project.

I am going to try it with a wider belt to see if I can camouflage that elevated waist band, which is unfortunately sewn-in and can't be moved. If I can't do much with it, I'll probably keep it anyway - it's comfortable, and I can wear a sweater over it or a vest, which I usually do anyhow. And the fabric flows and falls nicely, so that probably, it will look better when I am moving around than when I am standing like a pylon in front of the mirror.

Reviewed by Jacquie from New York on Wednesday, November 27, 2013

Lovely dress, although the sleeve fit a bit close. Great for work and dress up for evening party. Will recommend to anyone

Reviewed by MALVA from Ohio on Wednesday, October 9, 2013

Like the dress, fits nicely. I ordered it a size 12 ( I usually fluctuate from 10-12) and it fits well, the sleeves are on the tight side but they do fit. Great dress for the price

Reviewed by Amanda Hugenkis from Virginia on Sunday, September 1, 2013

I followed the advice of reviewers about ordering one size up. Normally, I wear size 16. I ordered a size 18. The dress was a little big around the waist but fit just fine around the chest and arms. Thanks for the advice.

Reviewed by Ncmchick from Orlando, FL on Friday, July 19, 2013

I really love this dress. I saw a picture of it on another website and found it here for purchase. What the other reviews say is true, the arms are a bit snug. I have large arms in general, so I kind of have to work with that. However, the style of the dress really make up for the flaws. This dress is amazing and the quality is beyond what I expected for the price. If you're thinking about this dress, I say go for it. But keep in mind that the arms will be snug if not small, and the material does not give, so you may need to buy a size up. The largest size is an 18, so I have to drop a few pounds to make this dress really work.

Reviewed by lilylou from Washington State on Monday, July 15, 2013

This dress was more than I had hoped for as it was so well made. It fit perfectly so was true to size. The price was unbelievable for such a beautiful dress of such great quality..

Reviewed by Jen toe from Missoula on Friday, June 14, 2013

Clean lines and nice fit.

Reviewed by Kapatl from Atlanta on Friday, May 3, 2013

Nice fabric weight and good construction, and pretty color blue BUT, the design seems "off," in that I am not sure who the target customer is. Looks too old in fit and cut for my 20 something daughter, yet has a big gold zipper that seems to belong on some other ("young" or sexy) dress. Also, it seems unclear if it looks better with the zipper on the front or the back. Had to send this one back.

Reviewed by Deirdre from Chicago, IL on Friday, March 1, 2013

The stitching on this classic dress is lovely. It seems very well made, and I think it will be quite versatile because of its conservative profile. I was able to purchase at a significant discount from one of your emails, so it's more than worth what I paid for it. And note, even if the picture online makes the buttons and zipper look silver, it's definitely a shiny gold.

That being said, a couple of caveats:
(1) I found the upper part of the dress to be a bit tight, especially around the biceps, and I certainly didn't have full range of motion for my arms. Some of that seems to be the style of the dress, and some is probably due to the workout I get with my hyper yellow lab. So for you more athletic women out there, you may want to size up.
(2) I tried sizing up but found when I went from a 6 to an 8 (I'm 5'1", 140 lbs and pear-shaped), the waist band was too low, the pleats stuck out, and the net effect was the bigger size made my hips look even bigger than they are.

So if you're strong on top or big chested, you may need to size up, or at least order a couple of sizes to try. But if you're on the short side, those nice pleats in the skirt might switch from flattering to not doing you any favors.

Am in the midst of a conditioning program myself, so given the price and how nicely it's made, I'm keeping the smaller size and hoping to shed some fat all over by summer!