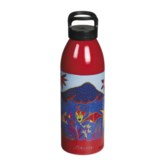 2nds, barely perceptible blemishes. Liberty Bottle Works' water bottle is proudly made in the USA out of durable recycled aluminum with a food-grade coating. Simple to open, with a gradually tapered neck for easy drinking.
Average Rating based on
78
reviews
4.474358
0
5
Reviewed by ??? from south Louisiana on Monday, March 31, 2014

I like this bottle. It is everything I want & need in a water bottle. I will use it for work & out on the trail.

Reviewed by Jo from Michigan on Saturday, March 29, 2014

I carried two of these bottles to the top of Mont Blanc last year and they worked great. I had to get used to the unusual screw top but once I did, it felt more secure than your typical bottle. My only problem is that I have dropped them on pavement or tile floors too many times and then they dent. But they are light-weight and very sturdy otherwise.

Reviewed by Anthony from Carson City, NV on Thursday, February 27, 2014

Great product. Love the easy on easy off top. The bottle is too large for my vehicle cup holder but it fits perfectly in the side pocket of my back back.

Reviewed by Alannah from Arkansas on Thursday, February 20, 2014

This water bottle is exactly as promised - large aluminum water bottle. It is lightweight and has no BPAs. What else can I say? It's an aluminum water bottle.

Reviewed by Aaron from Idaho on Tuesday, January 28, 2014

Does everything it's supposed to. The cap is a definitely different than what I was used to, but once I got the hang of it, I prefer it over a screw on style like nalgene or similar.

Reviewed by quantman from California on Sunday, January 12, 2014

I really cannot see the blem, so I wonder if this is just an over produced item?

Reviewed by Callmeal from Buffalo NY on Wednesday, January 1, 2014

fully coated interior so no tin can water taste. bottles had small dings or scratches but nothing i would not have put in myself in time. I like the Liberty Bottle Works company they stand behind their product.

Reviewed by db'sknees from Adirondack Mountains, NY on Sunday, December 22, 2013

I have had a Liberty bottle before and lost it, this is a replacement. The top takes getting used to, to get it on securely, but once you get it figured out it's easy and no leaking. I also like the coated interior, and the fact that it fits in the bottle holders in the car. The one I lost had some nice artwork of a paddler on it, this one is blah looking but it isn't that important, still a great bottle!

Reviewed by MrsMelons from Salt Lake City, UT on Sunday, November 3, 2013

Excellent pricing, made in USA!!!
Very easy to clean and open/close, BUT! I believe that the seam where the interior joins the exterior retains aromas. One of my Liberty water bottles has a dishwater smell to it that I cannot get to go away. I think it's because I left it soaking in the dish water overnight. I've tried soaking it in white vinegar and cleaning it with clean, hot, soap-and-peppermint-oil water, but it still has the dishwater smell to it. Haven't tried soaking it in bleach yet.
I'm also wondering how well the click-close top will wear. I would guess that eventually the plastic bump that clicks into place against the powder-coated metal will wear down, making it hard to keep the bottle closed. I'm only guessing, however.

Reviewed by Rocky hikes daily from Northern California on Thursday, July 25, 2013

I read several reviews that referred to the cap design on these Liberty bottles as "funky." I find it brilliant. Not one drop finds its way out of this easy on, easy off design — not one since my initial purchase and I used it every day. Further, the two small loops molded into the top are really carry-friendly and comfortable. I have both 24 oz and 32 oz sizes and have basically retired my far more expensive Kleen Kanteen bottles in favor of these."