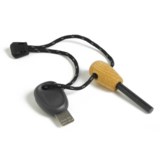 Closeouts. Easily build a fire or start your stove in any weather with Light My Fire's FireSteel 2.0 fire starter thanks to its intense 5,400°F spark, plus there's a built-in emergency whistle should you get lost.
Average Rating based on
22
reviews
4.363636
0
5
Reviewed by Tom the camper from Hawaii on Saturday, January 11, 2014

good, easy to use product.

Reviewed by River Dog from Michigan on Monday, January 6, 2014

This is a great little fire starting set with ergonomic thumb and finger grips. Sparks easily and very packable!

Reviewed by TB from MN on Friday, January 3, 2014

Bought this as an emergency fire starter for riding my horse and hiking.
Used it in the fire pit to test and works very well.

Reviewed by Josh the Canper from SC on Monday, December 30, 2013

These are fun to use and keep in a survival pack.

Reviewed by Steve from Connecticut on Thursday, December 26, 2013

I use the Firesteel 2.0 and vaseline/cottonball tinder to start all of my fires now. It is easy, waterproof, and failsafe as long as you have two good hands (you'll have to get creative if you have one hand injured or otherwise). No moving parts, small, lightweight, and nothing to break as long as you treat it with reasonable care. I have also ordered several as gifts, and they are always welcome.

Reviewed by Missouri Joe from Missouri on Monday, October 28, 2013

I've used other Light My Fire firesteels before, the ones with the plastic grip. I was surprised by how much more I like the wooden handle. Plus the thumb grip on the striking blade with the built-in whistle is a nice addition. This is an awesome product. I do suggest using your pocket knife to strike with though. I was able to get much larger sparks that way, being more successful to start a flame. Though, that may not be suggested by the manufacturer.

Reviewed by Fight from Abq on Wednesday, August 28, 2013

I have not yet used this to make fire, but I did try it when it arrived, trust me it made a turn of sparks my kids were very excited!

Reviewed by BladeFireLight from ks on Sunday, August 18, 2013

Very good Firesteel with very good striker/emergency whistle. The clasp on the lanyard, however, is poor.

Reviewed by Sunil from Wilmington, DE on Wednesday, June 5, 2013

AWESOME PRODUCT ! This is the one product you must have in order to survive besides a good knife, water and knowledge. I bought a bunch of these to keep in my bug-out bags, my jackets and cars. I used one of these for S..E.R.E school and it never failed me. It throws a shower of sparks onto your tinder to light them up. All you need to do is slide the striker along the oak handles rod. It's good for 3000 strikes and has a whistle built in to the striker. The Swedish Army version is supposed to be good for 12,000 strikes.

Reviewed by Steven from Montreal on Saturday, April 13, 2013

Great little tool for back-up emergency. Also the kids liked playing with it (under supervision).