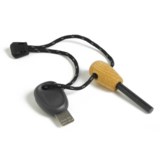 Closeouts. Easily build a fire or start your stove in any weather with Light My Fire's FireSteel 2.0 fire starter thanks to its intense 5,400°F spark, plus there's a built-in emergency whistle should you get lost.
Average Rating based on
22
reviews
4.363636
0
5
Reviewed by NattyBo from PA on Wednesday, April 2, 2014

Simply the real deal. Bought some cheap Chinese "magnesium" ones off of Amazon then saw a video about how they will not work on Youtube. These however work great and at the price you can get one for every car, backpack, etc

Reviewed by The Hiking Engineer from Indiana on Wednesday, March 19, 2014

The FireSteel arrived as promised, looked exactly as pictured. The whistle provides a loud high pitched sound and there are plenty of sparks when I tested it. I only briefly tested it and have not tried to use it to actually start a fire yet. It was purchased primarily to be part of my son's emergency kit for backpacking.

Reviewed by Smokey from Virginia on Wednesday, March 19, 2014

I have tried this several times. I struck it, like, 100 times trying to light a pile of brush on fire. plenty of dry leaves, etc. Gave up and lit it with one swipe of a match. If starting a fire would save your life, you may be able to get it to light one for you, but I would bring a butane lighter or matches along just in case I found myself in that situation. It does shoot cool sparks all over the place, and for that it is kind of impressive.

Reviewed by Unitedpiloy from Colorado on Friday, March 7, 2014

Got the fire starter for my boys and myself for camping and emergency use. It work great even wet and fun to use.
Recommend for campers, hikers, climbers, or anyone that wants a reliable way to start to a fire.

Reviewed by bdrivers from Tennessee on Sunday, March 2, 2014

Recently bought this fire starter and brought it along on an overnight hike/camp. I will keep this tool in my pocket on every hiking or camping trip from here on out. It works great around the campsite and could even help save your life if situations take a turn for the worse.

Reviewed by Rob from ILLINOIS on Thursday, February 6, 2014

It just works and freaked out the kids -- a bonus.

Reviewed by matt from Michigan on Tuesday, January 21, 2014

better quality than other sparkers I have. Thicker.

Reviewed by logik from San Diego on Sunday, January 19, 2014

Brought the FireSteel with me for camping on Maui. Figured I'd never need it, but when a downpour rendered my Bic lighter useless one morning, I turned to the FireSteel and it worked (of course). It doesn't produce a big spark -- a sufficient one. Also, due to the short cord, repetitive striking can strain tendons, so I recommend striking in a different way, with striker at 12:00 and flicking the wrist as though you were brushing lint off the rod.

Reviewed by Ruatger from FortWorth, Tx. on Friday, January 17, 2014

Haven't had a chance to use it. But I tried it and it made sparks.

Reviewed by RIDGERUNNER from Knoxville, TN on Tuesday, January 14, 2014

These are nice, because they are light and come with a striker. They also fit knife holsters with fire steel holders, very well. Highly recommend.

Reviewed by Tom the camper from Hawaii on Saturday, January 11, 2014

good, easy to use product.

Reviewed by River Dog from Michigan on Monday, January 6, 2014

This is a great little fire starting set with ergonomic thumb and finger grips. Sparks easily and very packable!

Reviewed by TB from MN on Friday, January 3, 2014

Bought this as an emergency fire starter for riding my horse and hiking.
Used it in the fire pit to test and works very well.

Reviewed by Josh the Canper from SC on Monday, December 30, 2013

These are fun to use and keep in a survival pack.

Reviewed by Steve from Connecticut on Thursday, December 26, 2013

I use the Firesteel 2.0 and vaseline/cottonball tinder to start all of my fires now. It is easy, waterproof, and failsafe as long as you have two good hands (you'll have to get creative if you have one hand injured or otherwise). No moving parts, small, lightweight, and nothing to break as long as you treat it with reasonable care. I have also ordered several as gifts, and they are always welcome.

Reviewed by Missouri Joe from Missouri on Monday, October 28, 2013

I've used other Light My Fire firesteels before, the ones with the plastic grip. I was surprised by how much more I like the wooden handle. Plus the thumb grip on the striking blade with the built-in whistle is a nice addition. This is an awesome product. I do suggest using your pocket knife to strike with though. I was able to get much larger sparks that way, being more successful to start a flame. Though, that may not be suggested by the manufacturer.

Reviewed by Fight from Abq on Wednesday, August 28, 2013

I have not yet used this to make fire, but I did try it when it arrived, trust me it made a turn of sparks my kids were very excited!

Reviewed by BladeFireLight from ks on Sunday, August 18, 2013

Very good Firesteel with very good striker/emergency whistle. The clasp on the lanyard, however, is poor.

Reviewed by Sunil from Wilmington, DE on Wednesday, June 5, 2013

AWESOME PRODUCT ! This is the one product you must have in order to survive besides a good knife, water and knowledge. I bought a bunch of these to keep in my bug-out bags, my jackets and cars. I used one of these for S..E.R.E school and it never failed me. It throws a shower of sparks onto your tinder to light them up. All you need to do is slide the striker along the oak handles rod. It's good for 3000 strikes and has a whistle built in to the striker. The Swedish Army version is supposed to be good for 12,000 strikes.

Reviewed by Steven from Montreal on Saturday, April 13, 2013

Great little tool for back-up emergency. Also the kids liked playing with it (under supervision).

Reviewed by Uwharrie from Boone, NC on Thursday, April 4, 2013

This might be easier than rubbing two sticks together, but we found it nearly impossible. It took a great deal of effort to get the slightest spark, which was so slight it was ineffectual. Makes me question the truth of the previous review, unless ours was just a dud.

Reviewed by Angela from TN on Monday, March 25, 2013

Starting a fire so easily almost seems like cheating.