Light My Fire Reviews

Popular Light My Fire Searches
Light My Fire specializes in lightweight, durable outdoor accessories that are perfect for backcountry camping as well as backyard barbecues. Light My Fire is based in Sweden, and crafts the famous Light My Fire spork, which features a full spoon, full fork and a serrated edge that works like a knife. The Light My Fire spork is heat-resistant, durable and dishwasher safe. Light My Fire camping gear ranges from Mealkits, which offer everything you need to prepare and eat a meal in the outdoors, to the Swedish FireSteel fire starter, a foolproof way to start campfires, stoves and barbecues.
About the Light My Fire Brand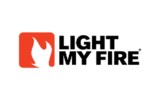 Verified Buyer

Reviewed by TW from CA on Sunday, July 17, 2016

Finally a way to cary the spork in my bag without it getting dirty! The little latch is tricky to open, but seems to work alright. Metal utensil should hold up better than the plastic, since I have broken the "knike" tines on 2 of those.

Verified Buyer

Reviewed by Wayne the farmer from Montana on Saturday, July 16, 2016

I have several of the plastic sporks & decided to try the titanium one. Thus, I ordered one when I bought a pair of rain pants to try it out. The titanium spork is light, looks tough, and should be durable. I only wished I'd ordered a couple more for my kids!

Verified Buyer

Reviewed by Woodswalker from Oregon on Thursday, July 14, 2016

Love the titanium spork - very useful and having a cover helps keep it clean when in the pack with everything else.

Verified Buyer

Reviewed by Kelly the hiker from Maryland on Wednesday, July 13, 2016

I find these to be handy. light and compact to pack. They don't stand up to heat (don't cook with them or they melt), or my toddler expressly trying to fold it in half - it snapped like a twig. But under normal backpacking and camping use, I love them. I had to buy more after the toddler incident.

Verified Buyer

Reviewed by MrsMelons from SL, UT on Wednesday, July 6, 2016

It was bigger than I expected. Very lightweight. Seems like it could bend in the middle pretty easily, so I won't try it. Have only taken it on one trip so far; we'll see how it holds up over time.

Verified Buyer

Reviewed by Bill from Santa Clarita, CA on Saturday, July 2, 2016

Light My Fire builds products that last & last. Very happy with the quality!

Verified Buyer

Reviewed by Gabrielle from Massachusetts on Monday, June 27, 2016

I love the titanium spork and the orange plastic. I keep this in my cooler for work and find it handy to have both. The plastic case that holds the plastic spork is a bit of a bear to get open, but a view of YouTube and patience worked on my part. If you are new to Light My Fire sporks, just be aware that this is the larger style. The spork is more like a tablespoon than a teaspoon. Also, if you are a lefty, the "knife" part is tricky to use (I end up trying to cut as a righty or just bring a knife). For the cost, however, I could not pass it up!

Verified Buyer

Reviewed by Mdsn from Wisconsin on Thursday, June 23, 2016

Extremely lightweight, more flexible than I expected, the fork and spoon are fairly large making it easy to get into pans and pots.

Verified Buyer

Reviewed by Trish from The Woodlands, TX on Wednesday, June 22, 2016

The spork is now in my kitchen drawer as a handy tool. Tasting, stabbing meat/veggies, small mixing jobs. It's tough, a good size for my use, easy to clean, and the bright green color is easy to spot in my misc drawer. Just plain handy.

Verified Buyer

Reviewed by Minnow from Tennessee on Wednesday, June 22, 2016

This spork is very light. It is bigger than I expected (guess I should have drawn out the dimensions) and the spoon end is especially too large for me. The spoon end is also a bit flatter than I would like. It also occurs to me that it would be nice if it had a hole in the top of the fork end for attaching it to the outside of my bag and to make it even lighter, but maybe I will rig (or drill) something up.