Lizard makes power grip footwear for every activity and adventure out there. Step into Lizard hiking sandals, Lizard water sandals and water shoes, year-round moccasins, Agile-series footwear and kids' footwear when you need quality materials and superior grip that goes the distance. Lizard sandals and footwear use the finest materials for their durable uppers, and provide the ultimate grip in every environment with genuine Vibram® rubber outsoles. Lizard is a whole new take on the sport sandal; Lizard has a style and feel all its own. Lizard sandals have a revolutionary design that offers imp
... Learn more about Lizard
rovements over previous sport sandals in the area of fit, function and fashion. Wherever your escapes, adventures or daily walks take you, rest assured that Lizard sandals and footwear are up to the challenges you send their way. ... Less
About the Lizard Brand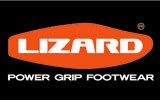 Verified Buyer

Reviewed by Gretna Walker from Mount Gretna on Saturday, August 20, 2016

This is my first pair and will buy others if offered. True to European sizing. High quality in workmanship????

Verified Buyer

Reviewed by M from Illinois on Tuesday, July 26, 2016

These sandals are cute and comfortable. Unfortunately, they are sized wrong. I read the reviews, which all stated the sandals run small. Because I wear a size 6, I thought the only size available (size 7), would fit me. My foot hung off the back. If you wear a size 5 or 5 1/2 these probably will fit you. I had to return them.

Verified Buyer

Reviewed by JoongHo Lee from Daegu South Korea on Monday, November 9, 2015

interesting design, toe is kind of tight and uncomfortable

Reviewed by Mom who plays outdoors from CT on Thursday, September 3, 2015

It took me some time to adjust all the different areas to get just the right fit for me, but once I did they became very comfortable. I like the low profile and while the footbed is something I am aware of at all times, I don't find it uncomfortable. More comfortable than Chacos for my foot.
One complaint is the velcro on the back is long and I'm afraid it may wear out. I may trim it.

Verified Buyer

Reviewed by KoolDoggz from NEPA on Tuesday, July 21, 2015

ALTHOUGH I LOVE THE DESIGN OF THESE AND TRIED REALLY HARD TO LOVE THESE, THEY ARE JUST VERY UNCOMFORTABLE, IN FACT ONE OF THE MOST UNCOMFORTABLE SHOES I HAVE EVER PURCHASED. THEY ARE SO STYLISH, I TRIED TO BE OK WITH THE WEIRD FEEL OF THESE, BUT COULD NOT. I SADLY RETURNED THESE TO STP. THEY MAY WORK FOR SOMEONE ELSE, BUT NOT ME, AND I USU. DONT HAVE ANY PROBLEMS WITH SHOES.

Verified Buyer

Reviewed by ilive2dye from Pacific Northwest on Thursday, July 2, 2015

Comfortable footbed, great sole BUT very very small. I ordered these in a 36 due to following the sizing chart.
I normally wear a
36 or 37 in Birkenstock
37 or 38 in Dansko
37 in Chaco
I suggest ordering your Dansko size in these or go up a size from your Birkenstock size.

Verified Buyer

Reviewed by Shawn from Ohio on Thursday, July 2, 2015

I purchased my first Lizard sandals from you a few years ago and love them so much I bought another pair when available. The improvements to the design are wonderful and make them even more comfortable. These sandals are even better than Chacos, but don't tell anyone.

Verified Buyer

Reviewed by Coppercanyon Daisy from San Antonio on Tuesday, June 16, 2015

I should have known by looking at the picture. There is not enough room for one's foot under the buckles...or barely.

Verified Buyer

Reviewed by WantTo Be from Virginia on Monday, May 25, 2015

Love the sandals. Light and compact. Will be ideal for travel, when you do not have much space and want something light. Runs small. I normally wear European size 39 (size 8- 8 1/2). The size chart said to get a 37. It was small so exchanged it for a 38.

Verified Buyer

Reviewed by JV, Land Surveyor from upstate NY on Monday, May 25, 2015

When I first got these, I wondered how2 put them on. So I just kinda worked my feet into them. If I had wrote this within the 1st couple days, my rating would have been lower- they broke in a bit painfully... but quickly. And now I love them. Light but sturdy they cling to my feet. Great on trails,the one environment I avoid with them is when lots of loose rocks/leaves/etc.are thickly about. Best sandals I've owned.