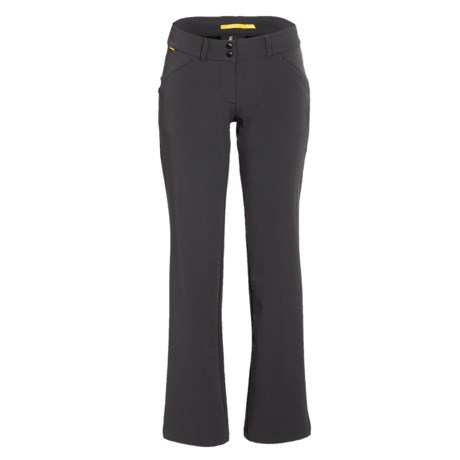 best ever
Reviewed by Anonymous from NC on Tuesday, May 28, 2013
[I actually did a bit of hand-wringing and delayed writing a positive review until I'd ordered several pair for myself. Sorry; selfish me. But then I realized, the more people who buy them, the more likely STP will continue to carry them. Plus, I just ordered a bunch more, so I'm covered. So, I'm free to gush about these pants!.....here goes....]

For me personally, these pants are - hands down - the most flattering, versatile, and easy-to-care-for clothing I own. Period. If they fit you well, you'll be beyond thrilled. As other reviewers have commented, they're cut for someone perhaps on the taller side. If you sense they may fit you, definitely worth a try. The pants are fairly low-cut without being obnoxiously low on the waist, and the back pocket design is bizarrely flattering. The little zipper 'key pockets' on the front are, well, just as they should be. VERSATILITY: The fabric is great and makes them insanely versatile. I roll these up in a suitcase to wear at professional meetings; I walk the dogs in them; I will definitely include them on my next, long overdue backpack adventure. At first I thought the material would make them too hot for our NC summers. Thankfully, that's not the case. Our warm climate often reaches a very humid 3-digits in summer months, and these are among the only pants I can wear year round. I've always been jealous of guys who have 1-2 pairs of Levi's (if 2, they are exact duplicates), which serve them well for 99% of their wardrobe needs. I tried to find that niche among jeans, and it just didn't work for me. Especially in a professional setting, and in quite warm/humid summers. With these pants, I've found my equivalent of the somewhat-faded 501's.


SIZING: In terms of sizing, I'm pretty tall (5'8", 135-140 lbs) and the size 6 and 8 both work for me (depending on whether I'm 135 or 140 that week! ...pathetic, I know!).. or depending on whether I want a close fit vs. more loosey goosey. On length, the size 8 is about a quarter-inch too long for me, but I just flip up the little cuffs and call it a day.

Gosh, after all this, I hope you'll like them if you decide to order these pants. It's all about fit; if they fit you well, they'll become a staple. If not, you can just return them I guess.

Most helpful positive reviews
Most helpful negative reviews
Similar items and more information in the following areas: