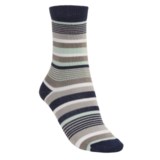 2nds, barely perceptible blemishes. From Lorpen's Comfort Life collection, Leah socks step out with the soft, smooth feel of modal.
Average Rating based on
75
reviews
4.440000
0
5
Reviewed by Mare from ny on Thursday, December 25, 2014

Sturdy material but WAY small/tight. I have a size 10.5 foot, ordered the large and they bind my feet. I think the large size might fit a size 7-9 foot. Had to give them to my daughter who has a size 8 foot.

Verified Buyer

Reviewed by Netto from Chicago on Friday, December 5, 2014

I really like these socks. Although 2nds the imperfections are not noticeable. They are comfortable and the colors are cheerful.

Verified Buyer

Reviewed by HatestoShop from South Shore, Massachusetts on Friday, November 7, 2014

I must own at least a dozen pairs of Lorpen socks by now. I've also purchased quite a few as gifts. Despite the blemishes that almost always run up the back of the socks, I still love them for their colors, comfort, and fit. What a luxury to have size Small socks, rather than one size fits all! Bring on some new colors!

Verified Buyer

Reviewed by 4wheelinggirl from Vermont on Thursday, June 26, 2014

Got these to wear with my dress pants at work, fit great and look great too.

Verified Buyer

Reviewed by Midwestern Girl from Iowa on Wednesday, June 25, 2014

Socks were so soft and I originally loved the feel. Wore them twice and there's a hole in the toe of one sock.

Verified Buyer

Reviewed by Oregon Walker from Oregon on Wednesday, June 11, 2014

These are comfortable and pretty, medium weight socks. I've ordered more.

Reviewed by Amy from New Haven on Wednesday, June 4, 2014

It's a awful experience ever with Sierra. I bought 7 pairs of socks with this brand - Lorpen, 5 out of 7 haver very bad quality, holes on every pair!!!! I will never buy this brand any more.

The fabric feels ok, but holes are not acceptable at all!

Verified Buyer

Reviewed by Alfresco5 from Kansas City on Wednesday, June 4, 2014

Cute socks, great fit, no noticeable flaws.

Verified Buyer

Reviewed by Mom of Runner from Grand Junction on Tuesday, May 27, 2014

Fit great, comfortable, and the color mix was just what I was looking for, in fact bought two pair.

Verified Buyer

Reviewed by Lee from Massachusetts on Wednesday, May 14, 2014

Light weight - great color and style. excellent quality.

Reviewed by E-squared from New Mexico on Sunday, January 26, 2014

These are a nice deal for good looking socks. No noticeable blemishes for my wife, she's considering buying more for gifts.

Reviewed by Mister E from Socal on Tuesday, January 21, 2014

Woman like stuff like this! Buy your wimmins some of these!

Reviewed by Lucyspin from Gainesville, FL on Tuesday, January 7, 2014

I really love the striped socks. They can spice up an outfit. However, these socks wear out too fast. I've only worn them a couple of times and already the heel is fraying.

Reviewed by gadu from Europe on Tuesday, December 17, 2013

I love the stripes on these socks.

Reviewed by bmercedes from WA on Sunday, November 24, 2013

I love the look of the sock. It was very comfortable to wear. My only worry is that is came quite snagged. All along the upper and lower crease. Im worried this will make the sock wear out very fast.

Reviewed by jfried from TN on Wednesday, October 16, 2013

These socks are very comfortable and medium thickness. I've worn them for walking this summer with running shoes and loved them. I ordered several pair after my first ones got holes in the toes.

Reviewed by SoCalDad from California on Thursday, September 26, 2013

Can't say much, wife and daughter like them alot. Comfortable and they really like the color. Not too thick, not too thin

Reviewed by NadjaCS from San Jose, CA on Friday, June 28, 2013

I have several colors of these and would buy more if there were more in my size. I like Lorpen socks in general, but I think these are my current favorite socks. They hold up well and still look like new after many wearings and many washings.

Reviewed by Pregnant lady from maine on Friday, May 24, 2013

nothing special but comfy and good for shoulder season here in Maine

Reviewed by Lilwelder from Colorado on Thursday, May 16, 2013

Fits great. Can't tell they're 2nds.

Reviewed by Judes Naiad from Oregon on Wednesday, April 24, 2013

Excellent value.

Reviewed by cpg123 from nyc on Thursday, April 18, 2013

Great comfortable socks! I hardly ever wear socks, but these are nice and soft and the crew length makes them quick to put on when it's chilly out.

Reviewed by santa rosa sue from Santa Rosa on Tuesday, March 19, 2013

Great light weight casual sock. Comfortable and don't slide down.

Reviewed by santa rosa sue from Santa Rosa on Wednesday, March 13, 2013

Nice, lighter weight socks for casual wear with other than athletic shoes. Cute color patterns.

Reviewed by MBR from Tennessee on Thursday, March 7, 2013

Love these socks. Great fit, and very comfortable.

Verified Buyer

Reviewed by traveller from overseas on Saturday, February 16, 2013

socks are fine but tight. Used by my kids 1-2 sizes less than me, confortable for them. Decent at a good price

Verified Buyer

Reviewed by Pure Home and Body from Midwest on Thursday, February 7, 2013

I've been looking for durable, colorful socks that are not wool (I'm allergic) and these are stylish and soft. I've been washing them carefully, cold water and line dry and so far the fibers have stayed in tact nicely. I gave them 4 stars because of the Modal that requires a bit more care making them not-so-low-maintenance

Verified Buyer

Reviewed by Jay in MT from Bozeman, Montana on Monday, January 28, 2013

Love the design and feel of the socks. Ordered my usual size, M, and they feel tight. I'm hoping they'll loosen up with wear because I love the material. Maybe order a size up.

Verified Buyer

Reviewed by Christie from San Francisco on Saturday, January 26, 2013

These are on the small side. I usually wear a 7.5; I got the medium, and they're pretty snug. I think if I was on the high end of their medium size range, these would be too tight. That aside, these are comfortable and the design/colors are fine, and it's nice that they have a variety of color options. I've only worn them a couple times so far, so I can't yet speak to durability.

Verified Buyer

Reviewed by Spencer Wolf from Longview, Texas on Thursday, January 24, 2013

My wife has been wearing these sock for years now and loves them. They are durable and long lasting, as well as very comfortable. They have some of the nicest designs too. I would definitely get these again.