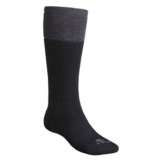 2nds. The best socks are the ones you don't have to worry about, and Lorpen's ski-snowboard socks are non-bunching, moisture-wicking and made of fine Italian wool.
Average Rating based on
241
reviews
4.290456
0
5
Verified Buyer

Reviewed by vajra from vajra on Wednesday, December 2, 2015

Another great Lorpen sock

Verified Buyer

Reviewed by Saltwaterbaby from South on Tuesday, December 1, 2015

The price for these awesome badboys cannot be beat. That said, we ordered several patterns and the gray stripey ones were the only ones that had a shorter calf length, one from the other. That said, I can still wear them with no problems in my Doc Martin ankle boots and have toasty toes if it's cold out or just lovely non-sweaty little piggies if it's warm out. It does squirrel with my OCD need for symmetry so perhaps they're also therapeutic. Hahahaha!

Verified Buyer

Reviewed by Deb from Illinois on Wednesday, November 25, 2015

These are great socks at a terrific price.

Verified Buyer

Reviewed by s from New Orleans on Tuesday, November 24, 2015

Very, very warm. Extremely comfortable and no damp feet. Buy them all!!

Reviewed by Jim from Minnesota on Tuesday, November 10, 2015

good value and great quality socks. and very nice looking. not to thin and not to thick.

Reviewed by SportsFanTommy from Pennsylvania on Wednesday, October 28, 2015

These socks are pretty nice. The sock seems to be woven somewhat loosely so I question whether they will be that warm in cold weather. The price is great and they should be good back up pairs. I would stick with Smartwool as they have nice cushioning around the shin for skiers and provide the right amount of material in different parts of the foot. These are very one dimensional.

Verified Buyer

Reviewed by coffeelvr from va on Thursday, October 22, 2015

No excuse for cold feet in the winter

Verified Buyer

Reviewed by coffeelvr from va on Thursday, October 22, 2015

No excuse for cold feet in the winter

Verified Buyer

Reviewed by baris from Turkey on Wednesday, July 22, 2015

The socks that came were blue white stripes over black. Also, the title says for men and women but the packaging said for women. However, I am fine with the colors and the size M was ok for male size 9. I have not tested it yet with all day in snow yet but so far the socks feel comfortable and warm. Considering that it was 2 pairs of sock for the price of other discounted one pair it was a good purchase for me.

Verified Buyer

Reviewed by Business Casual from CO on Friday, July 25, 2014

definitely not a high performance ski sock, but well worth the price as a winter standby. more or less knee high and somewhat thick with what appears to be quality materials and workmanship. overall great value for $2/pair

Reviewed by Pokgal from New York on Thursday, March 27, 2014

Great socks & outstanding value as a 2-pack! I wear a women's size 8 shoe and ordered a MED. They're a little long but feel just fine. They're incredibly soft and comfortable. Wish I'd gotten more!

Reviewed by sgd from Iowa on Tuesday, March 18, 2014

Got back from ski trip to Breck. These socks are great for that cold, windy conditions, Thick enough, but not overly, Comfy. Recommend to everybody who is on the slope all day long.

Reviewed by Roshay from Michigan on Friday, March 14, 2014

First time buying Lorpen Ski-Snowboard Socks and they are truly warm and non-bunching. Love them and love that they come two (2) to a pack. Keep up the good work and the prices.

Reviewed by JS_PA from Pittsburgh on Sunday, January 12, 2014

I have been using these as an outer layer in my winter boots, and as an only layer with ice-skates. They're holding up well through multiple uses and washings. They're fairly fluffy / cushy without bunching up. Size small fits me generously (euro size 37 / ~US women's 6.5) I'll get more, if & when more are available.

Reviewed by T Rex from Missouri on Thursday, November 21, 2013

Awesome price with deal flyer. They are irregular (stitching / fabric flaw on several of the socks - one or two of the stripes) but the socks are still a great value. They are soft, warm and comfortable and I love the striped pattern. Only reason I gave 4 instead of 5 is because they are IRR.

Reviewed by Natalie from Idaho on Monday, November 4, 2013

nice and warm. They are appropriately sized. I have size 10 feet and quite often have a hard time finding socks to fit, but these are great. Love the fun colors.

Reviewed by Jsean Horn Dogg from Buckeye state on Sunday, November 3, 2013

I wear these for everything. Best socks ever!

Reviewed by Terry in WA from Medical Lake, WA on Thursday, October 31, 2013

thick, warm, easy on and off, pretty colors

Reviewed by Anable from California on Wednesday, October 30, 2013

I am really happy with these socks, many over the calf socks are too tight, these are not! They could have a little bit better "memory", but over all I am very pleased with them!

Reviewed by Lynn from Lees summit,Mo on Tuesday, October 29, 2013

Wore these socks to a socceer game and my feet were warm the whole time!!

Reviewed by itistherabbit15 from Wisconsin on Monday, October 28, 2013

These socks are warm and were a great deal!

Reviewed by Janet P from Minneapolis on Thursday, October 24, 2013

I'm always looking for warm winter socks for Minnesota winters and these were a bargain. I love the fit and the different styles. I bought six pairs for me and six pairs for my husband and we both LOVE them.

Reviewed by Ben from Nashville on Monday, October 21, 2013

A little taller than I was expecting, but the medium-weight, medium-thickness sock is perfect for boot or casual wear - and probably good for skiing, too.

Verified Buyer

Reviewed by Pondo from Boulder, CO on Friday, February 15, 2013

I got these socks because the price was great for 2 pairs. I need tall, thick socks for work and these seem to work well after one use. They are somewhat loose, but didn't bunch or cause friction. (And most of my other socks are SmartWool PHd. with the fancy compression areas.)
I have size 5.5 feet and got the Small size socks. Have not washed yet.

Verified Buyer

Reviewed by Powder girl from Taos, NM on Monday, February 4, 2013

Like the blend, not usually a fan of blended socks. Will see if they carry an odor over time

Verified Buyer

Reviewed by chicago from chicago on Tuesday, January 29, 2013

best priced wool blend socks I've purchased so far

Verified Buyer

Reviewed by Reedo from Arkansas on Tuesday, January 29, 2013

Not my first pair, and wont be my last

Verified Buyer

Reviewed by Fl ski from Tampa fl on Friday, January 25, 2013

Recieved my package a little later than I wanted but in time for my ski trip. I liked the design but they werent warm enough on the slopes

Verified Buyer

Reviewed by PNWMom from Seattle, WA on Friday, January 25, 2013

My son wore these snowboarding in Montana and they kept his feet warm - no complaints about cold toes, and his feet weren't sweaty at the end of the day. No itching complaints, either.

Verified Buyer

Reviewed by Ludragon from Sharon, Pa on Thursday, January 24, 2013

There's no heat where I work so I need socks that are warm, these ones are great, and they stay up.