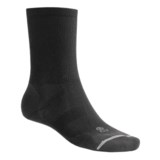 2nds. Reduce the risk of blisters caused by your heavier socks by layering Lorpen's Thermolite® liner socks under them.
Average Rating based on
31
reviews
4.032258
0
5
Verified Buyer

Reviewed by Chris from MD on Friday, December 5, 2014

These liners are very comfortable under wool socks. The toes are a little baggy on my size 12 feet

Verified Buyer

Reviewed by airehead from denver on Wednesday, July 2, 2014

My frustration with most of the liner socks that I have purchased in the past was they were increibly thin and tended to wander under the top sock. These are thicker, and really could be used as a primary sock. If you are looking for thin socks this is not what you want

Verified Buyer

Reviewed by Thrifty Shopper from New York on Tuesday, May 6, 2014

I knew these were seconds, irregular stitching is ok, but you shouldn't be selling socks with holes in them.

Verified Buyer

Reviewed by yogi from Indiana on Saturday, April 26, 2014

I bought these and the other Lorpen socks and I prefer these because they aren't quite so tight across the top, but both of them serve my purpose , which was a lighter weight sock to wear with my Merrill barefoot running shoes. Even though the small size says it fits women to size 9 ( I think) I worried that they might be too small, ecause I always get a medium. I wear 8.5 shoes. They do look small, but stretch and fit fine. Good buy.

Verified Buyer

Reviewed by stvnflt from Sequim, WA on Thursday, April 17, 2014

I've been using these more for everyday socks when I need light weight black ones than I'm using them for liners. They serve both purposes well.

Reviewed by Kevin from Ontario, Canada on Wednesday, March 26, 2014

Helps with dryness and reduces, for me, the itching associated with Dyshydrotic Eczema.

Reviewed by Nina from Minneapolis on Monday, March 24, 2014

I bought these for skiing, and while they feel fine worn just as socks, my feet feel really crammed with another pair of socks over them. Still, I'll use them in warmer weather.

Reviewed by Stewie from Michigan on Tuesday, March 18, 2014

The socks are as advertised. They are thin and make a good liner sock. The medium size does fit my size 8 feet.

Reviewed by 911merc from Chicago on Monday, November 4, 2013

Very nice and snug with just the right amount of "give" in all the right places.

Reviewed by Barbara from California on Tuesday, October 22, 2013

I like these liner socks. They are very comfortable, well made and offer great blister protection. I have only worn them in fall and they are a bit too warm for me, but they should be excellent in winter.