Established in Jetzendorf, Germany in 1923 and priding itself for minimal waste and fair labor practices, Lowa handcrafts footwear to exceed rigorous quality standards. Underfoot comfort and traction outsoles are the benchmark and genesis of Lowa hiking boots. From backcountry trails to alpine summits, Lowa boots receive generous praise for incorporating features that enhance comfort, improve fit, maximize traction and keep your feet protected. For those who prefer fast-paced ventures, light hikes or everyday wear, this brand also offers a wide array of Lowa shoes in styles ranging from trail
... Learn more about Lowa
runners to casual winter boots. ... Less
About the Lowa Brand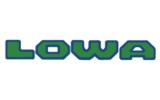 Verified Buyer

Reviewed by Susana Garber from New York on Friday, July 22, 2016

nice and comfortable, but a little bit bigger, then I need

Verified Buyer

Reviewed by Ralph from Adirondacks on Monday, July 18, 2016

One of the best boots for carrying less than 50lbs. Very solid. Great construction. Comfortable out of the box but you'll want to break them in a little before a big hike.

Verified Buyer

Reviewed by dimako from upstate NY on Saturday, July 9, 2016

Nice quality and great workmanship. Unfortunately had to send them back.
Can't get my heel to get locked, have constant heel lift while walking.I really wanted these to keep...

Verified Buyer

Reviewed by Boris from Nevada on Friday, July 8, 2016

After two rugged hikes, these boots are already favorites. They lace up nice and tight, and are very comfortable. Makes my feet impervious to rock and shale.

Verified Buyer

Reviewed by Old guy from Pa on Saturday, June 25, 2016

Before Goretex the ideal was a single piece of smooth leather with as little stitching as possible. These have no goretex, nubuck leather, and lots and lots of stitching. Nonetheless, I'll take 'em! The goretex linings may keep feet dry from external wetness, but the boots themselves can still be a soggy mess to walk in, and in all conditions the goretex makes for really sweaty feet. I've dosed these boots with snoseal wax enough to keep the exterior leather itself from becoming a soggy mess. I've yet to see how all that stitching works out. To me the important part is that these boots without goretex and with leather lining can breathe.
I was a bit leery of the height of the boots, but I've found that it's just fine, very supportive. And the tongue holding stud works swell.
Unlike some of today's boots with glued on soles, these soles are tough enough to handle the pile of rocks that the AT is in my neck of the woods.

Verified Buyer

Reviewed by IndiKat from NE Indiana on Thursday, June 23, 2016

I love the look and quality of these boots. I ordered a size 10 (I wear size 9 1/2) and I could wear regular socks with them, but not really thick ones. They were comfortable, but I only walked about 6 steps with them. I am waiting for winter to really put them to the test. Not only are they very well made with quality materials, they came with an owners manual with complete instructions in the care and maintenance of the boots. C'mon Winter!

Verified Buyer

Reviewed by advancerlift from Seattle on Wednesday, June 15, 2016

I bought these because I have lacked desire to climb in any other shoe since learning that Lowa began a climbing shoe line in '14. They feel great — the triple velcro strap system is perfect. Other shoes fit like clogs, while this shoe fits like a sock. It's not the highest-performance shoe, but it works for the intermediate-level climbing that I do in my town's best climbing gym. I'm glad that Sierra Trading Post was able to offer such a fine deal on these shoes.

Verified Buyer

Reviewed by PA hiker dude from Pennsylvania on Saturday, June 11, 2016

Only used for a few day hikes so far. Feels true to size. Love them so far.

Reviewed by Andrew from CO on Thursday, June 9, 2016

I've had a great experience with these boots. I work as a forester in the mountains of Colorado and wear them every day for work. The support is great and they have excellent grip in all sorts of terrain. I have owned them for about a year and hope to get another few months out of them.

Reviewed by Ebars from NH on Saturday, June 4, 2016

I'm sold on non-goretex boots. These fit very well and the leather lining molds to your foot. They are nubuck, not suede as another reviewer stated. This is a big difference as nubuck is full grain leather, suede is splIt. Properly treated they are waterproof to a certain extent. The gusset ends at the ankle flex point to increase ventilation, so below there I can submerge them for short periods of time with no problems.

The boots have a stable, fairly thick sole but are flexible. Good room in the toe box. The 2.4+mm leather is strong without being too stiff. As all Lowas, the lacing system just works and provides a nice ankle wrap, even for my small ankles and narrow heel. They lock in well.

I wear an 11 in boots, I got 11s, great fit. Not a lot of break in needed in my opinion.