Lowa Reviews

Popular Lowa Products

Popular Lowa Searches
Established in Jetzendorf, Germany in 1923 and priding itself for minimal waste and fair labor practices, Lowa handcrafts footwear to exceed rigorous quality standards. Underfoot comfort and traction outsoles are the benchmark and genesis of Lowa hiking boots. From backcountry trails to alpine summits, Lowa boots receive generous praise for incorporating features that enhance comfort, improve fit, maximize traction and keep your feet protected. For those who prefer fast-paced ventures, light hikes or everyday wear, this brand also offers a wide array of Lowa shoes in styles ranging from trail
... Learn more about Lowa
runners to casual winter boots. ... Less
About the Lowa Brand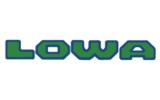 Verified Buyer

Reviewed by Midwest Mike from Land of Lincoln on Wednesday, August 17, 2016

These boots appear to be top-quality, as I've come to expect from Lowa. The price was right and they arrived within a few business days from Sierra Trading Post.

I typically wear an 11D (medium width) in most boots, and these were no surprise. They fit great and seem to require little break-in time.

I'm awarding 4 stars because I usually reserve the top rating for more of a long-term assessment.

Reviewed by bill from folsom on Friday, August 5, 2016

i am a size 12 in Asolo. i got these in size 13 and they fit perfectly with one thick sock. my guess is that these are one size smaller than marked. they work well with a combination crampon - nice heel groove, front has to be strap on. (camp stalker).
mine were marked made in Italy. they are light for a mountaineering boot. reservations - i might be wrong, but i think the top four shoelace anchors are made of plastic.
if you read the (only) review for these boots on amazon, the soles separated in the front after a 3 hour hike (they even have a picture). the reviewer gave it one star. they have no leather - i think they are entirely synthetic. Lowa stopped selling these - and they have disappeared from their website. summary - nice boots if they do not fall apart on me.

Verified Buyer

Reviewed by Judy from Delaware on Tuesday, August 2, 2016

I am very pleased with these boots. They fit well and are very comfortable. I have not tried them out yet. I frequently hike where I have to ford streams and also where the trail is a stream and my experience with Goretex is very positive. The design looks good for keeping out water also. My previous boots slipped easily on wet rocks. I am hoping that these grip better.

Verified Buyer

Reviewed by MoreGear from Mid Atlantic on Sunday, July 31, 2016

Comfortable. Sized similar to other climbing shoes. Good rubber.

Verified Buyer

Reviewed by Susana Garber from New York on Friday, July 22, 2016

nice and comfortable, but a little bit bigger, then I need

Verified Buyer

Reviewed by Ralph from Adirondacks on Monday, July 18, 2016

One of the best boots for carrying less than 50lbs. Very solid. Great construction. Comfortable out of the box but you'll want to break them in a little before a big hike.

Verified Buyer

Reviewed by dimako from upstate NY on Saturday, July 9, 2016

Nice quality and great workmanship. Unfortunately had to send them back.
Can't get my heel to get locked, have constant heel lift while walking.I really wanted these to keep...

Verified Buyer

Reviewed by Boris from Nevada on Friday, July 8, 2016

After two rugged hikes, these boots are already favorites. They lace up nice and tight, and are very comfortable. Makes my feet impervious to rock and shale.

Verified Buyer

Reviewed by Old guy from Pa on Saturday, June 25, 2016

Before Goretex the ideal was a single piece of smooth leather with as little stitching as possible. These have no goretex, nubuck leather, and lots and lots of stitching. Nonetheless, I'll take 'em! The goretex linings may keep feet dry from external wetness, but the boots themselves can still be a soggy mess to walk in, and in all conditions the goretex makes for really sweaty feet. I've dosed these boots with snoseal wax enough to keep the exterior leather itself from becoming a soggy mess. I've yet to see how all that stitching works out. To me the important part is that these boots without goretex and with leather lining can breathe.
I was a bit leery of the height of the boots, but I've found that it's just fine, very supportive. And the tongue holding stud works swell.
Unlike some of today's boots with glued on soles, these soles are tough enough to handle the pile of rocks that the AT is in my neck of the woods.

Verified Buyer

Reviewed by IndiKat from NE Indiana on Thursday, June 23, 2016

I love the look and quality of these boots. I ordered a size 10 (I wear size 9 1/2) and I could wear regular socks with them, but not really thick ones. They were comfortable, but I only walked about 6 steps with them. I am waiting for winter to really put them to the test. Not only are they very well made with quality materials, they came with an owners manual with complete instructions in the care and maintenance of the boots. C'mon Winter!