Lowa Reviews

Popular Lowa Products

Popular Lowa Searches
Established in Jetzendorf, Germany in 1923 and priding itself for minimal waste and fair labor practices, Lowa handcrafts footwear to exceed rigorous quality standards. Underfoot comfort and traction outsoles are the benchmark and genesis of Lowa hiking boots. From backcountry trails to alpine summits, Lowa boots receive generous praise for incorporating features that enhance comfort, improve fit, maximize traction and keep your feet protected. For those who prefer fast-paced ventures, light hikes or everyday wear, this brand also offers a wide array of Lowa shoes in styles ranging from trail
... Learn more about Lowa
runners to casual winter boots. ... Less
About the Lowa Brand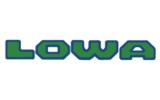 Verified Buyer

Reviewed by oldmansknees from PA on Tuesday, April 26, 2016

Love the color and style - my S.O. likes them so much she wants a pair for herself! Lowa quality, true to size, a bit more supportive than a typical sneaker - though that's what they look like! Good for walking around town or a LIGHT hike, and you'll look very stylish while doing so.

Verified Buyer

Reviewed by oldmansknees from PA on Tuesday, April 26, 2016

I've bought a few pair of these over the years, and they never fit like other Lowas. This time I bought a size larger, and that resulted in a strange fit in different areas than if I bought my true size. Typical Lowa high quality though.

Verified Buyer

Reviewed by oldmansknees from PA on Tuesday, April 26, 2016

these fit spot on. they are like Lowa's other low light hiking shoes, but made of a high quality smooth leather that gives them a totally un-hiking shoe look. The only downside were the laces - thin dress shoe style cotton laces that were too short. Fixed for $1.89, so still a screaming good deal from STP!!! Oh, yeah, made in Slovenia so typical Lowa high quality.

Verified Buyer

Reviewed by oldmansknees from PA on Tuesday, April 26, 2016

Fit is excellent, typical Lowa quality. made in Slovenia, leather lined, great workmanship. Very comfortable, funky casual look - something different for Lowa!

Reviewed by P from Denver Colorado on Saturday, April 23, 2016

I bought these for a light hiker. Great shoe. I normally wear an 11 but learned with Lowa that if i buy a 12 they fit awesome. I need a wide toe box and they have that--great fit in the toe and heel and super comfortable for my feet. I love the extra toe coverage

Verified Buyer

Reviewed by WEI Lin from Oregon on Friday, April 22, 2016

the price is too cheap and the quality is so amazing

Verified Buyer

Reviewed by Alli-MT from Montana on Wednesday, April 20, 2016

I have become a Lowa enthusiast. These boots fit true to size, and felt great from the very first wearing. Nice and light, and great styling. I plan on testing their waterproof-ness on a muddy Spring hike soon.

Verified Buyer

Reviewed by xstitch from South Dakota on Tuesday, April 19, 2016

These shoes are attractive, comfortable, and well made. The shoes look nice enough that I sometimes wear them to work and the lug soles will be useful when I go camping and hiking. I like these Lowa shoes so much that I ordered a second pair while they're still available.

Verified Buyer

Reviewed by Oregonhunter541 from Oregon on Sunday, April 17, 2016

For a mid height boot I don't know if a person could do better, especially for the price. My second pair. Hunt the rugged Snake River country on the Oregon-Idaho border. Feet are not hot after 10-12 hrs per day of hiking the toughest country. Granted we typically have a 20 lb day pack not a full 60 lb framed pack. However we do pack 80 lbs of meat out of the steep canyons, and these boots offer great support. Very happy with this product for it's given purpose.

Verified Buyer

Reviewed by planetclaire from Tucson, AZ on Thursday, April 7, 2016

These shoes lace up nicely for people with narrow feet. I have a high arch and they don't support that part of my foot much. I haven't had them long enough to see how waterproof they are, or how they clean up.