Looking for some advice on how to choose skis? When the time comes to buy new equipment, whether it's your first pair of skis or your fourth, it's easy to be a little intimidated. After all, new skis are a big investment, not to mention the boots, poles, outerwear and other gear you'll need if you're just starting out. Plus, there are a ton of different options to choose from out there, and the last thing you want is to end up with something that doesn't work well. In this guide, we'll do our best to cover all the information so you can select the gear that will help you have fun and progress as a skier.
Before you're able to decide what kind of ski will work best for you, you'll need to consider your experience. Ability levels are generally divided into three categories: beginner, intermediate and expert (advanced). Some ski companies recommend certain models based on ability. The following list is a good starting point:
Recreational skis are ideal for beginners and skiers who enjoy slower speeds on easy terrain (mostly greens and some blues). Control is an important factor when selecting recreational skis.
Intermediate skis are ideal for more experienced skiers who feel comfortable at higher speeds and taking on most in-bounds terrain, including greens, blues and the occasional black diamond. These skis are responsive yet still a little more forgiving than expert level skis.
Expert (advanced) skis are for highly capable, confident skiers who are at home on steep, challenging terrain, including black diamond runs, moguls and backcountry terrain. Expert skis offer more performance, but aren't as forgiving.
In-bounds terrain, also called piste, is a series of well-maintained ski runs that are part of a resort. Ski slopes and trails that fall within resort boundaries are typically groomed and monitored by ski patrol.
Sidecountry is a term used to describe lift-accessible backcountry terrain that is part of a resort, but may or may not fall within resort boundaries. For example, some ski areas allow skiers to hike to nearby bowls or side areas, which may then be connected back to groomed runs.
Backcountry is unmaintained, unmonitored terrain that is not associated with a resort and may contain avalanche conditions. Backcountry skiing is the best way to ski untouched powder and avoid crowds. However, it's the responsibility of skiers to be aware of the dangers and plan accordingly. For more information on backcountry skiing safety, check out the avalanche.org tutorial.
Shovel: The shovel is the front portion of a ski that is typically wider than the tail and middle sections of the ski. The wider, upturned design helps the ski float over lighter snow and power through crust and crud.
Mounting Plate: The portion of the ski where the bindings are installed. Mounting plates are common on skis that are sold with bindings as an integrated system.
Tail: The size and shape of a ski's tail varies depending on the intended use. Most carving skis and powder skis have a slightly wider tail to provide added turning efficiency and flotation. A freestyle ski will have an upturned tail and nose, called twin tips, which makes skiing switch (reverse) and landing tricks backwards much easier.
Tip Protector: Additional material may be added to the ski tip in order to protect it from damage and prevent delaminating. This is especially beneficial for backcountry and all-mountain skis that are used on more rugged terrain.
There is a lot of ski terminology out there, and it helps to have some knowledge about the various components before making a decision on a particular ski. Here are some of the more common terms you may encounter when shopping around for skis:
Core: The interior of a ski, usually made of foam or laminated wood.
Base: The material on the underside of the ski, which allows it to slide on the snow.
Edge: The sharpened metal trim on either side of a ski's base that bites into harder snow and ice.
Camber: The slight downward arch of a ski when resting on a flat surface that enhances the ski's ability to maintain an edge during a turn.
Rocker: Essentially the opposite of camber, rocker forms a concave arc, similar to the bottom of a rocking chair. Skis with rocker shape are excellent for deep powder because they provide enhanced flotation.
Flex: The amount of stiffness in a ski. A softer-flexed ski will perform better on soft, deep snow, whereas a stiff-flexed ski handles better on hard-packed snow.
Waist: The narrowest part of a ski between the tip and the tail, usually the same location where the binding is mounted.
Before you invest in new gear, it's a good idea to understand the various specifications that coincide with specific ski models. Sidecut, turn radius and sidecut dimensions are three of the most common specs listed on skis.
SIDECUT
The sidecut is the depth of the curve that runs lengthwise along a ski's edge. Sidecut directly affects turn radius.
TURN RADIUS
Measured in meters, the turn radius is the size of the smallest turn a ski will make when set on its edge. The smaller the turn radius, the tighter you will be able to turn. This number is based on a large imaginary circle that coincides with the arc created by the sidecut. The radius of this imaginary circle is related to the depth of the sidecut. In other words, a ski with a deeper sidecut is generally able to turn more sharply than a ski with a shallower sidecut.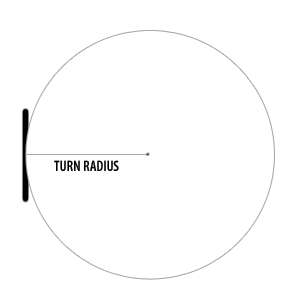 SIDECUT DIMENSIONS
A ski's sidecut dimensions are measured at the tip, waist and tail of the ski. Knowing these three measurements makes it easy to judge the skis' ideal uses. Most all-mountain skis have a mid-fat waist and a moderately wide tip and tail. Skis meant for carving and moguls tend to have a narrower waist. Powder skis have the widest waists. Every ski Sierra Trading Post sells offers sidecut dimension measurements.

It's very important to choose the right ski length for your ability level and the type of terrain you'll ski most often. The length of your skis will not only determine how comfortable you feel on the slopes, but how well you perform. Here's a three-step guide to determining your ideal ski length:
Step 1: Find the corresponding length for your weight.
Men
| | |
| --- | --- |
| Weight | Approx. Ski Length |
| 130-155 lbs. | 160 cm |
| 150-175 lbs. | 167 cm |
| 170-195 lbs. | 174 cm |
| 190-215 lbs. | 181 cm |
| 215 lbs. or more | 182 cm |
Women
| | |
| --- | --- |
| Weight | Approx. Ski Length |
| 100-125 lbs. | 145 cm |
| 120-140 lbs. | 152 cm |
| 135-155 lbs. | 160 cm |
| 150 lbs. or more | 162 cm |
Juniors
| | |
| --- | --- |
| Weight | Approx. Ski Length |
| 30-40 lbs. | 80 cm |
| 40-50 lbs. | 93 cm |
| 50-60 lbs. | 100 cm |
| 60-70 lbs. | 110 cm |
| 70-85 lbs. | 120 cm |
| 90-115 lbs. | 130 cm |
Step 2. Add or subtract length depending on your skiing ability.
| | |
| --- | --- |
| Ability Level | Add or Subtract from Ski Length |
| Beginner | -20 cm |
| Intermediate | -5 cm |
| Advanced | 0+ cm |
| Expert | +5 cm |
Step 3. Add length (if necessary) based on the terrain you will most often ski.
| | |
| --- | --- |
| Snow Conditions | Add to Ski Length |
| On-piste, groomed, hard runs | 0+ cm |
| Off-piste, soft snow, powder | +5 cm |
Note: Please be aware that sizing varies among different ski manufacturers and these size charts are only approximations to be used as guidelines.
Thanks for reading. For tips and information on Nordic skiing and alpine touring, be sure to check out our Nordic Ski Guide. Stay safe out there and have fun!