Backpacks run the gamut from simple rucksacks with a single large cargo compartment to high-tech packs with loads of bells and whistles. In this section we'll cover some of the handy features to look out for, and we'll explain the benefits of each.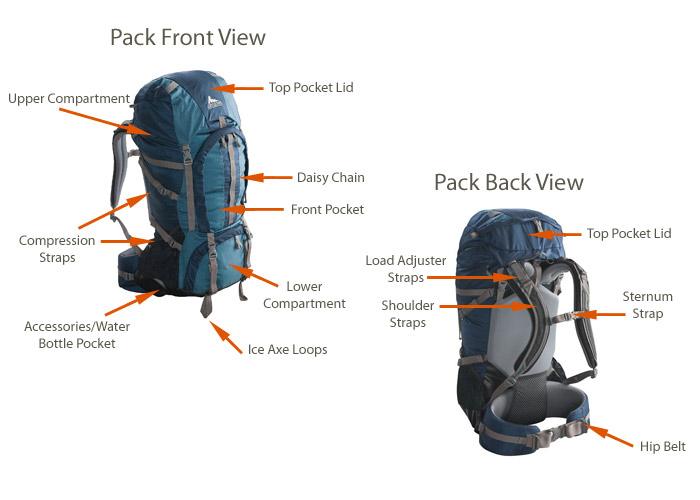 Loading Options
Generally, backpacks can be divided into two categories: top-loading and front-loading. Top-loading packs usually have a drawstring on top and a protective flap over the opening. Front-loading backpacks, which are usually smaller daypacks or school bags, have a zip-open flap running down the front of the pack. Many large, internal frame backpacks feature a top-loading main compartment with an additional front access panel.
Frame/Supports
Most internal frame backpacks have either rigid, vertical structures called frame stays or a semi-rigid framesheet. Some have both. Frame stays are typically aluminum bars that maintain the pack's shape and keep loads evenly distributed. A framesheet is placed inside the back of a pack and is usually made of high-density polyethylene (HDPE) or another lightweight composite. The framesheet helps maintain the shape of the pack and prevents hard objects from poking you in the back.
Hydration Compatibility
Most modern backpacks are hydration compatible. There are several distinct features that make packs compatible with a hydration system:
· A compartment against your back (but inside the pack) that holds a water reservoir.
· One or two drinking tube ports near the top of the backpack.
· Many models also have a clip on the shoulder strap to keep the drinking hose in place.
Note: Although many backpacks are compatible with a hydration system, most do not include one. This allows you to choose a hydration system and reservoir size that will work best for your needs. If a hydration system is included, it will be noted as an extra feature in the product description.
Attachment Points
Attachment points refer to areas on a pack where you can tie, hang or clip various gear. Parachute cord or carabiners can also come in handy for attaching gear.
· Daisy Chain: A series of small vertical fabric loops running down the front of a pack, often used to hold carabiners and climbing gear.
· Ice Axe Loops: Large loops on the front of the pack that will hold an ice axe, piolet or similar tool.
· Trekking Pole Lash Points: Specifically designed to accommodate collapsed trekking poles.
Rain Cover
An integrated rain cover is an invaluable backpack feature for wet or snowy climates. The cover stows in a pocket on the pack for easy deployment when rain or snow starts falling.
Ventilated Back
Some external-frame backpacks use a taut mesh fabric to create a pocket of air between your back and the pack. Many internal-frame packs use air channels in the back padding for breathability. Weight-bearing straps that touch your body are also frequently made of breathable mesh or moisture-wicking maerials.
Detachable Daypack
Some larger backpacks include a detachable lid that converts into a lumbar pack or a front compartment that detaches to become a separate daypack. This is a great feature for extended backpacking excursions, when you'll want to do a little light exploring away from your base camp.
Compression Straps
Compression straps allow you to tighten down the load and keep gear from shifting as you hike. They are usually located on the sides of the pack.
Water-Bottle Pockets
A pair of mesh pockets on either side of the bottom of a backpack, located on the outside for easy access.
Ski Carry or Snowboard Carry System
Some winter sport backpacks have straps designed to hold your skis or snowboard during a winter ascent. Usually these straps orient the skis diagonally across your back. Snowboard straps may allow you to carry your board vertically or horizontally, sometimes both.