Dawn breaks over a clear alpine lake. Its glassy surface perfectly mirrors the craggy peak towering above it, the air is completely still, and you are immersed in the moment. Here you are alone, yet connected to everything.
Unless you've had this backpacking experience for yourself, you have no way of knowing how peaceful and powerful the wilderness can be. But everything comes with a price, and to witness a scene like this firsthand you have to strap on a backpack and do some hiking.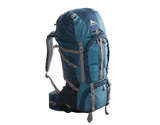 Shop Backpacks
Backpacking and hiking are both extremely rewarding outdoor activities. The backcountry offers fresh air, scenery, exercise and a chance to clear your head. In order to have a great experience out in the wild, a comfortable and appropriate backpack is a must-have item. Inside, you'll carry your water, food, extra clothing, shelter, emergency gear and everything else you might need in the wilderness.
There are several factors to consider when choosing a backpack. In this guide, we'll help you figure out what kind of backpack to buy, including style, size and fit. We'll also point out features to look for based on the nature of your adventure, as well as important specs like torso range and capacity. By the end of this backpack guide, you should be able to select a pack that will be comfortable and work well for your needs.
Selecting the appropriate backpack capacity is a balancing act. You need to carry all the essentials into the backcountry without going overboard. An oversized backpack with lots of non-essential stuff equates to extra weight and slower going.
When buying a backpack, you need to ask yourself two questions before anything else: how long is your typical backpacking trip, and which season do you usually prefer? Trip lengths and seasons may ultimately vary, but you generally know whether you're more of a summer weekend backpacker or a hardcore alpinist who likes to venture deep into the wilderness during all four seasons.
You want just the right size backpack to hold whatever you need. When in doubt, it's okay to go up a size in terms of capacity, though. You'll only be adding a little weight for quite a bit more room.
Here are some general backpack capacity guidelines:
| | | | |
| --- | --- | --- | --- |
| Duration of Trip | Season | Best Pack Volume | |
| | | Cubic Inches | Liters |
| 5 Nights or More | Summer | 4000-5000 | 65-80 |
| | Spring/Fall | Over 5000 | 80-90 |
| | Winter | Over 5000 | 80-90 |
| 3-5 Nights | Summer | 3000-4000 | 50-65 |
| | Spring/Fall | 4000-5000 | 65-80 |
| | Winter | Over 5000 | 80-90 |
| 1-2 Nights | Summer | 2500-3000 | 40-50 |
| | Spring/Fall | 3000-3500 | 50-55 |
| | Winter | 4000-5000 | 65-80 |
| Day Hike Only | Summer | 1500-2000 | 25-35 |
| | Spring/Fall | 2000-2500 | 35-40 |
| | Winter | 2500-3500 | 40-55 |
Note: Keep in mind that cold-weather trips require additional clothing, thicker sleeping bags, etc., which require more room in your pack. Also, some hikers eat more food or wear larger clothing, which may require more capacity.

A backpack frame transfers the weight of the load to the hips and maintains a pack's shape. There are two types of frame backpacks: external frame and internal frame. Most packs sold today have an internal frame, which is the most popular style. Internal-frame backpacks hug the body more than external-frame packs. This provides better balance and easier movement, two benefits you'll appreciate on the trail. Although they are less popular, external frame backpacks may offer more ventilation between your back and the pack, which can come in handy in really hot weather. External frame packs may also be better suited for carrying very heavy loads.
Choosing a backpack that is the correct size for your body will make a tremendous difference over the long haul. For the most comfort and ease of movement on the trails, the majority of your backpack's weight (about 80%) should rest on your hips, not your shoulders. To achieve this, you'll need to size your backpack correctly and make the right adjustments to your hip belt and straps. Figuring out your ideal pack size can be a little trickier than sizing a pair of shoes. To start, you'll need to do some measuring.
Measure Your Torso & Hips
Tailor's tape or another flexible measuring tape is the ideal tool for the job. If you don't have a flexible tape, you can use a piece of string or cord instead, then lay the string against a tape measure to determine the length. Note: It really helps to have someone assist you with these measures.
Torso: This is the length from the prominent bump at the base of your neck - the C7 vertebra - to the center point on your spine between the tops of your hip bones. Find the top of your hip bones by running your hands down your sides until you first meet your hips at the iliac crest, then envision an imaginary line between your thumbs at the top of your hips along your back.
Hips/ Hip Belt: This measure obtains the girth of your hips. Measure around your body, one inch lower than the iliac crest (the top of the hip bones). This measure is less important than torso length, since most hip belts adjust to accommodate a wide range of users.
Approximate Sizing for Packs (Varies by Brand and Style):
Extra Small: Fits torsos up to 15"
Small: Fits torsos 15" to 17"
Medium/Regular: Fits torsos 17" to 20"
Large/Tall: Fits torsos 20" and up
Note: The chart above only provides a general estimation, so it's better to use the specific size guidelines listed with each backpack when determining your ideal size. Also, be aware that these measurements are usually only included on internal-frame backpacks and external-frame packs. Because daypacks are much smaller, most manufacturers treat them as "one size fits all." Therefore, most packs under 2000 cu.in. do not include torso measurements.
Once you've determined the ideal backpack size, you'll still need to make several important fit adjustments before you hit the trail. Always be sure there is weight in the pack before making adjustments. Ideally, you should put about 15-20 lbs. in the pack, and try to fill most of the volume. Sleeping bags and clothes should do the trick.
How to Adjust Your Backpack
Loosen the main straps: shoulder strap load adjusters, shoulder straps, hip belt, and hip belt load adjusters.
Put the pack on and fasten the hip belt.
Tighten the shoulder straps.
Tighten the load adjuster straps.
Shrug the load up high, then tighten the hip belt very snugly while still shrugging.
Go back and readjust the shoulder straps as needed.
Lastly, fasten the sternum strap to keep your shoulder straps pulled in. The sternum strap is not designed to bear weight, but merely to keep the shoulder straps in place. If this strap applies significant pressure across your chest, it's too tight.
Tips for Adjusting You Pack on the Move
Shoulder straps too tight on the trail? To readjust your load after you get going and take some weight off your shoulders, follow these four steps:
Loosen the load adjustment straps.
Shrug the backpack up on your shoulders.
Tighten the hip belt (while the load is still being shrugged).
Relax from the shrug, then retighten the load adjusters if necessary.
Many manufacturers now offer backpacks designed specifically for women, which will better accommodate a woman's unique frame. There are several features that differentiate a woman's pack from a unisex pack:
Narrower shoulder-strap spacing
Slightly reduced pack width and profile
Hip belt reshaping, with narrower top and wider bottom to fit the "bell" shape of a woman's hips
Shorter torso length
Backpacks run the gamut from simple rucksacks with a single large cargo compartment to high-tech packs with loads of bells and whistles. In this section we'll cover some of the handy features to look out for, and we'll explain the benefits of each.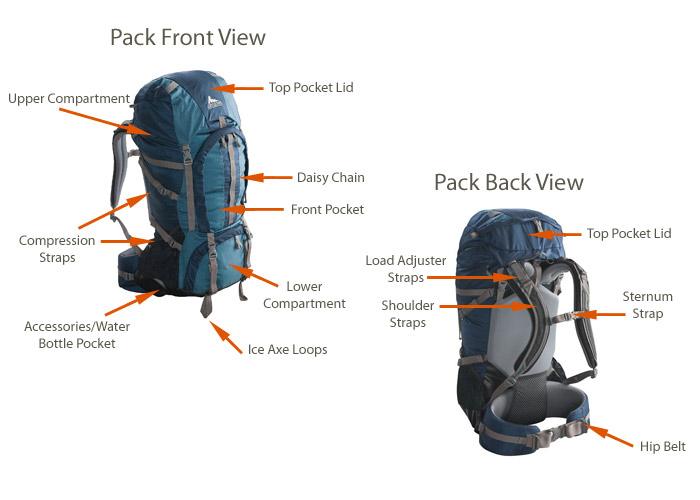 Loading Options
Generally, backpacks can be divided into two categories: top-loading and front-loading. Top-loading packs usually have a drawstring on top and a protective flap over the opening. Front-loading backpacks, which are usually smaller daypacks or school bags, have a zip-open flap running down the front of the pack. Many large, internal frame backpacks feature a top-loading main compartment with an additional front access panel.
Frame/Supports
Most internal frame backpacks have either rigid, vertical structures called frame stays or a semi-rigid framesheet. Some have both. Frame stays are typically aluminum bars that maintain the pack's shape and keep loads evenly distributed. A framesheet is placed inside the back of a pack and is usually made of high-density polyethylene (HDPE) or another lightweight composite. The framesheet helps maintain the shape of the pack and prevents hard objects from poking you in the back.
Hydration Compatibility
Most modern backpacks are hydration compatible. There are several distinct features that make packs compatible with a hydration system:
A compartment against your back (but inside the pack) that holds a water reservoir.
One or two drinking tube ports near the top of the backpack.
Many models also have a clip on the shoulder strap to keep the drinking hose in place.
Note: Although many backpacks are compatible with a hydration system, most do not include one. This allows you to choose a hydration system and reservoir size that will work best for your needs. If a hydration system is included, it will be noted as an extra feature in the product description.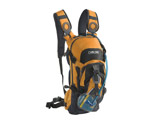 Shop Hydration Packs
Attachment Points
Attachment points refer to areas on a pack where you can tie, hang or clip various gear. Parachute cord or carabiners can also come in handy for attaching gear.
Daisy Chain: A series of small vertical fabric loops running down the front of a pack, often used to hold carabiners and climbing gear.
Ice Axe Loops: Large loops on the front of the pack that will hold an ice axe, piolet or similar tool.
Trekking Pole Lash Points: Specifically designed to accommodate collapsed trekking poles.
Rain Cover
An integrated rain cover is an invaluable backpack feature for wet or snowy climates. The cover stows in a pocket on the pack for easy deployment when rain or snow starts falling.
Ventilated Back
Some external-frame backpacks use a taut mesh fabric to create a pocket of air between your back and the pack. Many internal-frame packs use air channels in the back padding for breathability. Weight-bearing straps that touch your body are also frequently made of breathable mesh or moisture-wicking maerials.
Detachable Daypack
Some larger backpacks include a detachable lid that converts into a lumbar pack or a front compartment that detaches to become a separate daypack. This is a great feature for extended backpacking excursions, when you'll want to do a little light exploring away from your base camp.
Compression Straps
Compression straps allow you to tighten down the load and keep gear from shifting as you hike. They are usually located on the sides of the pack.
Water-Bottle Pockets
A pair of mesh pockets on either side of the bottom of a backpack, located on the outside for easy access.
Ski Carry or Snowboard Carry System
Some winter sport backpacks have straps designed to hold your skis or snowboard during a winter ascent. Usually these straps orient the skis diagonally across your back. Snowboard straps may allow you to carry your board vertically or horizontally, sometimes both.
Try to place heavier gear against your back and toward in the middle or bottom of the pack. Avoid putting heavy items at the top, which can throw off your stability.
Prepare for the worst possible weather, even if it's not in the forecast.
Plan your route ahead of time, and always tell someone where you're going and when you plan to return.
Have a good map and compass, and know how to use them.
Bring ample water and a water filtration system or purification tablets. Research the area you will be traveling to determine where you'll be able to access water.
Check out our Backpacking Guide for more great info and backpacking tips.